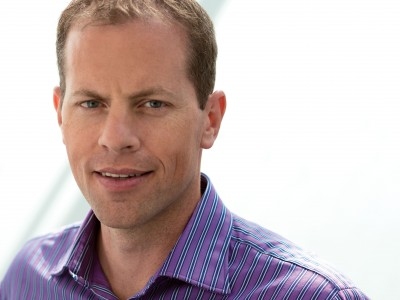 Job Title: Associate Professor of Chemistry, University of Calgary; Canada Research Chair in Energy Conversion; Co-Founder and Chief Technical Officer, FireWater Fuel
Age: 36
You might say Curtis Berlinguette has found his place in the sun.
As an associate professor at the University of Calgary and director of the U of C's Centre for Advanced Solar Materials, Berlinguette has gained national and international recognition for his research into advanced solar energy technologies.
"I came to recognize that there was an energy crisis coming along and there wasn't a lot of research being done in solar," says Berlinguette, who returned to his hometown in 2006 after receiving his Ph.D. at Texas A&M University and doing post-doctoral studies at Harvard University. "I felt like I had the training to have a positive impact in this particular area."
In 2008, he was the youngest person ever to be made a Tier II Canada Research Chair in Energy Conversion, a term that extends until 2013.
In 2011, he received the prestigious Alfred P. Sloan Research Fellowship, an international, peer-reviewed award recognizing significant achievement in early-career research, becoming the only Canadian chemist in 2011 and the second U of C researcher ever to receive the award.
Berlinguette currently holds seven patents and has published more than 40 scientific articles. At the U of C, he heads up a team of 20 undergraduate, graduate and post-doctoral researchers, all working together to produce a more-resilient solar cell to convert sunlight into electricity and then convert that electricity into high-density fuels – specifically, clean hydrogen.
Berlinguette's ability to communicate his progress and ideas makes him a sought-after presenter, both in the academic world and at civilian events like the Big Rock Brewery lecture series.
"This is where scientists typically struggle," he says. "This is something I try to instill in my graduate students, that they have to be able to communicate their results to anybody, not just people from within their own group who are familiar with their project."
Aside from his work at the university, Berlinguette is exploring the business side of solar technology as co-founder and chief technical officer of FireWater Fuel, a Calgary-based company with 12 employees. This entrepreneurial endeavour has caught him slightly off guard, though he's certainly stepping up to the challenge.
"The whole reason I became a professor was to stay away from the real world," he says. "But here I am!"