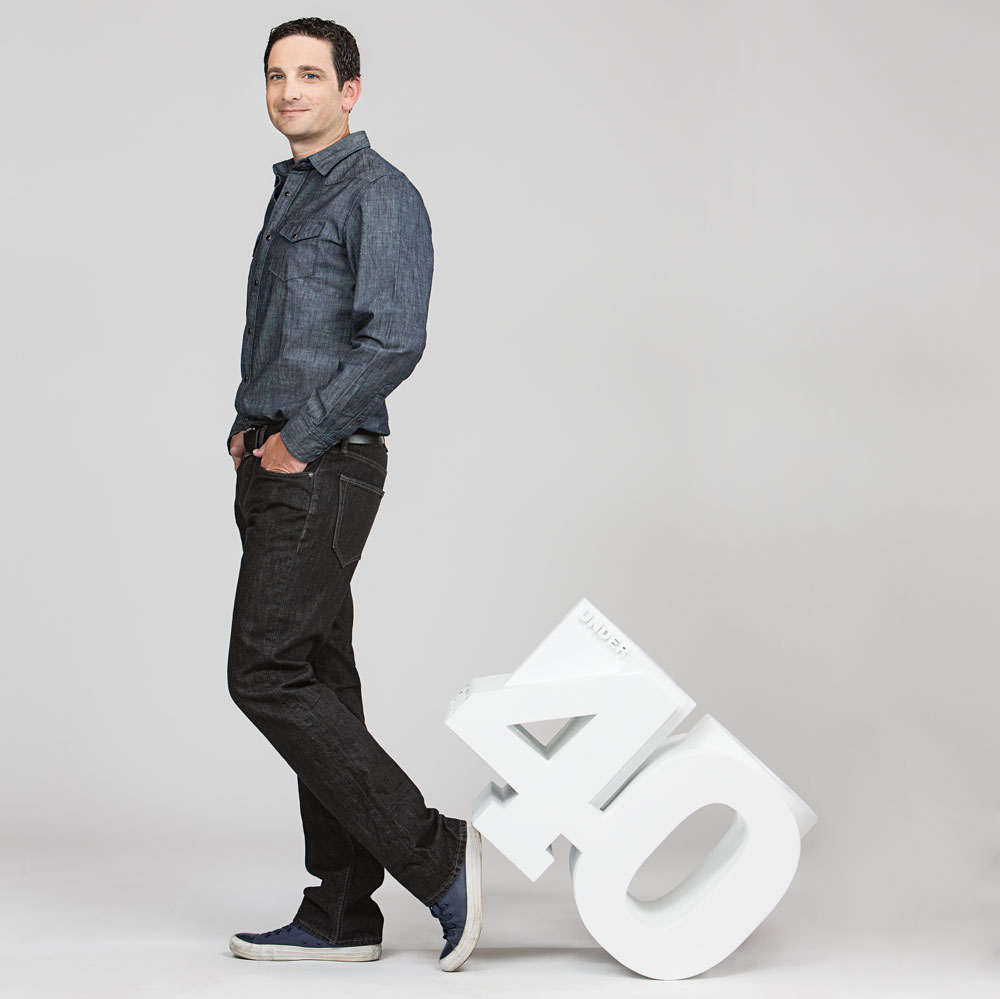 Job title: President, Aquality Plumbing and Heating Inc.; Managing Director, Platypus Tools Inc.; President, Lead N The Pack
Why he's a 2015 Top 40:
David Hornstein is building a successful plumbing business while inventing and bringing to market a product that will change the way at least one particularly gross practice is done in his trade. He also saves puppies.
David Hornstein believes in second chances – probably because he's had some himself.
Shortly after graduating as a journeyman plumber, Hornstein fell through an open staircase at a jobsite and broke his back in three places. It took eight months to recover, but, when he finally found his feet again, he hit the ground running.
Hornstein started Aquality Plumbing and Heating, which grew quickly and soon boasted five plumbers and an office staff. After five years, however, two large unpaid bills forced him to restructure his business, leaving him with one employee. "That five- to six-year period, that was a real eye-opener," he says.
Hornstein found his feet once more, and, over the last five years, he has rebuilt his company and added another plumber to the roster, rehired office staff and is on the cusp of bringing a third van back into his small fleet.
And it's not just Aquality that he's overseeing these days. As managing director of Platypus Tools, the 39-year-old is also giving his industry an invention 10 years in the making. It started when Hornstein was tasked with pulling out 20 toilets in an apartment building. Covered in toilet water and having splashed bacteria all over the bathrooms, he thought there must be a better way. "Platypus, for me, is about doing something for my industry that makes it better," he says.
His invention, The Trunk, allows plumbers to get rid of the water pooled in the bottom of toilet bowls prior to removing them. The first run of 1,300 tools is almost sold out and a second order of 3,000 shipped this fall, just in time for an appearance on Dragon's Den.
But, if we're really talking about Hornstein's belief in second chances, it finds root in his love of working with troubled dogs. Through his side business, Lead N The Pack, he works with dogs on the threshold of being put down due to behavioural issues.
"I just use it as my own rehabilitation or stress relief," he says. "I find it very balancing for me to work with dogs. Because of the other stuff that takes up so much of my time, I take cases on that are basically the worst that I can find." – Drew Anderson