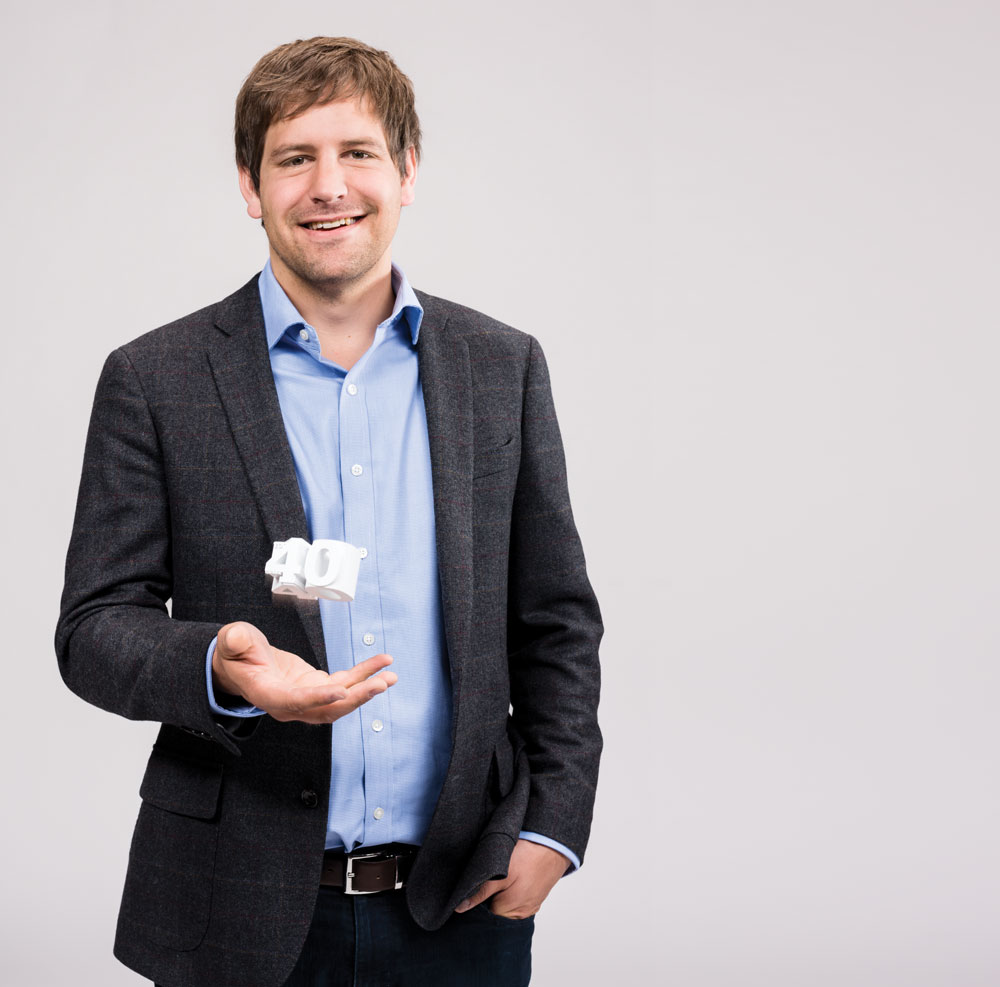 Job title: Partner and COO, SkyFire Energy; Chair, Spark
Why he's a 2015 Top 40:
As a champion of renewable energy, David Vonesch has helped build SkyFire Energy into a solar power industry leader that has designed and built more than 45 per cent of the province's grid-tied solar projects.
Take a drive down any of Calgary's major roads and, odds are, you'll see David Vonesch's work.
"Deerfoot Trail, 16th Avenue, Memorial, Macleod Trail, Crowchild Trail – you can see solar from every one of those roads," says Vonesch. "You need to look up to rooftops to see it most of the time, but there's solar everywhere in the city."
Vonesch, 32, is a partner and COO of SkyFire Energy, a solar contractor that designs, supplies and builds residential and commercial grid-tied and off-grid solar electric systems. Since Vonesch joined the company as a partner in 2008, SkyFire has grown from a four-person start-up to an industry leader with 35 employees and has set up hundreds of solar electric systems across Western Canada, Ontario and the Northwest Territories. In total, SkyFire has designed and installed more than 45 per cent of Alberta's grid-tied solar projects.
Vonesch is also the chair of the electrical retail cooperative Spark, which sells renewable energy and regular grid power to home and business owners. As part of its mandate, Spark invests 70 per cent of its profits into renewable energy projects, with the other 30 per cent issued back to members as dividends.
"It's a neat little community of renewable energy enthusiasts and people who want to save on their electricity and support renewable energy development," says Vonesch. In the first half of 2015, Spark's micro-generators exported more than 150,000 kilowatt hours of green energy – the equivalent conventional power would have produced nearly 240,000 lbs. of carbon dioxide emissions.
When he's not working with Spark or SkyFire, you can find Vonesch preaching the solar gospel by giving presentations to both grade school and high school audiences, as well as mentoring fourth-year electrical engineering students at the University of Calgary. "Part of it is wanting to give back to the community, but a big portion of it is selfish in that I really enjoy it," he says.
And in 2013, Vonesch helped Calgary-based non-profit Light Up The World with the design, personnel training and installation of six solar-lighting systems in isolated villages in the Peruvian Amazon.
Despite working 55 to 60 hours a week, Vonesch maintains both a sunny disposition and a clear vision of why his work is important. "[My work] matters for me in regards to climate-change concerns," he says. "Having a little one year-old drives that home even further, as far as the world that they're going to grow up in. That's why it matters." – Andrew Guilbert