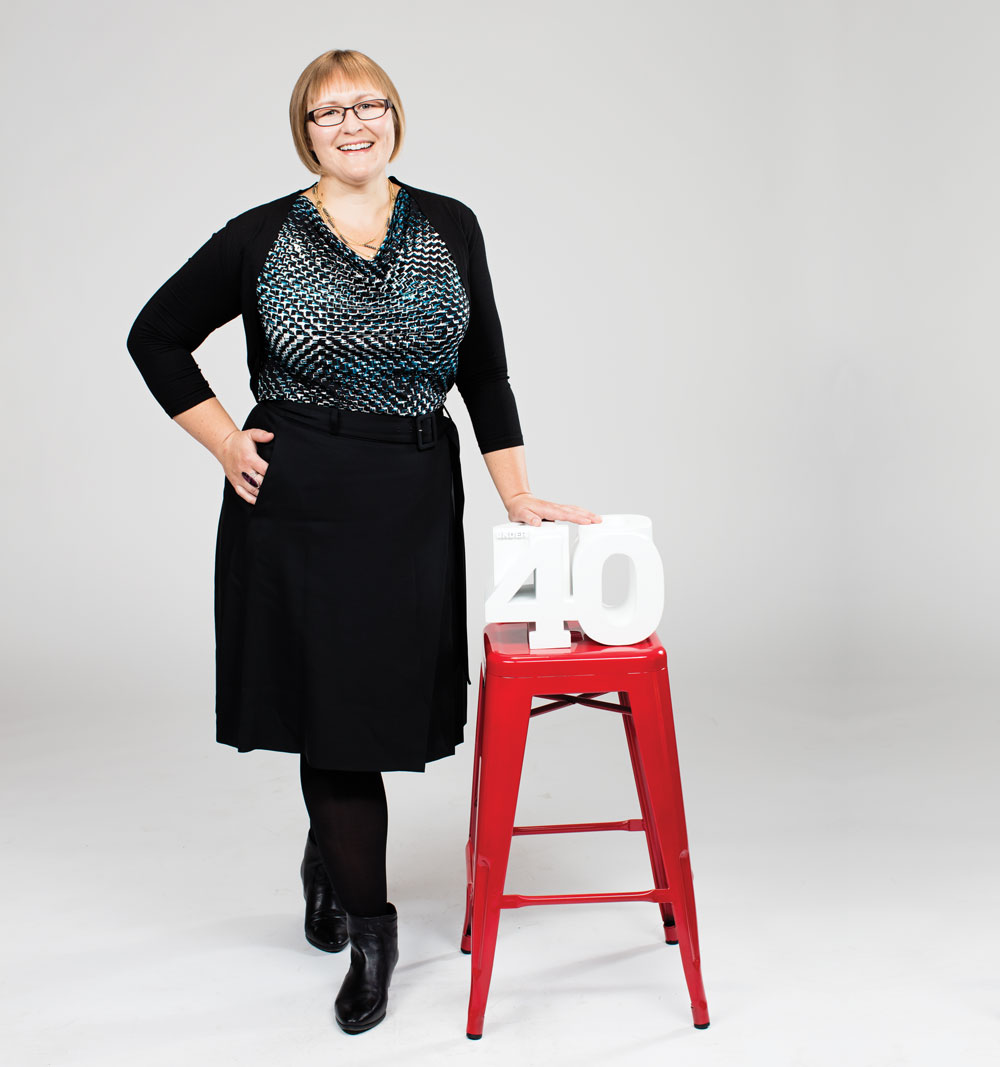 Job title: Assistant Professor, Departments of Medicine and Community Health Sciences, Cumming School of Medicine, University of Calgary
Why she's a 2015 Top 40:
Dr. Cheryl Barnabe is improving care for Albertans affected by autoimmune diseases, especially those living in First Nations communities.
To trace the trajectory of Dr. Cheryl Barnabe's career, you must go back seven decades to her grandmother's decision to hide her Mtis heritage. That secret, discovered when Barnabe was 18 years old and studying to get into medical school, ignited her interest in Canada's First Nations people.
"[My grandmother] has been a huge influence," says Barnabe. "She learned to assimilate to give her family a better life at the time, and yet she's a very passionate advocate for Aboriginal rights and justice."
Today, Barnabe is an assistant professor in the Cumming School of Medicine at the University of Calgary and an accomplished researcher and rheumatologist who is working to eliminate the health-care gaps between indigenous populations and other Canadians. She divides her time between her office in Calgary, where she carries out research activities like mentoring trainees and studying treatments and causes of rheumatoid arthritis, and travelling to clinics in First Nations communities across southern Alberta.
"The best thing about my job is that no two days are the same," says the 36-year-old mother of two. "I'm a travelling specialist."
Barnabe's research has shown rheumatoid arthritis is three times more common, and lupus and scleroderma twice as common, among First Nations people in Alberta than other Albertans. These autoimmune diseases are, she explains, debilitating conditions that often get overlooked. "And yet, they take away a young mother's ability to care for her kids or even have kids," Barnabe says. "It totally changes your work and career aspirations unless you can get the right treatment."
But many First Nations don't have access to the right treatment. "Because of inequalities already in existence, we have to work a lot harder to get the same outcomes for the Aboriginal population. I think what I've been able to do is bring that inequality to attention," Barnabe says.
Barnabe, who recently won a New Investigator Award from the Canadian Institutes of Health Research, says her work ethic stems from her parents and her grandmother, who is still active at 88. "I learned to work hard from my family because they still do," she says. "But what makes me want to continue working hard is the connections to people, patients and the communities that they live in. I feel like I'm a part of that community, as well." – Christina Frangou