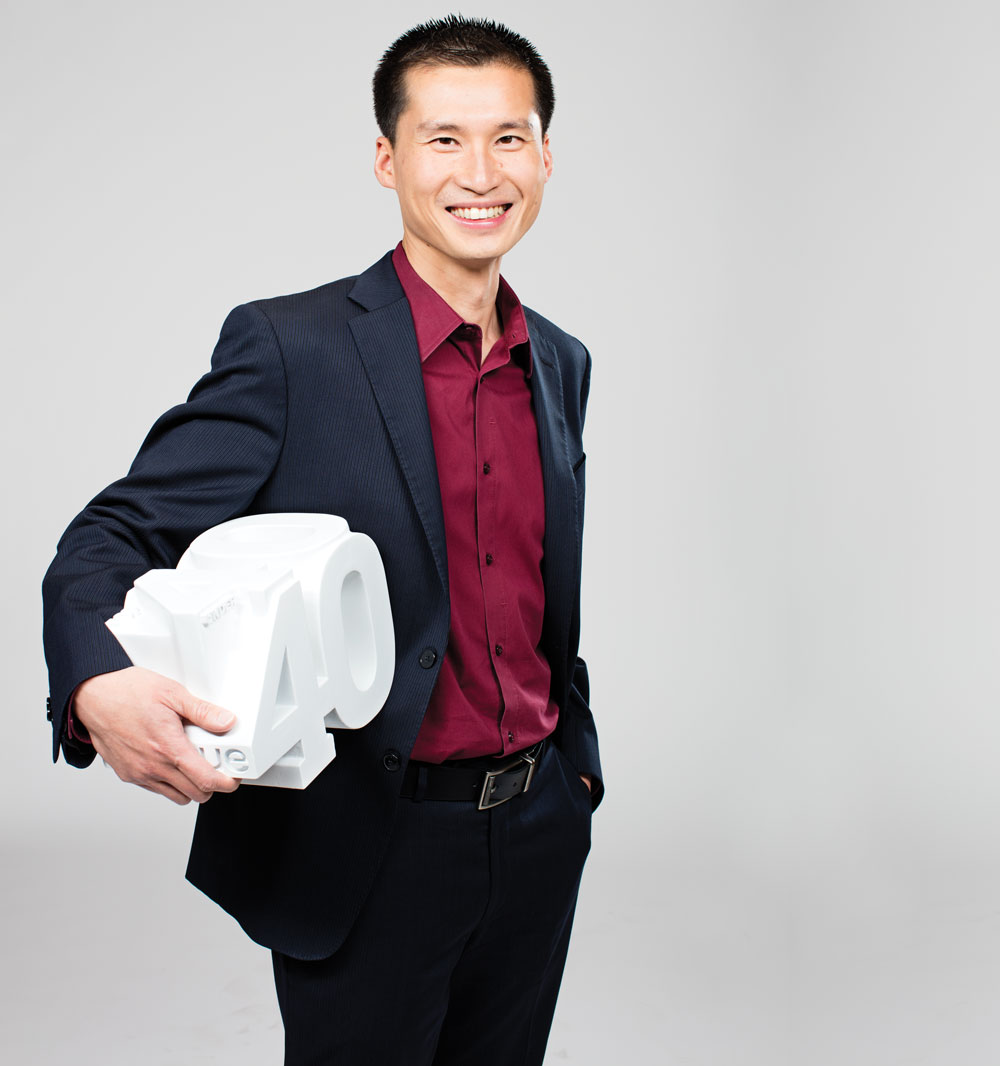 Job title: Staff Medical Oncologist, Tom Baker Cancer Centre; Clinical Associate Professor, Department of Oncology, Cumming School of Medicine, University of Calgary
Why he's a 2015 Top 40:
Internationally renowned in the world of kidney cancer, Dr. Daniel Heng started what is now the largest kidney cancer patient database, and he developed a prognostic tool that is named after him. He also works directly to cure people's cancers and be a compassionate caregiver.
On Boxing Day 2006, snow pounded Calgary, ruining Dr. Daniel Heng's plans to hit up stores for sales. Instead, the then-medical resident sat with his laptop and, for hours, collected data on kidney cancer patients.
What started on Heng's laptop with 69 patients is now, at 4,800 patients, the world's largest database of kidney cancer patients treated with contemporary therapies.
Known as the International Metastatic Renal Cell Carcinoma Database Consortium, it has significantly advanced the understanding of this often-lethal cancer. "When my patients ask me questions like, 'What's my prognosis?' and I can't answer, it motivates me to answer those questions," says Heng, a medical oncologist who specializes in the treatment of kidney, prostate, breast, bladder and testicular cancers.
Born in Brunei and raised in Calgary, Heng fast-tracked through an undergraduate and medical degree at the University of Calgary and studied at the University of British Columbia, the Cleveland Clinic and Harvard University. By the time he finished, he had developed a prognostic tool – known as the Heng criteria – used by oncologists around the world to help predict how patients will fare with treatment.
For Heng, there was never any question that he would return to Calgary. He's a proponent of the Canadian health-care system and found work difficult in the United States, where uninsured patients struggled to get cancer treatments.
"Ethically and morally, it didn't seem right to me," he says. "I wanted to stay here and add to Calgary's profile. I'd love to see the University of Calgary grow into one of the top research institutions in Canada."
Despite being someone who spends so much time tracking numbers, it's the very close personal relationships with patients that inspire Heng to work long hours. "I live to tell [my patients] their CT scans are better, or that they have passed the five-year surveillance-mark milestone," he says. "I want to transform every cancer patient's potentially dark, intimidating and lonely journey into one that is brighter, informed and supported."
Heng estimates he spends more than 1,000 hours annually volunteering for organizations that raise cancer awareness, doing research and committee work and presenting at medical conferences.
But in the last two years, he has started to learn the art of work-life balance, thanks to his husband, Chris, and their baby son. "Without my husband, none of this would be possible," says the 36-year-old Heng. "He's a huge source of support." – Christina Frangou