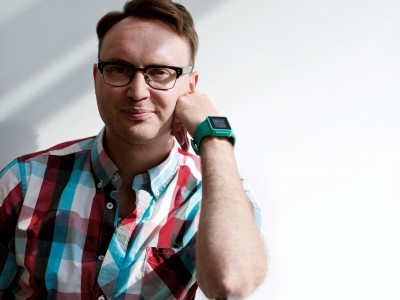 Job Title: Co-Artistic Director, Ghost River Theatre
Age: 34
In Eric Rose's world, an exploding deck of cards represents blood gushing from gunshot wound; a bolt of fabric is, alternately, a hammock, a sail and waves upon the ocean; and men can soar through the clouds at a fraction of the cost of big-budget Hollywood movies.
"I don't limit the scale or scope of any project. I'd rather dream it first, and then see if we can find the resources to make it happen," says Rose, co-artistic director of Ghost River Theatre.
Rose's work combines "high-fi and low-fi theatrical magic," experimentation and the seamless integration of various elements of stagecraft.
That collaborative, creative approach was used for Ghost River's 2010 hit, "The Highest Step in the World", which Rose developed with co-artistic director David van Belle while they were playwrights-in-residence at Alberta Theatre Projects.
"We went to the Green Fools Theatre's old church [in Erlton] and we laid out old tarps and projectors, and we played for a week, just to see what was possible," Rose explains. The finished product used projections and a human winch to reproduce the dizzying real-life plunge of skydiver Joseph Kittinger, played by van Belle.
Rose started in Calgary in 2003 as an artistic associate at Theatre Calgary, where he directed and curated the then-fledging play-development program, FUSE.
By age 26, Rose was the youngest person in Theatre Calgary's history to direct a play on the Max Bell stage with "A Christmas Carol", followed by "Our Town" and "Jake and the Kid". He'll return to Max Bell next year to direct the Canadian premiere of the Theatre Calgary/Citadel Theatre co-production of "The Kite Runner".
In the past two years, plays directed by Rose for Ghost River have garnered 16 Betty Mitchell Award nominations and five wins, including back-to-back awards for outstanding production for "The Highest Step in the World" and "ONE", which also won Toronto's Summerworks Theatre Festival CanStage Directing Award. Both plays continue to tour nationally.
In June, Rose was one of four Calgary artists to receive the Lieutenant-Governor of Alberta Emerging Artist Award.
An advocate of arts education, Rose has travelled to Ghana three times in the past five years to live and work among aspiring young actors as part of Osu Children's Library Fund. He also works at ARTSTREK, the Theatre Alberta Drama Camp.