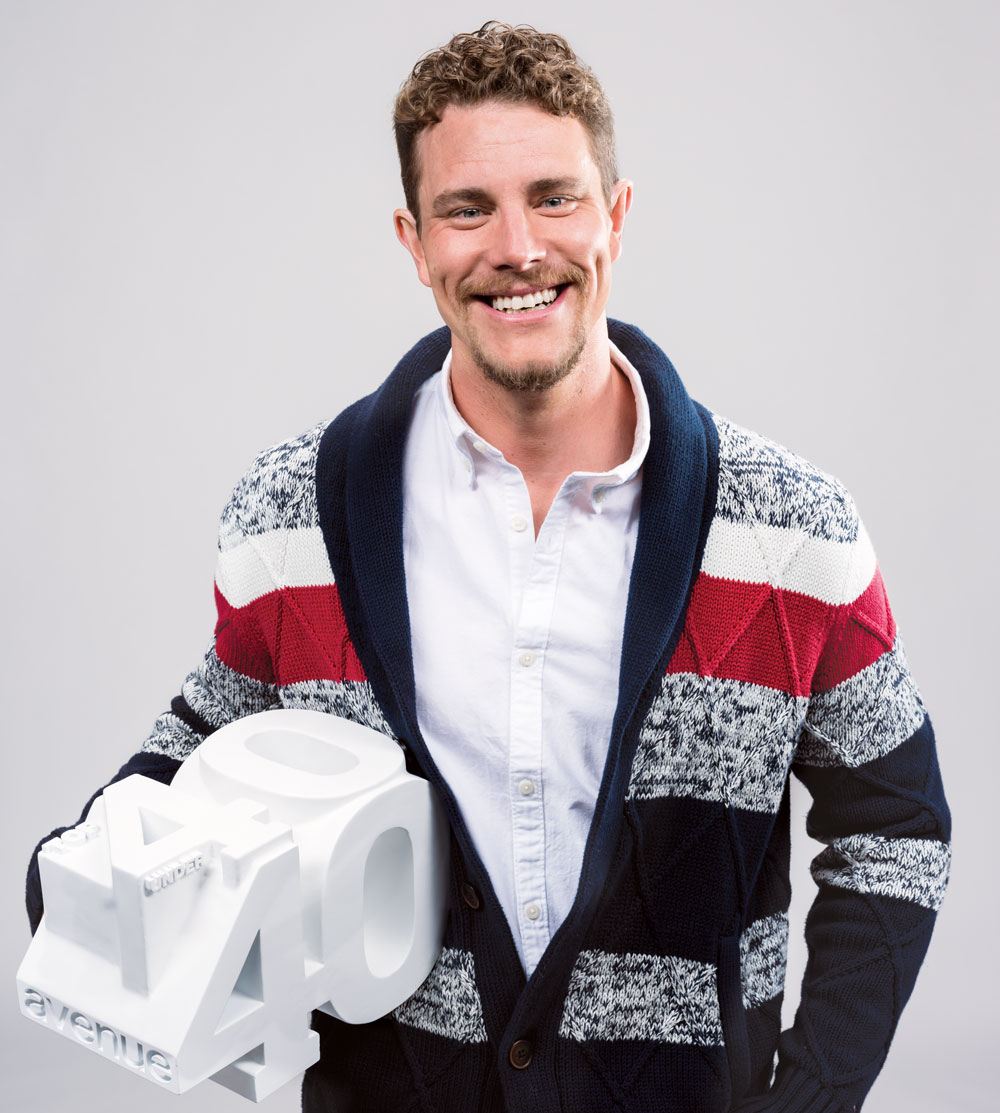 Job title: Executive Director, Kids Up Front Calgary
Why he's a 2015 Top 40:
Evan Patterson is the executive director of Kids Up Front Calgary, which last year distributed 32,000 event tickets to kids who otherwise wouldn't get the chance to see the Flames in action or the Calgary Philharmonic on stage. He helps create memories that last a lifetime, often planting seeds for a child's future interests or career.
Paddling a canoe through the warm waters of Lake Vernon in Ontario, Evan Patterson fell in love – with summer camp. Starting at age 12, he attended Camp Tawingo each year. At 17, he returned to take the counsellor course, and spent five more years working at the Muskoka destination.
And camp life really came to help his life path during his job interview for the position of executive director at Kids Up Front in Calgary, an organization that distributes donated tickets for a variety of arts and sports events to underprivileged children.
"I had Mike Pearse, director of Camp Tawingo, on my list of references," Patterson says. "One of our board members, Nora Stephens [a Top 40 Under 40 alum, herself], had been a camper and counsellor there."
Under Patterson's leadership, in 2014, Kids Up Front Calgary gave away 32,000 tickets to arts, sports and cultural experiences – $1.7 million worth. Those tickets included a major coup – 157 suites to Flames, Hitmen and Roughnecks games, concerts and other events at the Scotiabank Saddledome were donated in the 2014-15 season, an increase of 48 suites, or almost 50 per cent from 2013.
"Any time you see an empty seat at an event, that's an opportunity for Kids Up Front to fill the seat with kids or families who deserve to be there," says Patterson.
Growing up in southern Ontario, Patterson had always wanted to help kids and teach. However, after getting his bachelor of education degree, teachers in the Niagara region were getting pink slips instead of job opportunities. The avid skier and snowboarder sought greener professional pastures and higher mountains by moving to Alberta. After just six years here, he says Calgary is home.
"I fell in love with the west – with the natural beauty out here, with the work ethic of this city and this province. I'm very passionate about Calgary," says Patterson.
His passion extends to future planning for Kids Up Front. "Looking forward, I'd love Kids Up Front to be the Ticketmaster for non-profits," Patterson says. – Tiffany Burns