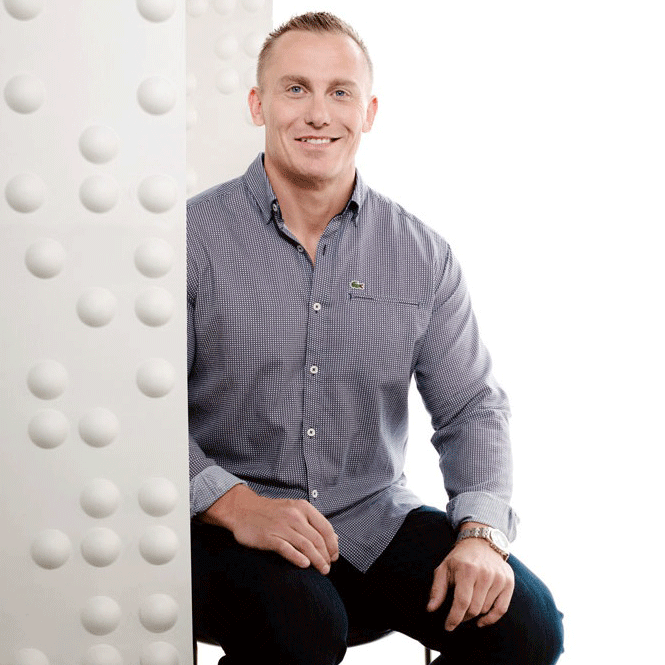 Age: 36
Job title: Assistant Professor, Cumming School of Medicine, University of Calgary
Why he's a 2014 Top 40:
Gavin McCormack's research looks for a societal response to problems like the obesity epidemic, and he's finding ways to build healthier, more active neighbourhoods.
Gavin McCormack is terrible at sitting still. And that makes him very good at his job.
McCormack, an assistant professor in the University of Calgary's Cumming School of Medicine, turned his love for exercise into a successful career as a researcher who is finding ways to build healthier communities. 
"For me, it's all about being active and healthy," he says in his bright Australian accent. 
An athlete with an affinity for Aussie-rules football and mountain biking, McCormack started out studying human movement at university in his hometown of Perth. His focus was on building exercise programs.
But a professor convinced him to take a wider perspective and look beyond the health of individuals to find ways to improve the physical activity levels of whole communities. 
McCormack was quickly hooked on finding links between urban design and health. He completed his Ph.D. and, in 2007, came to the U of C as a post-doctoral fellow.
Since then, he has spearheaded studies looking at things like how urban parks influence health and why cars contribute to the obesity epidemic. He's interested in the impact of everything from living on a cul-de-sac to owning a dog. 
"I really love research," says McCormack. "I love anything where I can crunch some numbers and look at relationships between variables and things." 
Last year, he was awarded a prestigious Canadian Institutes for Health Research grant to study the interplay between the built environment and physical activity levels, diet and weight in Calgary's adults. It's a five-year project, but McCormack already knows what he wants to study next: how kids' social relationships influence physical activity.
"I'm always looking to the next thing. That's what keeps me going," he says.
As part of his job, McCormack also works with the City of Calgary and community associations on ways to create healthier neighbourhoods.
"The obesity epidemic is a societal problem, so we need a societal solution," says McCormack. "That means building neighbourhoods that are walkable, and providing opportunities to eat healthy food, to walk, to cycle, to be active." Practicing what he preaches, he owns a car but walks everywhere he can.
McCormack stresses that he's part of a team of researchers, city planners and students. 
"I'm a little uncomfortable whenever the spotlight is on me. I just do what I do," he says. –Christina Frangou