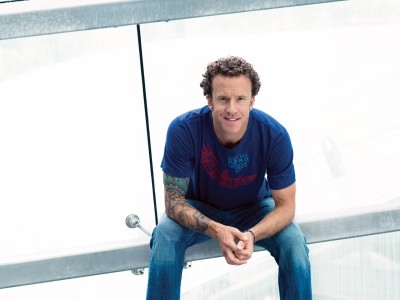 Job Title: DIRTT Bag, DIRTT Environmental Solutions
Age: 37
If Houston Peschl could bottle his energy, he would be a very rich man.
"I explained to some people that I'm like a border collie – if you throw a stick, I'll go get it," he half-jokes.
You'd need that kind of drive to keep Peschl's pace. For his day job at DIRTT Environmental Solutions, he manages more than 400 employees at factories in three different cities. (His conservative title is director of operations and sustainability.) He also mentors students, volunteers with Calgary Economic Development (CED), cooks at Ronald McDonald House and does mountain bike races that go for 24 hours straight. Tired yet?
At DIRTT, Peschl finds ways to eliminate waste from the processes at its three factories. His recent project includes using denim as insulation in its pre-engineered interior walls. Yes, the company is filling walls with jeans.
DIRTT's philosophy – from how it manufactures sustainable construction materials to how it hires and mentors people – is to rock the boat of conventional thinking. With revenues upwards of $120 million and Fortune 500 companies for clients, it's obviously rocking it to a catchy tune.
Under Peschl, DIRRT has become one of the first companies in Calgary to get B Corporation certification, an international sustainability stamp of approval. "B Corps help differentiate a company that is truly doing good, as opposed to just marketing itself as doing good," Peschl says.
Peschl wasn't always surrounded by such positive momentum. When he was a 14-year-old dyslexic, skipping school and getting into booze in Canmore, a teacher told him he would never amount to anything. It might have been true had he not been sent away to boarding school.
"It was like the island of misfit toys," he reminisces. "I was finally guided by someone who said, 'Forget what everyone has told you. You just need to learn in a different way.'"
That's exactly the philosophy behind his work with CED's Community Commerce. The group meets once a month to brainstorm ways to promote sustainability. For Peschl, it's his chance to help Calgary become a hot spot of innovation and smart business thinking.
"Sustainability doesn't have to cost you more," he says. "It actually makes you far more money and is far more resilient."