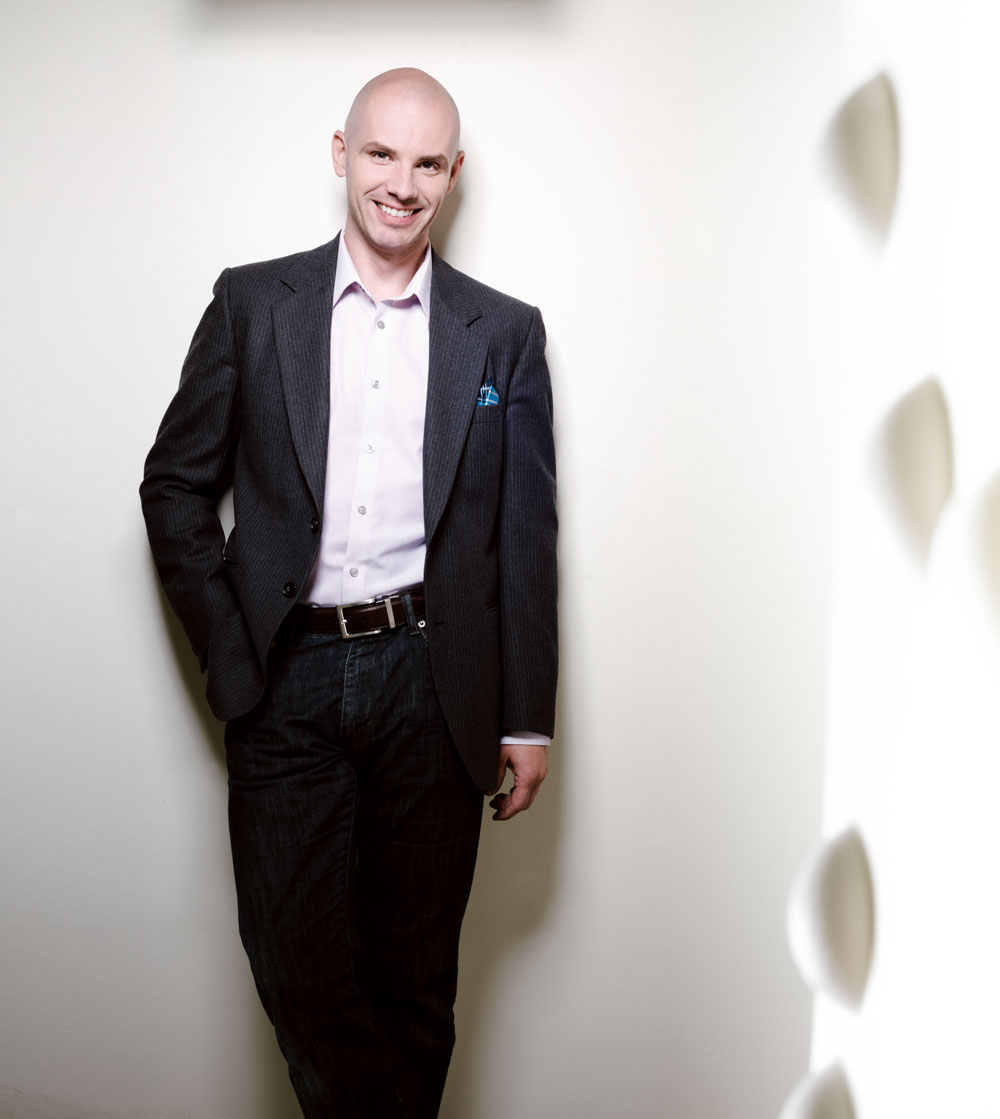 Age: 39
Job title: Artistic Director, Choral Program, Mount Royal University Conservatory
Why he's a 2014 Top 40:
Jean-Louis Bleau is a maverick in Calgary's choral scene. He is shaping the next generation of singers with his creative and collaborative approach to performance.
Jean-Louis Bleau is equally comfortable conducting at swimming pools and in concert halls. His singers dance, stomp, howl and speak in tongues, joined onstage by dancers, aerial acrobats and fire twirlers.
"As a consumer of the arts, I'm not a traditionalist," says Bleau, artistic director of the choral music program at Mount Royal. "If I'm going to pay to see something, I want to be shocked and excited."
Bleau, who holds a master's degree in music from the University of Calgary, uses artistic collaboration to shake up what he calls the "stand-and-deliver" choir model. His productions combine unconventional staging, special effects and the performing arts into a hot mess of sound, light and colour.
Bleau's audaciousness has helped breathe new life into choral programs at Mount Royal – he directs two choirs and oversees a half dozen others. When he arrived at Mount Royal in 2011, its Youth Choir had seven members. Seeing an opportunity to fill a niche in Calgary's arts community, Bleau set about rebuilding the group as Calgary's first "vocal theatre ensemble."
The Youth Choir, renamed Mount Royal Artio, is now at 34 members and growing. In April 2014, Artio held its inaugural concert, Paradox, which featured steampunk-inspired staging and lighting by acclaimed Canadian designer Terry Gunvordahl, as well as performances by contemporary dancer Gessuri Gaitan.
Bleau has had similar success with the Mount Royal Children's Choir. Bleau found and hired Liz Paynter to direct the choir, and its membership has grown from nine to 40 singers over the past three years.
Outside of Mount Royal, Bleau serves as artistic director of the Calgary Men's Chorus and Cum Vino Cantus. Both choirs have seen their membership numbers more than triple under his leadership.
Bleau is a firm believer in making music accessible to all and has organized and been involved in choral performances at community events and fundraisers for Child Find Alberta, the Calgary and District Foster Parents Association, AIDS Calgary, Camp fYrefly and the Calgary Women's Emergency Shelter.
With Mount Royal's new concert hall, The Bella, slated to open in 2015, Bleau is hard at work dreaming up new ways to shock and excite.
"The Bella is going to be an amazing performance space, and it deserves an equally amazing performance to inaugurate it," he says. -Greg Beneteau
Watch Artio's Paradox performance
This story has been updated from the original posting to note that Jean-Louis Bleau works for the Mount Royal University Conservatory.