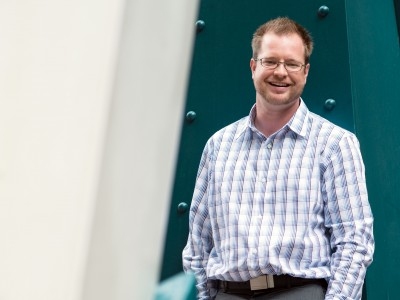 Job Title: Manager, Food Services, Heritage Park Historical Village
Age: 35
By day, Jeff Hodgson is a bespectacled man, amiable and helpful in his job as food services manager at Heritage Park Historical Village.
By night, he brings zombies to life.
Hodgson has always been creative and, in May 2010, he indulged his dark side by releasing "Lore", a zombie comic book based in the southern U.S. of the 1920s that he co-wrote with fellow zombie fan and friend Joel Gardiner.
The project seems very unlike his more wholesome day job, but the 17 years he's spent working at the park came in handy.
"We wanted it to be based in the past. And, working at Heritage Park, I know the look of things and I know how things work," says Hodgson.
After working his way up from scooping ice cream to running Heritage Park's food services department, he knows a little something about food, too. He grew that department from $2.9 million when he started as food services manager in 2002 to $7.3 million today, and annual private functions have more than doubled from 250 to 600. By shifting the food philosophy away from outsourced frozen foods to house-made and locally sourced ingredients, he raised diners' expectations and kept them coming back.
"That was a struggle, because I wasn't a chef and I was telling chefs how I thought we could do a better job," says Hodgson, who now has the support of the park's executive chef, Jan Hansen. "We wanted to have confidence in the
product that we were serving and selling."
Hodgson has also brought more adults through the park gates by establishing licensed, ticketed programming, like Murder Mystery Theatre, Captain's Cruises on the picturesque Glenmore Reservoir and romantic Victorian Valentine's Day dinners. And he's been a big part in the planning and design of Heritage Park's expansion, including the Founder's Lounge, the Selkirk Grille, Railway Cafe and Club Cafe.
Perhaps a telling nod to his dark side, he prefers his black hat to the two white Stetsons he won back-to-back at Tourism Calgary's 1997 and 1998 White Hat Awards for exceptional customer service.
"At work I have to be the happy, friendly guy, but sometimes it's fun to be the bad guy," says Hodgson.