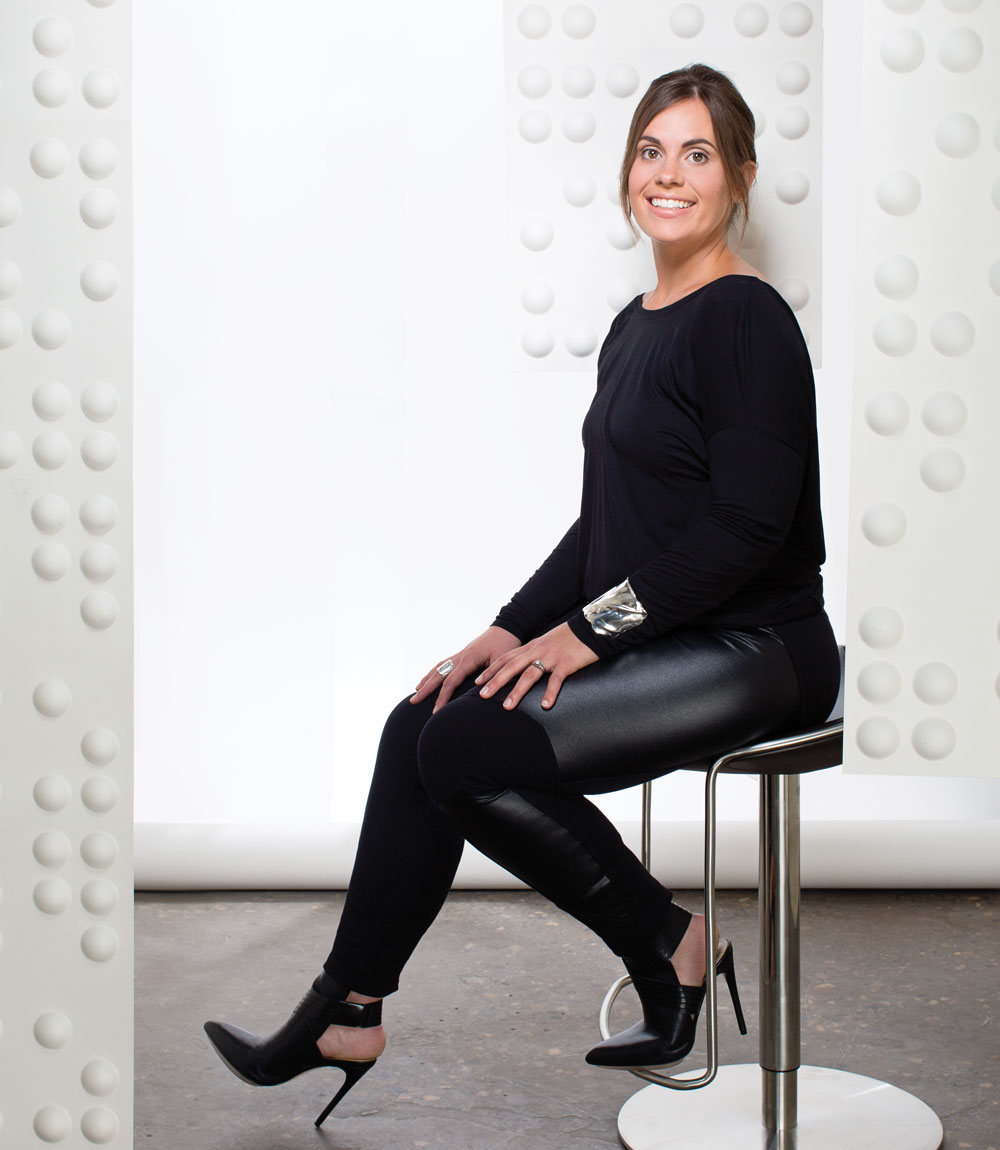 Age: 33
Job title: Founder, Steel Toe Stiletto, Ltd.
Why she's a 2014 Top 40:
Jill Drader is helping women get their start in the trades through the creation of Steel Toe Stiletto Ltd., Women in Work Boots (an online networking site) and an online training site (Business in Work Boots).
While there's always a buzz associated with the Top 40 Under 40 finalists, Jill Drader may be the only one in the Class of 2014 who can say a buzz is her source of inspiration.
"I can be doing anything, even washing the dishes," she says. "I'll hear a buzzing in my ears. It's an inner voice that lets me know that I have to write some idea down."
Tuning in to this vibration has helped the mother of two young children carve out a niche for herself as a journeyman tile setter and a leader who's showing that the best way to fix the trade shortage is by narrowing the gender gap on the job site.
Drader has worked as a certified tile setter on commercial job sites, but these days she is increasingly being called to share with other women how they, too, can find success in the trades.
For five years, she worked with the YWCA to help vulnerable women develop a trade so they could construct a better and more positive future for themselves, until that program was cut two years ago. In the past few years, she has accepted more than 50 invitations to speak at workshops and industry events for groups ranging from Junior Achievement and immigrant women's groups to homebuilders and the federal government. 
Which isn't to say Drader does all of her motivating from the podium. Between tiling jobs and her other commitments, until recently she put in about 30 hours of her week coaching one-on-one with clients through Momentum Calgary. Now she does that same work through her private practice, Steel Toe Stiletto.
At the core of Drader's counsel is the lesson that she learned while on job sites – people don't need mentors to be successful; they need a network, and that's what she provides through Women in Work Boots. As Drader sees it, it's not the passive chit-chat-while-swapping-business-cards networking that's needed, but an approach with a much clearer outcome as its focus.
"Women need to be educated on which questions to ask," she says. "We have to be ready to find our own mentors and create our own business and professional development opportunities."
Drader sees her own work as a retooling of the fishing parable – give a woman a job and she'll work for that day, but teach her how to create her own work and she'll never be without an opportunity.
And Drader will continue to reel in opportunities with the launch of the Connect-Her Network, and an online curriculum for women and men in oil and gas trades, Business in Work Boots.
And, in the process, she will continue to generate more buzz. –Bruce Ramsay