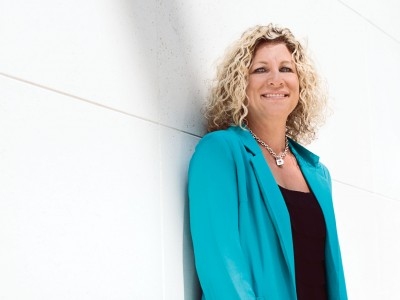 Job Title: Physiotherapist and Researcher, Sport Injury Prevention Research Centre
Age: 39
Kathryn Schneider stood at the top of a five-metre-high diving board, a few steps back from the edge. She stepped forward, hurled herself into a spin, and, just as she took flight, a woman dove into the water beneath her.
"I thought, 'This is not good.'" says Schneider, laughing, recalling her days as a competitive springboard platform diver. "I landed on top of her. There was no blood, but I had a pretty sore neck and back."
After frequent trips to the clinic to treat her sore neck – and dozens of conversations with physiotherapists – her career goal was set. She would spend the next 20 years chasing a career in physiotherapy in universities from Hamilton to Michigan, acquiring degrees in kinesiology, biomechanics, physiotherapy and a doctorate of science in physical therapy.
Schneider's training, a unique combination of orthopaedic (caring for complex spinal pain) and vestibular (correcting inner-ear imbalances that cause dizziness) expertise, has allowed her to approach concussion treatment in car crash victims and athletes in novel ways.
"By treating the two, it seems to improve symptoms so people can get back to their sport," says Schneider. She borrows techniques from both spinal and inner-ear rehabilitation to treat post-concussion dizziness, headaches and neck pain. Treatments could include anything from retraining the neck muscles or moving stiff joints to resetting the brain's balance system in the inner ear with vision-stabilizing exercises.
Schneider is currently completing her Ph.D., working with the Sport Injury Prevention Research Centre's elite team of doctors and scientists.
The centre is one of only four international research centres for the prevention of injury and protection of athlete health supported by the International Olympic Committee.
She also works with the sport division of the Canadian Physiotherapy Association leading a team of physiotherapists to redevelop its concussion-management course.
Concussions are one of the most common injuries in sports today. Schneider's research could make neck and inner-ear physiotherapy permanently part of the concussion treatment toolbox, and it could give thousands of people their lives back, whether hockey players on the receiving end of dirty body checks or victims of drunk drivers.
Throw in a commitment to play cornerback and centre for her all-girl, 2011 national-champion touch football team, her volunteer commitments with the National Physiotherapy Congress and the challenge of raising three kids, and it's more than a full plate.
"Time management is certainly the key to fitting in all that I do in a day," Schneider says.