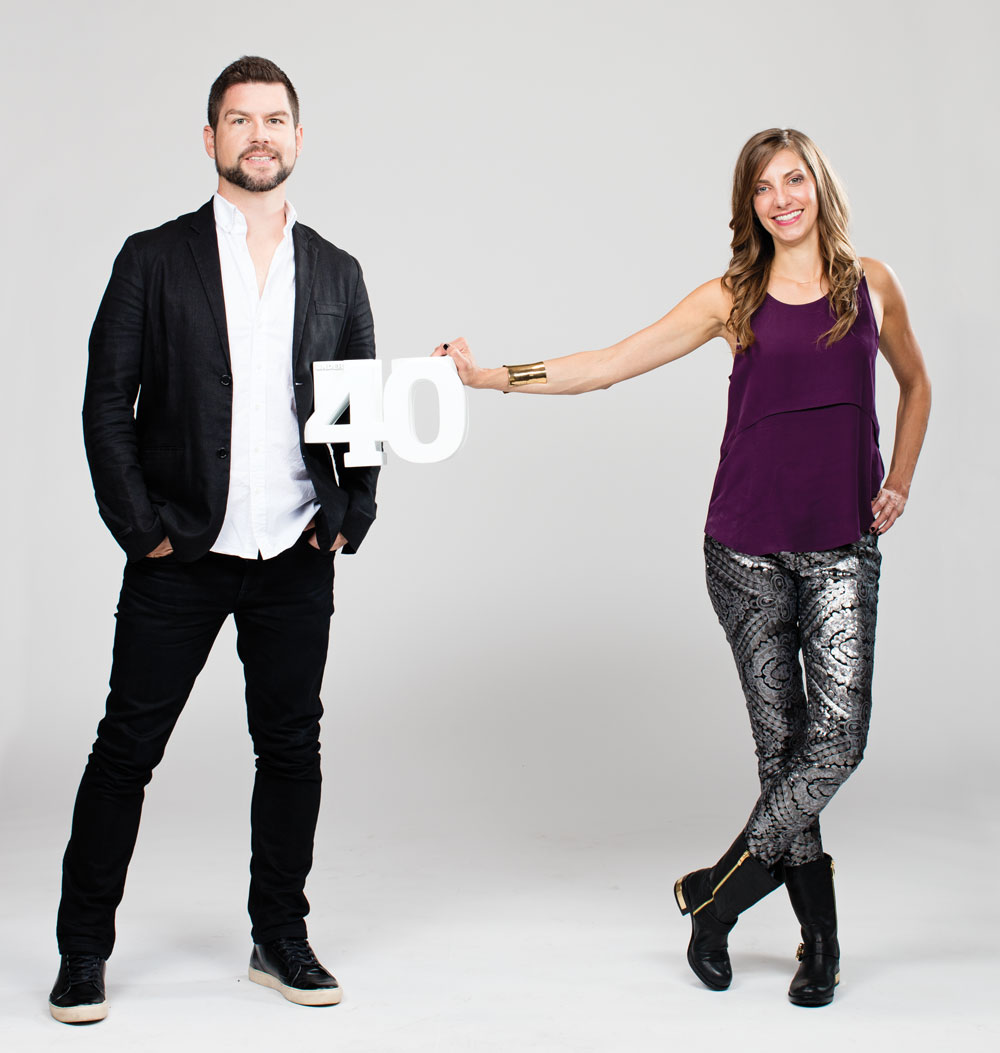 Job title: Owners and Operators, BMeX Restaurant Group (Una Pizza + Wine, Ox and Angela and more)
Why they are 2015 Top 40s:
Kelly Black and Jayme MacFayden are among the young restaurateurs revolutionizing the dining scene. They have created some of the city's most beloved casual dining hot spots, including Una Pizza + Wine and Ox and Angela, and are taking their brands beyond the city's borders.
When Kelly Black (left) and Jayme MacFayden (right) opened Una Pizza + Wine on 17th Avenue S.W. in 2010, the idea of a hip spot that served gourmet pizza and decent wine until the wee hours and made patrons wait for a table rather than taking reservations seemed like something that wouldn't fly in Calgary.
But, six years later, with a line that still snakes out of Una's door during peak service hours, more than 500 customers on a typical day and similar restaurants open in every quadrant of town, it's clear that the young entrepreneurs weren't just risk takers – they were visionaries.
When Black and MacFayden took over the space formerly occupied by the beloved Wicked Wedge, Una was one of the first independent restaurants to bring casual fine dining to Calgary. Una's initial (and continuing) popularity led MacFayden and Black to open the slightly more formal Spanish restaurant Ox and Angela a year and a half later, which again broke new ground by offering a high-end creative cocktail menu, another idea that is now de rigueur for trendy new restaurants.
Partners in both life and business with their BMeX Restaurant Group, part of the duo's success lies in their ability to work together efficiently. "We stay really departmentalized. I do one thing, Jayme does another," Black says. "I do office and administration, Jayme does front of house, and we don't step on each other's toes."
Now Black, 38, and MacFayden, 35, have trained their staff well enough that they don't have to physically be in the restaurants all the time (though they still are in one place or another most days). And after sitting with two restaurants for years, their BMeX group is now expanding. It is now a co-owner of Native Tongues Taqueria (along with former Una staffer Cody Willis, who acts as owner-operator), which opened in the Beltline last July. BMeX is also opening an Una Pizza location in Saskatoon, as well as an Una takeout shop in Calgary next door to Una Pizza + Wine. Both are scheduled to open in December.
For a relatively small operation without big money investors behind them, such a solid fleet of restaurants is no small feat. "When we started, Kelly jokingly said that he wanted to open five restaurants in five years," MacFayden says. "And now we have five restaurants, which is a huge thing for us." – Elizabeth Chorney-Booth