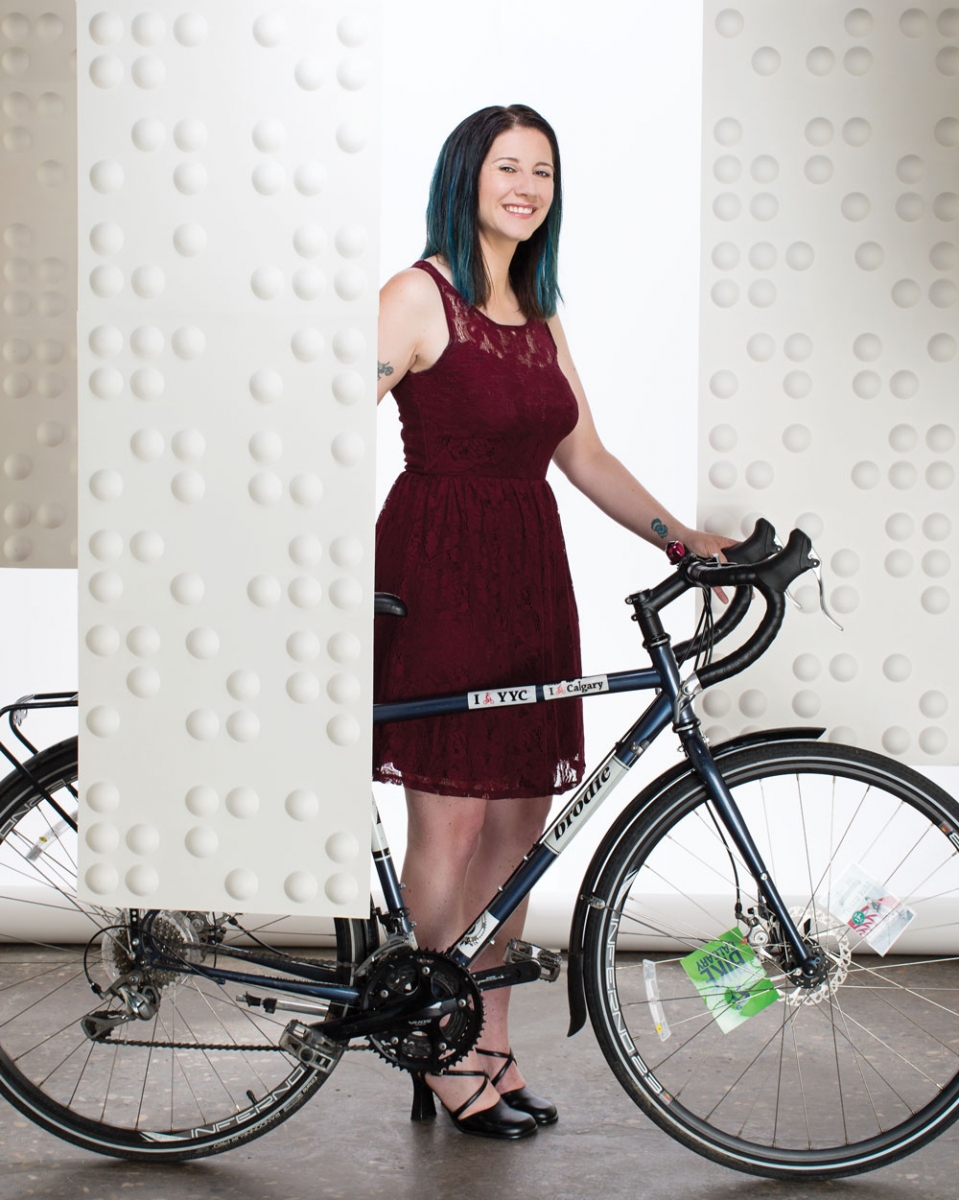 Age: 37
Job title: President, Bike Calgary; Senior Return Merchandise Authorizations Coordinator, SMART Technologies
Why she's a 2014 Top 40:
As one of Calgary's sharpest cycling advocates, Kimberley Nelson represents Bike Calgary through passionate debate with city councillors, media and even the occasional Twitter troll to help get the new downtown cycle track network approved by city council.
Kimberley Nelson, president of the non-profit community advocacy group Bike Calgary, is dedicated to making Calgary cyclist-friendly and cyclist-safe and to connecting Calgarians through cycling. 
She was instrumental in getting the downtown cycle track network approved by city council and is absolutely confident it will succeed through its pilot phase, starting in 2015.
"Calgary is a 'show me' city," Nelson says. "We saw it with the Peace Bridge, where [there] was an ongoing drone of anti-Peace Bridge talk. Now it's probably one of the most photographed pieces in Calgary."
Nelson began volunteering with Bike Calgary four years ago, working at the information tables for the group at various events. She quickly became the Ward 9 representative for the organization, assessing her community's cycling needs and concerns and becoming a voice for the area's regular bike riders. When a cyclist was struck and killed by a five-ton truck in the Foothills Industrial Park in 2012, Nelson says her "light-and-carefree" approach to cyclist advocacy changed. She got serious. 
"That was the first time that I really dug in my heels and hosted a forum," Nelson says. The community forum revealed "many amazing things," Nelson says, most notably that truck drivers who work in the Foothills admitted to sometimes running red lights in their rush to meet deadlines. 
"It was really eye-opening. You start to see what the motivations are for unsafe behaviour," she says.
Nelson advocates for bike safety in Calgary from nearly every angle. She teaches Calgarians of all ages to ride their bicycles safely on city streets through Bike Calgary's and Kids Can Bike Urban Cycling Skills courses. "The first time they make a manoeuvre where they are confident and feel completely safe makes all the time I put into doing this worth it," she says.
She also volunteers with an array of bike-related organizations including Alberta Bike Swap, Open Streets and Bicycles for Humanity, and she is working with Nancy Close of the mayor's office on the Green Commuting Hub program, part of the 2014 Mayor's Environment Expo project. 
As a trained chef, Nelson hosts the occasional dinner party, and loves taking in live rock shows – Sled Island is her annual can't-miss event. But she spends a lot of her free time, not surprisingly, riding her bike. –Sean Young