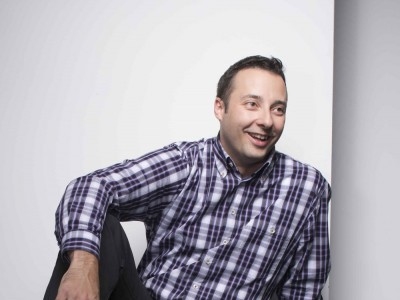 Job Title: Executive Chef, Catch & Oyster Bar
Age: 33
Creating a top restaurant is like building a family, says Kyle Groves. "You have all the different personalities that make up a kitchen – the young cooks, straight out of school, and the older, more established staff – and you spend so much time with them all," he says. "It's your job to manage everyone and make it all work."
Groves is a 2003 graduate of SAIT Polytechnic's professional cooking program. He worked at restaurants around Calgary, including Earls and Catch, and then moved on to Michelin-starred restaurants in the United Kingdom. In 2008, he returned to Canada. Two years later, he became the executive chef at Catch, where he leads its Ocean Wise campaign.
At current standards and consumption rates, the Vancouver Aquarium, which oversees the Ocean Wise program, predicts a worldwide fish stock collapse by 2048. The program aims to educate customers on sustainable options to ensure the seafood Canadians eat is abundant and sustainably harvested, without damaging marine habitat. "The more I learned about the project, the more I realized what an impact I could make," says Groves.
This year, Catch became Calgary's first seafood restaurant to offer 100-per cent Ocean Wise-approved seafood. Not an easy feat, considering Catch has more than 75 dishes on its menu. It took more than five years and an overhaul of the menu to become completely Ocean Wise.
Groves took some popular fish off the menu completely, including snapper and ahi tuna, because they aren't sustainable. Other dishes, including B.C. halibut, are now only offered seasonally. Groves does not think having a seafood restaurant become Ocean Wise is a liability; rather, he is leveraging the purchasing power of Catch to encourage producers to change the way they farm. For example, he convinced Catch's seafood supplier to find a prawn farmer who would install $500,000 in new equipment to deliver Ocean Wise prawns.
Groves often talks about Ocean Wise at SAIT, and he's on the school's advisory board for the professional cooking program. "Any advice I can give them to help improve the program, it's giving back to the community," he says. "And it's a two-way street: quite often, we hire those students, eventually."
Throughout the year, Groves volunteers at charity fundraisers, including Gold Medal Plates, AGC Cooks, the Willow Park Wine & Spirits charity wine auction and the Bocuse d'Or Canada. "I've seen this city grow, and it grows because people put back into it. I believe in that, and I want to be part of that," says Groves.
3 Things About Kyle Groves
In 2013, Catch & The Oyster Bar became the first Calgary restaurant to become 100-per cent Ocean Wise-approved.
Kyle Groves planted an herb and vegetable garden on the rooftop of the Hyatt Regency Calgary and uses it as a teaching tool for staff and a place to grow ingredients for the Catch menu.
Groves creates instructional videos for his staff to teach them new techniques and to educate them on sustainability.
Follow Kyle Groves on Twitter: @chefgroves