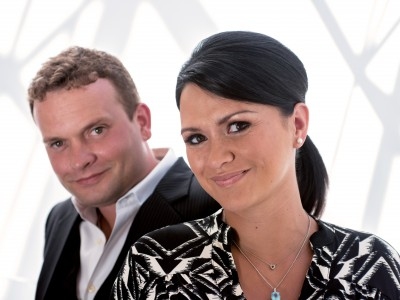 Job Title: Co-Owners and President and Vice-President, SHE Apparel
Age: 36 and 32
In the business of bras, Lailina and Brandon Smith are the best. The couple's undergarment shop, SHE Apparel, is the largest independently owned lingerie store in Western Canada.
And they built their business one perfectly adjusted strap and custom cup size at a time.
For many women, a bra fitting can be awkward, at best. Under halogen lights, measurements are taken and a size is determined based on what the store has in stock. The Smiths believe the right-fitting bra is essential to a woman's self-confidence.
"Lailina uncovered something unique in the market," says Brandon. "Women come here and feel beautiful, and they'll remember that, and that's why we have repeat business."
Lailina was inspired by the quality of bras and level of service she experienced while travelling in Europe and wanted to bring that to Calgary. In December 2005, she went part-time at her job in occupational health and opened SHE Apparel on 17th Avenue S.W. Brandon bought into the company in 2007, then left his sales job in the oil industry in 2008 to come on full-time. The couple married in 2009. The Smiths take customer service seriously, and that gives them an edge. SHE staff go through 50 hours of fit and product training and must score 85 per cent on a written and oral exam. Those standards garnered SHE a 2011 Calgary Choice Award for Best Retail Experience and a 2011 International Best Shop Award from "Intima" magazine.
Since 2005, SHE has grown from two employees to 12, with a database of more than 12,000 customers. Sales have increased from $600,000 in 2006 to conservative projections of $2.1 million in 2012.
Dedicated customers saw them through the recession in 2009 and the opening of a second location in Westhills. "Eighteen stores closed on 17th Avenue and we expanded," says Brandon. Their newest location at Bankers Hall "gives us a platform to take our growth to the next level," he says.
With plans to expand to five locations by the end of 2013, the Smiths are clear that growth won't affect the integrity of their service. "It doesn't matter what shape or size you are, it's our mandate that you'll leave feeling beautiful." says Lailina. "That's our success story."