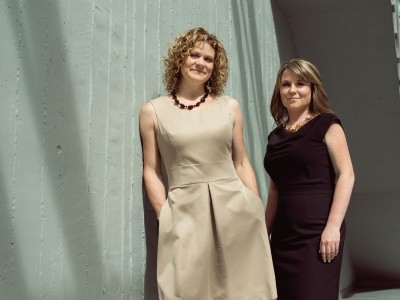 Job Title: Partner and Director of Operations; Managing Partner and CEO, Vital Benefits Inc.
Age: 36 and 38
Melanie Jeannotte and Laura Barkley started their lives sharing a room. In their 30s, they're sharing a business.
All without fighting. Much.
In 2006, the sister act founded Vital Benefits, a benefit and pension consulting firm. They took a service-oriented, high-tech approach to an industry that is traditionally sales driven. The company signs a commitment to each client promising to respond to queries within a half day. The sisters computerized as many operations as possible and, to maintain a personal approach, they host education sessions and blog and tweet on a regular basis.
This type of service delivery was a niche that needed serving. In the past six years, the company has grown from zero to 100 corporate and 1,000 personal clients.
Jeannotte and Barkley entered the benefits business after careers as a firefighter and goldsmith, respectively.
It may seem like a drastic switch, but, for Barkley, facing down an illness changed her perspective on work. "I had cancer and I took about a year off work to reevaluate a few things in my life," she says. "I worked with a lot of pro sports teams and was providing jewellery to the wealthy. I was looking for something that brought more value and meaning to my life."
Vital Benefits is mostly staffed by women in an industry dominated by men. Jeannotte and Barkley felt strongly enough about supporting women in the business community that they also created Vital Women, a networking group that has involved hundreds of women over the past six years.
"When we started, even though we had each other, it was a little bit lonely," says Jeannotte. "We were intimidated to reach out to male entrepreneurs. We just assumed that they project a different confidence and self-assuredness than we were feeling. Vital Women felt like a safe place to talk to other women and to bring in topics that are specific to women in business."
Vital Benefits has moved three times to accommodate its growing staff of 13, and the plan is to keep growing, up to a point. "We don't want to be the next big benefits- and pension-consulting firm," says Jeannotte. "I think we would lose what makes us special. We'll be mid-sized and hopefully we'll manage that well."