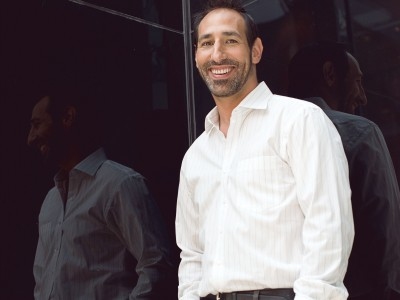 Job Title: Corporate Responsibility Advisor, Cenovus Energy
Age: 37
When Leor Rotchild was a 25-year-old graduate from Ryerson University's Bachelor of Commerce program, he opted to skip a cushy Bay Street finance job, and moved to London, England, to work in fundraising at a non-profit youth organization, AIESEC.
"I wanted a job where I could leverage my business background and find something that's essentially a private entity, but doing things to improve the environment and communities," he says. "People used to say to me, 'That sounds like a dream.'"
Helping to fundraise more than $700,000 and establishing a dozen corporate partnerships in Canada and the UK, Rotchild passed through Calgary with a job hosting an international youth conference. It was a catalyzing moment as his exposure to the oil and gas industry brought about an epiphany.
"What I started to realize was that, if I was interested in aboriginal issues, climate change issues, water issues, impact on wildlife, on communities, this is ground zero for all that," he says.
In 2010, he brought his commitment to corporate responsibility, environmental sustainability and social governance to Cenovus Energy, Rotchild has essentially helped the 3,600-strong company align itself with standards and practices through a corporate responsibility policy. The document guides Cenovus' board of directors, employees and even contractors and suppliers on how to conduct themselves in realms of leadership, environment, people, business practices, community investment and stakeholder and aboriginal communities.
"Sustainability is the idea that you can do something that's profitable, but doesn't have a cost to the environment," Rotchild says. "It meets the needs of others and is responsible in terms of use of resources and impact on people."
Rotchild admits he's not a technical person. His true calling is as a communicator who can break down silos and bring people together. He's achieving this through many different projects, which is why he was recognized with a 2011 YMCA Peace Medal for humanitarianism.
He co-founded the Marda Loop Justice Film Festival and is a committee member of TEDxYYC. Since 2008, Rotchild has been spearheading the Calgary Folk Music Festival's push to reduce its footprint through recycling, composting, carbon offsetting and education programs. In 2011, his leadership garnered the festival the international A Greener Festival award for its environmental program.
"We live in this divisive narrative that you either have to choose the economy or the environment, and it's such a false dichotomy," Rotchild says. "The environment is the economy. You can't separate the two."