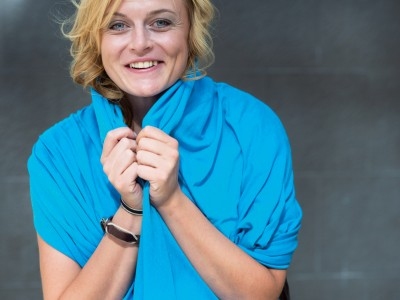 Job Title: Visual Artist
Age: 29
In the spring of 2011, artist Mandy Stobo found herself at an artistic crossroads.
She wanted to branch out from the large-scale contemporary paintings she was creating and find an artistic alternative that could provide a steadier source of income, as well as teach her how to make use of Twitter and other social media.
"I really wanted to connect," Stobo says. "I was a single mom at home and lonely, and I wanted to see if projects could have communities."
What she came up with was Bad Portraits: gonzo-style depictions of people in Sharpie marker, pen and watercolour.
Rather than pore over each and every stroke, Stobo decided Bad Portraits would be art without ego – both her own and that of the subject. "I really wanted to high-five people for being great, doing great, trying great," she says. "I want to make people chuckle for a moment and, with the name 'bad,' to see themselves without expecting the beautiful thing that they are insecure about not being."
The formula worked. Today, Bad Portraits is a veritable artistic phenomenon, making Stobo an accidental art star. Through Twitter, she has connected with and sold "Bads" to a variety of celebrities, including Conan O'Brien, Roseanne Barr and Gary Busey.
Locally, Mayor Naheed Nenshi has been something of a muse, inspiring five or six different portraits.
Stobo also takes Bad Portraits into the public arena, painting live at major cultural events, including the Calgary 2012 kickoff celebrations and the Grand theatre's 100th anniversary. This past Canada Day, she represented her hometown at the Cultural Capital Celebration in Ottawa and, in August, she created a Bad Portrait walk of fame along Stephen Avenue, depicting Albertans of note on tree-well grates.
Stobo also uses the live-painting arm of Bad Portraits to contribute to a variety of local causes, donating her time at events for Hull Homes, the Calgary Inter-Faith Food Bank, Parent Link Drive, Ride for the Cure, Boys & Girls Clubs of Calgary (through the Musicians Care for Kids event at the Jack Singer), Kids Up Front, KidSport Canada and The Mustard Seed.
"I do think and hope that my work has shifted how some look at art, how some feel about art in this city," Stobo says.
"I'm just trying to hold everyone's hearts up really high."
@badportraits, @mandystobo, mandystobo.com, badportraitproject.com