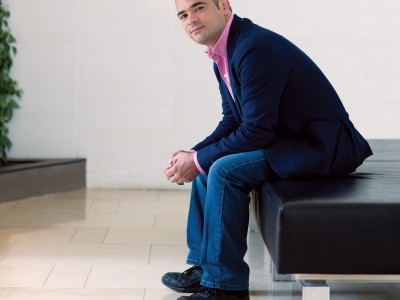 Job Title: Creative Non-fiction Writer
Age: 39
Making a living as a writer is difficult, but finding success as a freelance writer is nearly impossible. No one knows better than Calgary native Marcello Di Cintio.
A freelance writer for the past 15 years, with three books and dozens of magazine articles behind him, Di Cintio has earned a national reputation and a page-long list of awards, nominations and accolades. But those are small accomplishments compared to his success with what most writers only hope to achieve – finding a recognizable voice, one that's perfectly matched to his subject.
Di Cintio's subject is people – interesting, multi-faceted, surprising people, whose stories educate and sometimes inspire. As a writer of creative non-fiction – he insists he's not a journalist, as he doesn't have the credentials and approaches his subjects with a freedom that would be inappropriate to journalism – Di Cintio travels extensively in search of the people whose stories he loves to write.
His first book, "Harmattan: Wind Across West Africa" (2002), grew out of a collection of stories and anecdotes he'd written after a year-long backpacking tour around Africa in his mid-20s. The people he met there provided him with the foundation for a growing passion about telling stories.
"What's better than someone asking, 'Tell me your story'?" he says.
The last four years have taken Di Cintio to Western Sahara, North Africa, Palestine, the India-Bangladesh border, Israel, Cypress, Northern Ireland, the U.S.-Mexico border and Montreal in search of people's stories concerning the physical boundaries they live with for his third book, "Walls: Travels Along the Barricades" (2012).
When Di Cintio isn't travelling or writing, he's helping others write their stories better. As writer in residence at the University of Calgary in 2009 and 2010, he met with Calgarians regularly to review their manuscripts and edit their work. During that time, he met members of Servants Anonymous Society. The former sex-trade workers, mostly women, experienced lives of terrible violence, abuse and neglect and used their writing as a form of therapy. Di Cintio helps them become better writers and describes them as fierce and heroic and their writing as having "flashes of beauty."
"I want to increase within the reader what the human experience means," he says.