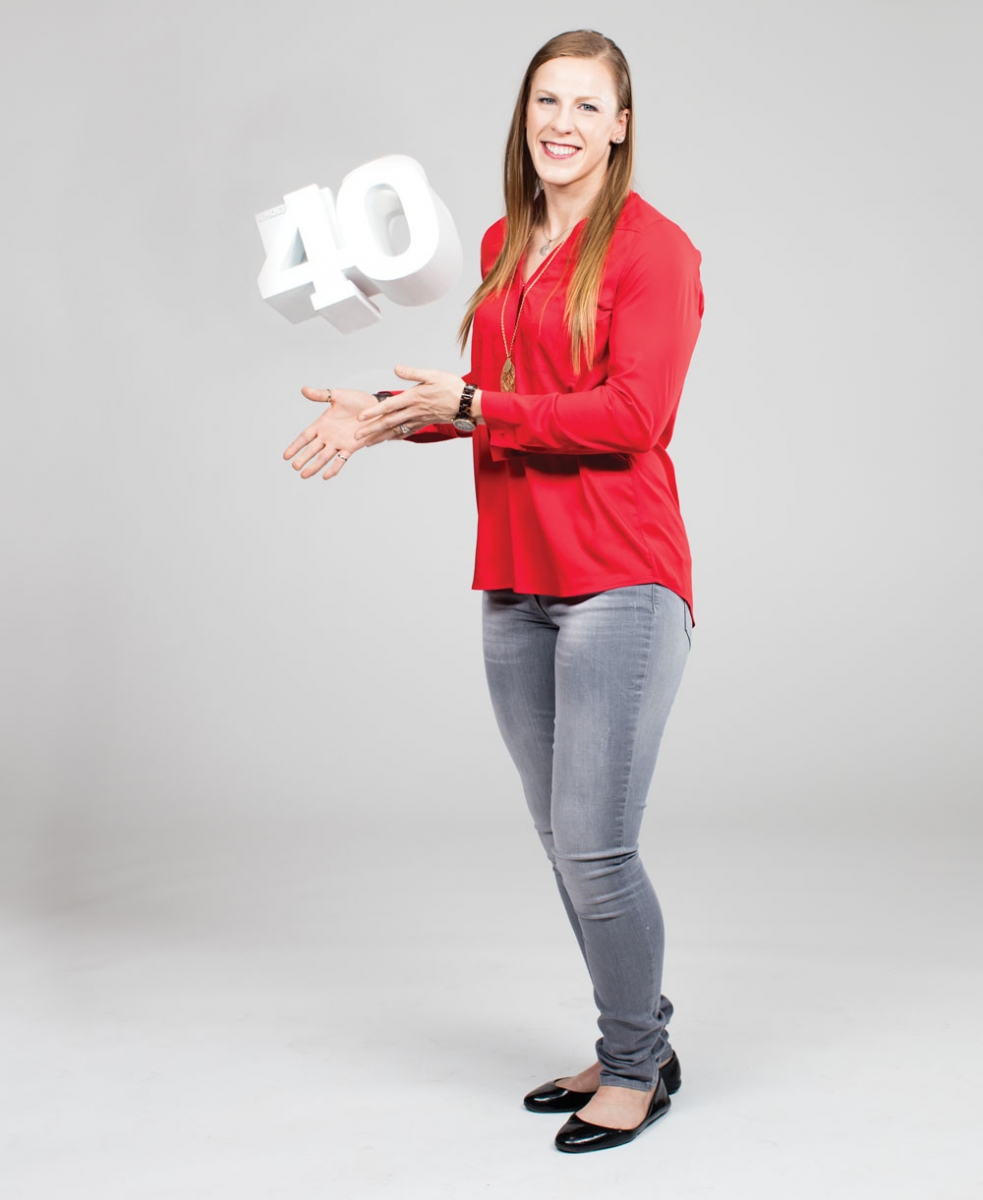 Job title: Lock, Canadian National Senior Women's Rugby Team; Commercial Advisor, Imperial Oil Ltd.
Why she's a 2015 Top 40:
Maria Samson juggles a full-time job in the oil industry with a professional rugby career that has her training around 20 hours a week. As an athlete ambassador, a coach and a public speaker, she uses the story of her athletic journey to inspire young athletes and students to overcome adversity.
Maria Samson has a fear of missing out, but she's also not afraid to create an opportunity where no one else sees one. That's why, as a child, she played on any football, basketball or rugby team she could – the summer before she started grade seven, she informed her mother that she "was going to be the first girl on the boys' football team."
Today, that drive is part of the reason she happily juggles her many work commitments with more than 1,000 annual hours of training, travel and games for three rugby teams. Thankfully, hard work has never been a foreign concept to Samson, who, at the age of 32, has become one of the country's best female rugby players.
As a member of the Alberta Senior Women's Provincial Rugby Team since 2008 and the Calgary Hornets Rugby Club and Canadian National Senior Women's Rugby Team since 2011, it's not uncommon for Samson to do two or even three training sessions a day. Her efforts earned her the title of Top Female Rugby Player in Canada in 2012.
Samson was also the only Albertan on the national team when it earned a silver medal – Canada's best-ever finish – at the 2014 Women's Rugby World Cup in France. "There's no better feeling than representing your country," she says.
In addition, Samson maintains a full-time day job as a commercial advisor for Imperial Oil Ltd., where she handles commercial issues related to upstream oil sands projects in Western Canada and compiles the company's 35-year outlook for Canadian crude production. Her business background is often an asset to her role on the AthletesCan board of directors, where she advocates for Canada's national athletes.
She also nurtures opportunities for the next generation as a rugby coach, public speaker and an athlete ambassador for both Right to Play and Fast and Female. Samson speaks to young students and athletes about overcoming adversity through positivity and dedication, adhering to the idea that "perseverance can change failure into extraordinary achievement."
It's a message Samson took to heart herself this past summer when her father, a Polish immigrant who always challenged her to be her best, died two days after her selection for the 2015 Women's Rugby Super Series in Calgary was announced. She dedicated her first local appearance with the national team to her father's memory, while her family cheered from the stands with his signature leather hat in hand.
"He would've been so proud," says Samson. – Alana Willerton