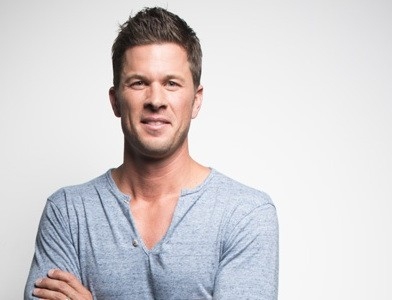 Job Title: President and Founder, Spotlight Television and Film Productions
Age: 37
Matt Embry made his first film, a stop-motion action picture that featured his Star Wars figures, when he was eight years old. The film might not have been Embry's best work – "I didn't understand the principles of stop-motion, so the characters moved around, but the backgrounds never changed," he says – but his childhood hobby foretold his future passion.
More than 30 years later, Embry has played many roles both in front of and behind the camera, including writer, director, producer, actor and host.
His decades of experience, including stints as vice-president of creative at Pyramid Productions and producer at Zoom Communications, ensured that, when he started his own production company, Spotlight Television and Film Productions, with business partner Ravinder Minhas in 2012, growth was swift.
Embry wanted to create locally made programming for a global audience and, within six months, Spotlight had inked a deal with Omni Television to produce an educational TV series that will air regularly in the new year.
Around that time, Telus Optik television released a bid for production companies to take over one of its programs, a behind-the-scenes look at Vancouver, Calgary and Edmonton that explores art, culture, food and diversity.
Embry pitched a professional, documentary-style version of the show and ended up securing a multi-year deal to produce 120 episodes a year for all three cities.
"In our first few months in business, we experienced massive and immediate growth," Embry says. "I don't know another production company in Western Canada to grow that quickly within the first year. It immediately brought us into bigger markets."
In less than two years, Spotlight has grown from a staff of two to 22 in Calgary, as well as five full-time employees in Vancouver. Spotlight has expanded from one editing suite to five in Calgary, plus a distribution centre on Sunset Boulevard in Los Angeles. Within the next year, Spotlight will air programming on CBC, Telus Optik and Omni, including Hell or High Water, a documentary about the 2013 Alberta floods.
Despite Spotlight's growth, Embry says he will never outgrow his hometown. "Our local team is incredibly talented and we're dedicated to staying in Calgary," he says. "There's no reason it can't be one of Canada's major artistic centres."
3 Things About Matt Embry
Shows from Embry's production company can be seen on CBC, Telus Optik and Rogers within the next year.
Embry was the mastermind behind the commercial campaign for Minhas Brewery's Mountain Crest beer.

Embry is a proud member of the

YMCA's Ambassador

Club, an acknowl

edgement of 25 years of membership. He joined when he was 12 years old.
Follow Matt Embry on Twitter: @matthewembry