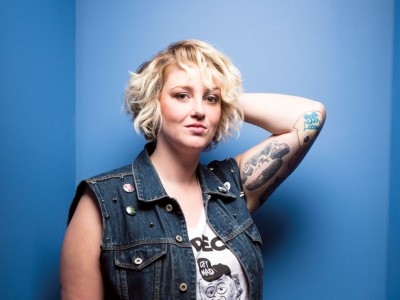 Job Title: Co-owner, Tubby Dog; Co-owner, Jiffy-T Inc.
Age: 32
It seems like everyone wants a piece of Tubby Dog these days – the 17th Avenue S.W. hot dog joint is frequently cited as a must-visit for those seeking unique local flavour.
Since it opened in 2005, it's been featured in several national media outlets including Air Canada's En Route magazine, the Globe and Mail, MuchMusic and the Food Network Canada program You Gotta Eat Here!.
Co-owner and head of public relations Megan Kirk is a big part of the Tubby success story. One of the first employees hired by founder Jon Truch, Kirk became general manager and a co-owner of Tubby Dog Inc. in 2007, one of three operational shareholders working on the front lines.
The demands of running a busy fast-food establishment meant Kirk often missed out on watching her friends' bands. Her solution was to draw on her punk-rock DIY ethos and make Tubby Dog part of the rock 'n' roll scene by hosting shows there.
Because of this initiative, Tubby Dog has evolved beyond hot dogs into a highly sought-after space for live music and other pop-culture events. As a mainstay venue for the annual Sled Island Music and Arts Festival, it has hosted bands from as far away as Israel. In her current role, Kirk handles media relations, web and social-media presence, event bookings and marketing.
"I've always seen the potential in Tubby Dog to become an influential cultural staple within Calgary," Kirk says. "I think [the city] needs these little businesses and unique little areas."
The desire to foster community extends to Kirk's pursuits outside of Tubby Dog, as well. In 2005, she co-founded the garage-based screen-printing business Jiffy-T and estimates approximately 15 per cent of her total workload is pro bono and discounted jobs for causes she supports. Her primary volunteer initiative is with the Prohab Helmet Society, a local not-for-profit that provides free helmets and advocates for bicycle safety. In addition to contributing printing and graphic-design work, Kirk also sits on the Prohab board.
Kirk relishes the human interaction of Tubby Dog and her other endeavours. "I really love helping people and I love getting to know people," she says. "I make friends with everybody on the street."
3 Things About Megan Kirk
Megan Kirk is a visual

artist who creates under

the moniker "Jane

Trash." She last showed her work in April 2013

as part of the Wreck

City multi-artist project.

As a DJ, she donates her services to events such as The Drum & Monkey pub's annual fundraiser for the Calgary Women's Shelter.
Kirk is most productive

late at night, partly because she gets so

excited about projects that she can't sleep.

"I'm waking up in the middle of the night, writing down colour combinations and textiles on my hand," she says. "I'm always going."