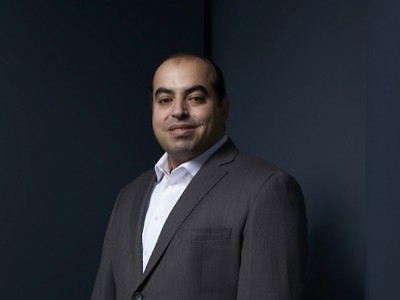 Job Title: Senior Researcher, Department of Geomatics Engineering, University of Calgary; Vice President and Co-founder, Micro Engineering Tech Inc.
Age: 38
Mohamed Elhabiby moved to Canada from Egypt with his new wife not even a month after they were married. Perhaps not surprisingly, they found their new lives to be a bit of a shock. "It was such a new experience for me – family-wise and career-wise," he says. "And, that first year, the winter was a little bit too much."
Still, Elhabiby says, they were quickly convinced they wanted to stay and raise a family in Calgary. "We fell in love with the city that first year," he says. "We knew we would have a good future here."
Fast-forward a dozen years. Today, Elhabiby holds a Ph.D. from the University of Calgary's geomatics engineering program and is a senior geomatics engineering researcher and project manager with the U of C.
His career isn't easy to describe to someone not in the field, but, in a nutshell, he is an engineer who "focuses on the commercialization and application of new innovations," Elhabiby explains. He has worked on creating useable technologies in everything from global positioning systems and mobile mapping to archaeological documentation.
At the U of C, his research projects have included improving high-resolution satellite imaging, developing a commercial satellite circling the earth and creating sensors to analyze tremors in patients with Parkinson's disease.
In 2010, he co-founded Micro Engineering Tech Inc., where he is currently vice president. The start-up has grown from two employees to 18 employees with revenues of $1.8 million. The tech company works in precision engineering and instrumentation, mobile mapping and GPS.
Micro Engineering Tech got its start in "structure health monitoring," in other words, creating technology to monitor movements in large engineering sites to make sure materials don't shift. It uses 3D laser scanning (including scanning that can be done as far away as one kilometre) to monitor, for example, earthworks, open mining and site safety. It also creates 3D modelling to visualize projects before they are built and to update progress as a project takes shape. Micro Engineering's modelling technology was used at Eighth Avenue Place, Kai Tower and McCaig Tower. It also has sensors monitoring the Syncrude retaining wall in northern Alberta and keeps track of Syncrude facilities in the oilsands.
While Elhabiby's projects are large and complex, getting away from work is when he gets some of his best ideas. "When you learn and absorb any changes – positive or negative – around you in a positive and constructive way, you will start thinking about how to solve, improve, replace and build things," he says.
3 Things About Mohamed Elhabiby
Mohamed Elhabiby created technology that has monitored the safety of more

than 12 complex

construction projects,

including Eighth Avenue Place

.
He is leading an archaeological mission in Egypt to measure gravitational fields at the site of the pyramids in hopes of finding the legendary "missing room" of the pharaoh Khufu.
He is a senior researcher with the Mobile Multi-Sensor Systems Research Group at the University of Calgary, which works on projects including satellite imaging, mapping and Global Positioning Systems (GPS).