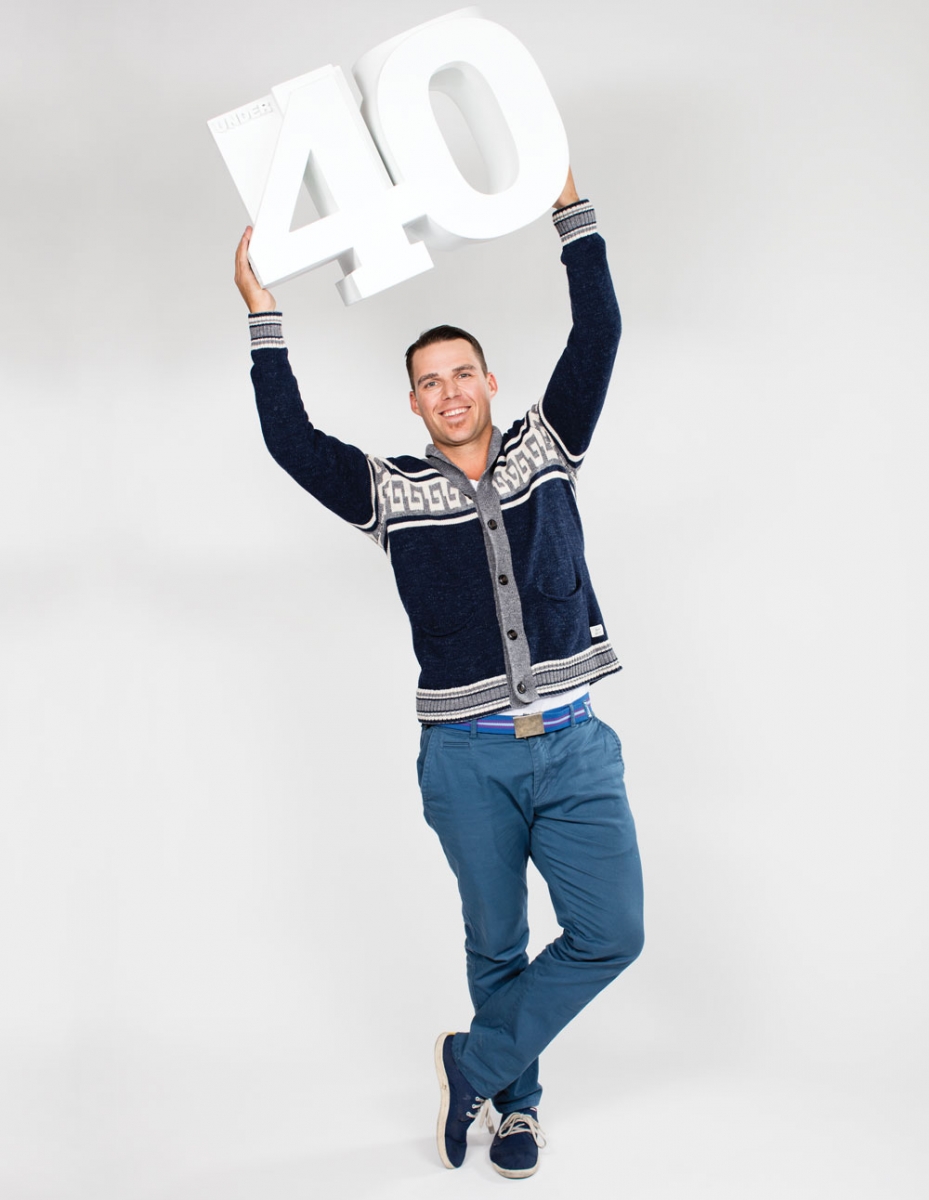 Job title: Performance Manager, WinSport Academy
Why he's a 2015 Top 40:
The founder of the WinSport Freestyle Club, which has developed into the WinSport Academy, Patrick Breault helped develop a world-class coaching program and facility training more than 550 young athletes in Calgary.
Patrick Breault's career developing high-performance athletes and helping create a $1.3-million-per-year coaching program at WinSport kicked off in grade 11 when his girlfriend took a job as a snowboard instructor. He thought the job looked fun, did the training and started as a part-time ski instructor at Canada Olympic Park.
"To me, working with kids came naturally," says Breault. "It was easy and tremendously satisfying to work with young athletes and get them through challenges, successes, even failures."
Sixteen years later, Breault is still at what is now called WinSport, having free-skied his way up the ranks to his current role as performance manager of WinSport Academy, the one-of-a-kind sports school for young athletes he helped found.
Breault, who grew up playing hockey and baseball, as well as skiing, stayed on at COP throughout university. At the time, free skiing, a discipline within freestyle skiing – the nail-biting variant of skiing involving jumps and tricks – was starting to take off. With no one to teach him, Breault studied videos and learned on his own.
In 2006, he launched the WinSport Freestyle Club, inviting kids to ski with him in the terrain parks and half-pipe. Four kids signed up the first year, another four before the season's end. Now known as the WinSport Academy, the program today has more than 550 athletes, nine full-time coaches and an additional 44 full- and part-time employees, along with budget of more than $1.3 million. It has branched out to freestyle and alpine skiing, snowboarding, cross-country skiing and mountain biking.
"I'm very proud of this system I created," says Breault, who left coaching in 2010 to oversee the academy. "Right from the time a kid is six years old, we have a pathway where you can exit on to a national team when you are 18. Creating this system is a dream come true for many athletes, coaches and sports."
Breault now spends his days training and certifying coaches, scouting for young talent, writing programs to help athletes with long-term development and still playing in the snow, helping design the terrain park each year.
"People think we're just a regular ski club, and we're not," says Breault. "We're looking at the 25,000 ski visits a year at COP, and we're looking to create an Olympic champion." – Christina Frangou