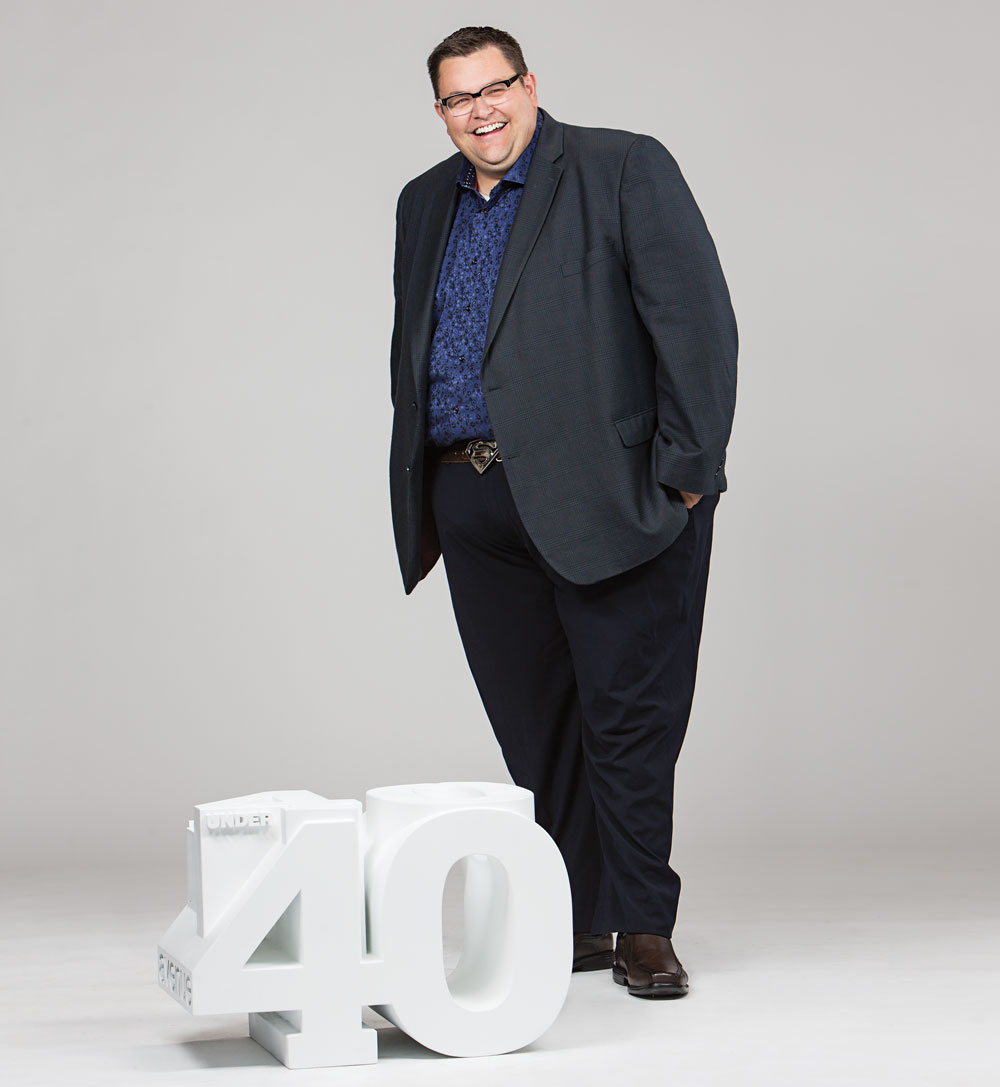 Job title: President and CEO, Calgary Public Library Foundation; Director, External Relations, Calgary Public Library
Why he's a 2015 Top 40:
Paul McIntyre Royston is leading the largest fundraising campaign for a public library in Canadian history, spearheaded the effort to eliminate library card fees and is helping redefine what the Calgary Public Library can and should be for all Calgarians.
Paul McIntyre Royston, president and CEO of the Calgary Public Library Foundation, doesn't like the expression, "Under-promise and over-deliver," because he says it stops people from dreaming big. He prefers, "Aim for Jupiter."
"I always tell my staff, 'We're going to aim for Jupiter,' whenever we take on a project," he says. "But, if we land on Mars when our mission is done, we'll be the first people who landed there and I'll gladly take that."
His team's mission for the Calgary Public Library (CPL) is to make it "the best public library in the world." It's a grandiose vision, but, with McIntyre Royston at the helm of the library's fundraising work, a few Jupiter landings have already taken place.
He was excited to take on the foundation's essential challenge of inspiring Calgarians to give to the library with the same sense of civic duty they have when they donate to a hospital or university. A huge step toward that shift came in September 2013, when the foundation launched Add In: The Campaign for Calgary's Library – a $350-million fundraising effort to transform the CPL. The bulk of what Add In's funds will be spent on and the catalyst for the campaign is building a new $245-million central library on the edge of the East Village, scheduled to open in 2018. Much of the rest of the money is earmarked to upgrade the 18 public library branches. Including public sector support, more than $290 million has been raised for Add In so far.
At the request of the library's CEO Bill Ptacek, McIntyre Royston also spearheaded a fundraising effort to eliminate library card fees in Calgary earlier this year. The expanded accessibility has added 95,000 new members.
In three years, McIntyre Royston has grown the foundation's donor base from 1,000 to more than 10,000, and has increased annual donations from $350,000 to $5 million. With Jupiter on the horizon, you'd expect him to tell you how much of a struggle his team's feats have been. Not so much.
"Fundraising is not hard," he says. "It's just igniting peoples' passions and getting them to see what you see in a cause. The social energy in Calgary allows me to foster that change that I believe in, in a much easier way." – Sean P. Young