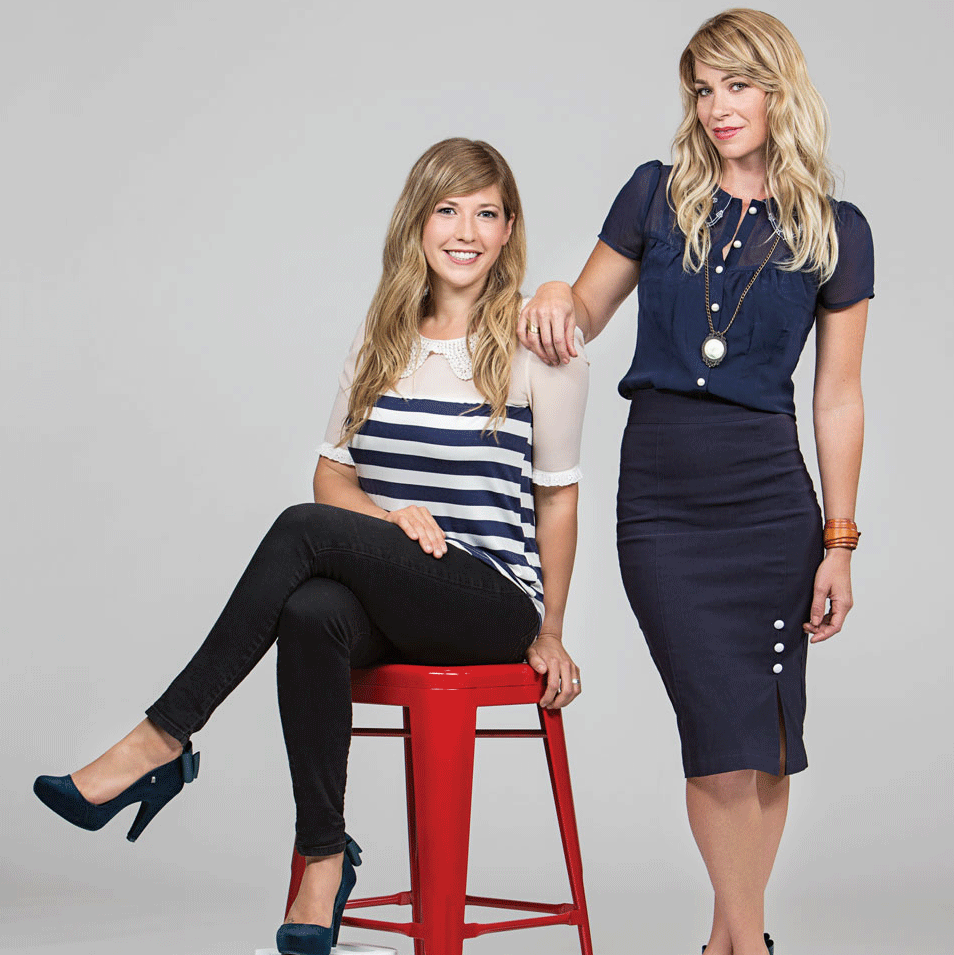 Job title: Co-Presidents, Routine
Why they're 2015 Top 40s:
Sisters-in-law Pippa and Neige Blair transformed a talent for creating homemade personal-care products into a thriving natural cream deodorant business in less than four years. Routine now has five employees, an international base of customers, is sold in more than 130 retail locations and remains committed to local suppliers and communities.
Neige Blair (right) created an effective natural cream deodorant in her kitchen. Pippa Blair (left) took a pen and paper and meticulously recorded the formula. The sisters-in-law agree they owe their success to their complementary skill sets. "I act on her inspiration," Pippa says of their work relationship.
After launching Routine, their natural deodorant, at Market Collective in 2012, Neige and Pippa each invested $250 in manufacturing and packaging supplies and approached three stores in Calgary, two of which agreed to carry the product immediately. "We haven't approached a single store since," Neige says. "I think it just always spoke for itself."
Word of mouth took the product to more than 130 retail locations across the continent, and, earlier this year, Routine signed a contract with Canadian distributor Purity Life Health Products to further expand its retail reach.
Routine's gross sales increased by 900 per cent between 2012 and 2014; by June 2015, total sales for this year had already surpassed those for all of 2014.
All of this growth has also meant change. Routine's production centre, until recently located in Neige's parents' basement, moved to a 20,000-square-foot local manufacturing facility in August. What began as a single product has expanded to 12 scents and three formulations, including vegan and sensitive-skin options. "We've really given people what they ask for and focused on customer service," says Neige.
Despite also managing an online store that fills retail orders from across North America, Europe, Asia, Australia and New Zealand, the Blairs are deeply committed to remaining local. Routine sources products and services locally whenever possible, and contributes one per cent of gross sales to Calgary charities including the Inglewood Bird Sanctuary and Apiaries and Bees for Communities, as well as donating product to several local charities.
"We're never going to manufacture outside of Calgary," Neige says. "It's important to create relationships in your community."
And, although the business is clearly thriving, Pippa, 30, and Neige, 34, have no plans to leave their other jobs; Pippa loves her work as a labour and delivery nurse, and Neige is a musician who's looking forward to recording a new album. They have ambitions for Routine, speculating on new product lines and new markets, but Pippa says they've never made a business plan.
"We've never gotten too far ahead of ourselves. We want to be happy and love what we do. What feeds us is creating something – building something." – Julia Williams