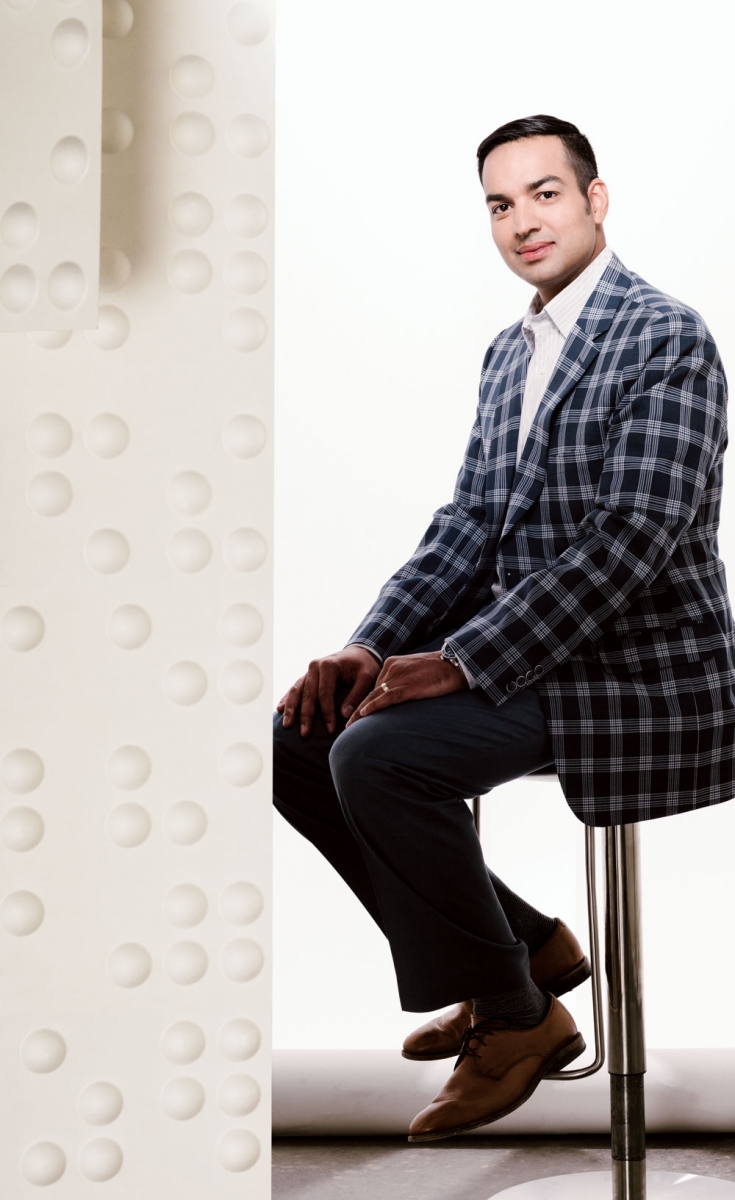 Age: 37
Job title: Managing Partner, Stewart Sharma Harsanyi; Co-Host, Legal Viewpoint Radio Show on RED FM
Why he's a 2014 Top 40:
Rajesh Sharma has helped build the largest immigration law firm in Western Canada and hosts a weekly South Asian-language radio show about legal issues.
For Rajesh Sharma, risk and luck are interrelated. 
"I think you can make yourself luckier with an attitude of exploration and an ability to take on risk and manage risk," he says. "Managed risk means that you're more apt to say yes and do it in an intelligent way. Then, all of a sudden, more things start going your way."
At 22, after his first year of law school, Sharma was lucky enough to get hired at Burnet, Duckworth & Palmer. The following summer, he worked in the office of Dennis Edney, best known as Omar Khadr's lawyer. From there, he clerked at the Court of Appeal and then articled at the federal department of justice. 
"I had an opportunity in my legal career, very luckily, to be exposed to the top lawyers and jurists in Alberta," says Sharma.
Next, Sharma worked with the Immigration Refugee Board. "I did hundreds of hearings," he says. "Now, when I do immigration law, I have a natural advantage. I've done more hearings than anyone else … It's the 10,000-hour rule. I've spent 10,000 hours in a courtroom."
While he was establishing his private practice, Sharma and another lawyer, Andy Hayher, started hosting a legal affairs radio show on the multicultural radio station RED FM. It's a volunteer role he continues to this day.
By 2008, Sharma and Bjorn Harsanyi had established a small immigration law firm in Kensington. Working out of the same building was Charlie Stewart, the criminal lawyer for Jackie Tran. Tran had been accused of being a gang member and had been convicted on a drug-trafficking charge. When the Crown tried to deport Tran to Vietnam, the country he'd left at the age of nine, Sharma handled his appeals. And that's what changed everything.
The outspoken Sharma had never been afraid to voice his criticism, whether of his own South Asian community, the law or the government, but the Tran case took that to the next level. Suddenly, Sharma found himself exchanging barbs on Twitter with Minister of Citizenship and Immigration Jason Kenney and became the target of negative op-eds in the Calgary Sun. And, while some of the attention was certainly unwanted – especially the vague death threats and the calls for not only Tran's but also Canadian-born Sharma's deportation – he certainly didn't shy away from the controversy.
Sharma, Harsanyi and Stewart decided to join forces and Sharma's practice went from an 800-square-foot "boutique" firm to a 5,300-square-foot office with eight lawyers and a total of 20 staff. 
Stewart Sharma Harsanyi is now the largest law firm specializing in immigration law in Western Canada. 
Sharma credits this success in part through understanding the luck of timing. "Immigration was always the ugly stepchild of the law … but, all of a sudden, immigration is very sexy," says Sharma. "People finally realized that in Canada, immigration is going to be one of those things that is never going to go away."
And from the looks of things, Sharma's not going away, either. –Kthe Lemon