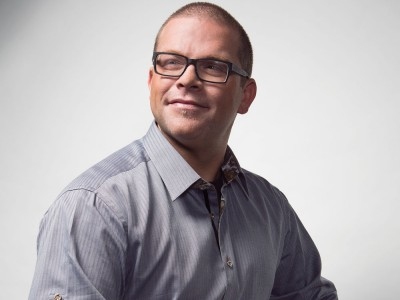 Job Title: Founder, DeliverGood
Age: 35
In 2009, Robb Price had just started a job at The Doorway, a Calgary organization serving homeless youth, when the organization lost its office in a devastating fire. As he solicited donations for furniture and computers, Price realized the way charities went about acquiring such items was hit or miss.
"Essentially, [charities] post a wishlist on their website and hope the right person sees it," he says. "As a result, they might get what they want, or they might get a bunch of stuff they never asked for."
Price, a former marketing specialist, launched DeliverGood in 2010. The Calgary-based social enterprise has a simple, overriding goal: to connect businesses that have stuff with charities that need stuff. "Our goal is to change the way people think about giving," he explains. "We tell businesses, 'Instead of paying to haul your stuff to the dump, do the responsible thing, pay us a little bit more and we'll find a charity that genuinely needs it.'"
DeliverGood's website allows registered charities to post free donation requests into a searchable online database that can be accessed by companies and people looking to donate unwanted items. DeliverGood charges companies a small fee to facilitate the transfer of items; for individuals, it's free.
DeliverGood also organizes large-scale donation programs. In 2012, as energy giant Cenovus prepared to move into its new offices at the Bow, its representatives approached Price with a request: help the company find homes for the computers, electronics and office furniture that would be left behind.
Price and his staff photographed and catalogued more than 10,000 items, then set up an online storefront where registered charities could claim whatever items they needed. "We made the website live, and it was like a movie. Within 46 minutes, every single item was gone from our store," Price says. "That was really the point that we realized how great the need was for these kinds of donations."
With such promising prospects, Price and the DeliverGood team – which includes his wife, Ceilidh, and three full-time staff members – have set their sights on becoming Calgary's go-to destination for in-kind corporate donations by 2014.
No matter what happens, Price says, he's found the only job he'll ever do. "Every day, we meet incredible Calgarians who are passionate about helping others. To be involved in the process that helps them do what they love is phenomenal," he says.
3 Things About Robb Price
In 2012, Robb Price

founded the Unsung Heroes Awards, an annual

gala honouring Calgar

ians who do inspiring work behind the scenes.
In the aftermath of the June 2013 flooding in southern Alberta, DeliverGood delivered items ranging from work boots to sport water to more than 500 volunteers in affected communities.
Each summer for the past five years, Price has volunteered to drive across the country with GotGinch, a charity that delivers tens of thousands of new pairs of men's underwear every year to homeless shelters across Canada.
Follow Robb Price on Twitter: @inkindguy