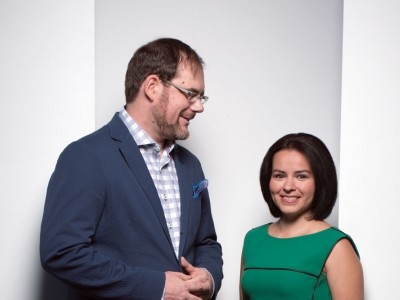 Job Title: Founders, Endeavor Arts & Event Space; Co-founders, Calgary Mini Maker Faire and Make Fashion
Ages: 39 and 34
At the intersection of art, technology and marketing stand Shannon and Maria Elena Hoover. Working from their four-year-old Endeavor Arts Gallery & Event Space at 1209 1st St. S.W., the Hoovers are at the epicentre of Calgary's burgeoning maker community, bringing together artisans, inventors, craftspeople and artists to develop and showcase their ideas, skills and products.
"I think people feel more empowered to express themselves when they collaborate, as opposed to just doing things on their own," says Maria Elena, a native of Guanajuato, Mexico, whose background is in graphic design.
As Shannon explains it, the maker movement, which came into its own in 2006 when the first Maker Faire was held in California, celebrates creativity and ingenuity driven by passion, rather than by the need to earn a salary. In 2012, the Hoovers founded the Calgary Mini Maker Faire and Make Fashion, events that put local innovators and creators in the spotlight.
"It's about finding people's passion and allowing them to unlock it," says Shannon, who also holds down a day job as a systems analyst for WestJet. "I have been so inspired by uncovering the talents
of people in Calgary."
The Hoovers feel Calgary's progress as a hub of creative innovation is, ironically, held back by the health of the local economy, compared to other cities where maker culture has gained a stronger foothold. "In Calgary, we're a victim of our own success," Shannon says. "It's too easy to get a job here, to be snapped up by oil and gas, get paid lots of money and lose the opportunity to be creative and passionate about the things you're good at."
But, adds Maria Elena, "In the last three years, there's been a big change. We've begun celebrating our local artists and artisans."
The city has indeed been quick to embrace the Hoovers' vision. The inaugural Mini Maker Faire drew more than 1,000 people. "Everything we've done, people have been very, very hungry for it," Shannon says. "It blew me away how excited people were that this was happening, that they were having some insight into what real Calgarians are doing. "That's what happens when you build communities around people's passions."
3 Things About Shannon and Maria Elena Hoover
Shannon and Maria Elena

Hoover are turning the

lower floor of their gallery

space into a "pop-up"

marketplace where makers can show off and sell their creations.
When Shannon was 13, he got a tractor stuck in mud 10 kilometres from home on the family farm near Cleardale, Alta. He says getting himself out of that situation helped to develop his creative problem-solving skills.
Maria Elena's hometown, Guanajuato, is a place where creativity is celebrated in a big way. The annual Cervantino Festival is "the scale of Stampede, but in a city a 10th the size of Calgary," she says.
Follow Shannon and Maria Elena on Twitter: @shahoo and @mayviva