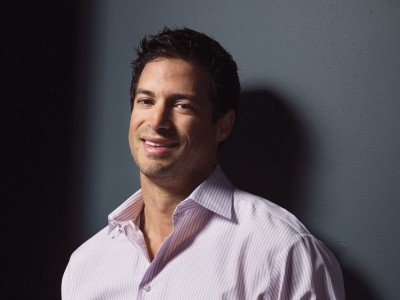 Job Title: Social Entrepreneur and Corporate Leadership Consultant
Age: 35
Steve Mesler won a gold medal at the 2010 Winter Olympics as part of the American men's bobsledding team. But you won't find the hardware on display at his house. "It spends most of its time in my sock drawer or my backpack or in little kids' hands," Mesler says.
Instead, he says, it's time for him to focus on the rest of the world. "Being an Olympic athlete was a really selfish lifestyle," Mesler says. "You're constantly focused inward: when can I eat, when can I sleep, when can I train? Now I get to turn that attention outward, to do big things and make an impact on others."
Before he had even retired from competition, Mesler and his sister, Leigh Mesler Parise, created Classroom Champions. The program uses technology to link Olympians and Paralympians with students in Canada, the U.S. and Costa Rica.
They came up with the idea in 2009 in response to a typical athlete classroom visit: the athlete gets kids motivated and then goes away. Instead, Classroom Champions mentors record video lessons that are sent to participating schools. There are currently more than 20 mentors including hockey star Hayley Wickenheiser and speed skater Lucas Makowsky. After watching the videos, students create their own videos about what they've learned, including leadership, motivational skills and goal-setting.
"We wanted to show kids the Olympics aren't just two and a half weeks on television," Mesler says.
Classroom Champions takes up about 30 hours a week, but it isn't Mesler's only volunteer commitment. While he was competing, he volunteered as a track coach at Crescent Heights High School. And, for the past six years, he has volunteered with the Ronald McDonald House Southern Alberta, playing videogames with kids staying there while getting treatments at Alberta Children's Hospital; sometimes, he takes his gold medal to the House to inspire kids to be strong.
When he's not volunteering, Mesler is a leadership development consultant and motivational speaker. He has addressed students at universities across North America, including Harvard Business School and Stanford. He has worked with the U.S. military and companies including Penn West, TransCanada, BMW and Deloitte.
"For such a long period of my life, I was judged by how much weight I could move, or how far I could throw something," Mesler says. "But the most empowering thing in my life has been teaching others to lead."
3 Things About Steve Mesler
Born in Buffalo, N.Y., Steve Mesler moved to Calgary in 2003 to train for the American Olympic bobsleigh team. Four years later, he became a permanent resident of Canada.
Mesler consults corporations on what he calls "the science of success," which uses the principles of high-performance sport and evolutionary biology to explain organizational behaviour.
In 2012, he was named one of Sports Illustrated's "Athletes Who Care" for his work with Classroom Champions.
Follow Steve Mesler on Twitter: @stevemesler