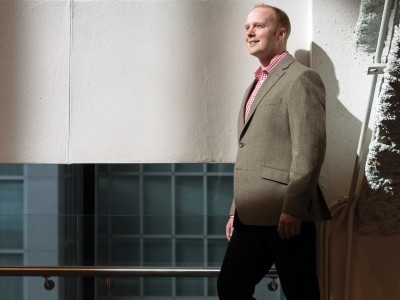 Job Title: Director of Communications, Tourism Calgary
Age: 37
Stewart McDonough's philosophy is simple: "Meaningful change happens below the surface when your passion is engaged."
As the director of communications for Tourism Calgary, McDonough led his team in developing the organization's first comprehensive (and successful) three-year strategic plan, with a focus on accountable and consistent reporting to build stakeholder trust. His corporate communications efforts have resulted in an increase in media attention and solidified relationships with key organizations such as the Mayor's Office and Calgary Economic Development to help build the city's brand as a cohesive unit.
McDonough and his team helped rejuvenate Tourism Calgary, taking its satisfaction rating with members up from 60 to 81 per cent in 2010. That boost helped lead to member organizations contributing an additional $536,000 to the Capture WOW and Experience WOW campaigns in 2011, which invited people to share their great tourism moments of Calgary online, highlighting the unknown and unexpected.
Outside of work, McDonough volunteers more than 400 hours annually. He is the Calgary co-chair of the Timeraiser initiative, which pulls together local artists and charity organizations, inviting young individuals to bid on the art using volunteer hours.
"We had 170 artists and 57 agencies apply to be a part of it. So many people in their 20s and 30s have more time than money to give, but don't know how to get involved meaningfully," says McDonough. Over the years, the annual event has raised close to 40,000 volunteer hours, generated more than $500,000 in in-kind media support, supported 55 charitable organizations, inspired more than 1,500 Calgarians to volunteer their time and invested more than $100,000 in local and emerging artists – including the work of a homeless man from the Drop-In Centre who has since got his life on track. "I got goosebumps watching his art admired by the throngs of people," says McDonough.
In 2011, McDonough co-chaired the highly successful TEDxCalgary event (Technology, Entertainment, Design), with the focus on non-profits and inspiring more volunteers, and a speaker lineup that included author Paul Loeb. He also leads the media relations for TEDxYYC, which he describes as "an event on the cusp of quickly moving from 250 attendees to 1,200."
McDonough's latest volunteer project is the Sharesies Initiative, which uses a software suite that allows non-profit organizations to share their information using real-time reporting.