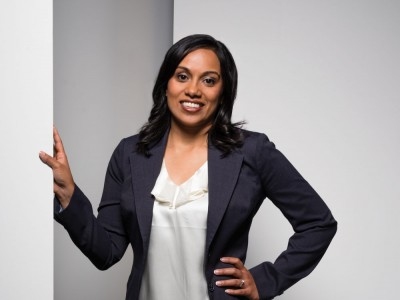 Job Title:
Pediatric Nephrologist and Clinician Scientist, Alberta Children's Hospital; Assistant Professor, University of Calgary
Age: 37
Susan Samuel always knew she wanted to be a doctor. But, if you ask her how she came to specialize in kidney disease, specifically in children, she names two reasons: her brother and her father.
Shortly after her family moved from Kerala, India, to Vancouver in 1988, her father was diagnosed with chronic kidney disease. His kidneys failed and he was on dialysis for eight years before receiving a kidney transplant.
Throughout her childhood, Samuel also helped to care for her younger brother who had a developmental disability. "Seeing what my brother was going through made me want to go into pediatrics to advocate for children with disabilities and to care for them," she says.
Kidney diseases in children range from simple urinary tract infections to life-threatening kidney failure. When Samuel came out of her training at SickKids Hospital and the University of Toronto, Samuel noticed there were individual researchers doing small projects here and there, but there was minimal national or collaborative research effort.
She established a database of 1,300 patient cases to specifically study kidney failure in Canadian children. We now have a more comprehensive picture of how many kids in Canada have kidney failure, how long they live and how factors like ethnicity, age, gender and other health complications affect their outcomes. "I always knew I wanted to be an academic physician," Samuel says. "They are the ones investigating new ways to care for different diseases, discovering new treatments and changing policy."
Samuel has published more than 20 peer-reviewed manuscripts in leading scientific journals. She is currently researching nephrotic syndrome, the most common, yet least-understood childhood kidney disease where protein leaks into urine.
Samuel also studies kidney diseases in high-risk groups, especially aboriginal children. "We found that aboriginal children have a higher risk – four times higher – for kidney failure compared to caucasian children," she says. Samuel set up a screening program for aboriginal children at risk for kidney disease and diabetes and is in the middle of a project with a local First Nation to better understand kidney disease in that community.
"I have always been a big-picture person," she says. "I like to solve big problems. That's really what gets me up and going every day."
3 Things About Susan Samuel