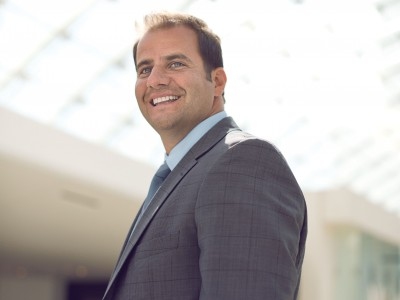 Job Title: President and CEO, CoreTech Staffing & Professional Services
Age: 38
"Respect, Care, Opportunity and Excellence" is Tasso Chondronikolis's unofficial motto, but "opportunity" is his driving force.
Chondronikolis creates opportunities for people. He built his business, CoreTech Staffing & Professional Services, around the idea that matching IT contractors – "consultants," in his words – with large, mostly Calgary-based companies was a way of creating opportunity for both parties.
With a deep background in the staffing industry, Chondronikolis founded CoreTech in 2006 because he was dissatisfied that the industry had become all about the numbers and wasn't really about the people.
As president, Chondronikolis introduced a more personal approach to staffing. CoreTech staff accompanies consultants to client interviews and their first day of work and follows up regularly with its more than 100 consultants and 20 billing clients to make sure that everyone's needs are met. The job placement success rate is 95 per cent, unheard of in the IT staffing industry.
Part of CoreTech's success rests on its attention to more than a client's technical requirements.
"Understanding the team dynamics is really critical to making that right fit," says Chondronikolis. "The culture dynamics between one manager and his team can be different from somebody down the hall. You've got to make sure that you're really digging in and finding out what those intangibles look like."
Three years ago, Chondronikolis diversified CoreTech by offering IT infrastructure services when he saw the opportunity to provide application packaging with Windows 7 coming out. So CoreTech partnered with Atea, one of Europe's largest IT infrastructure providers. Under this section of the company, CoreTech is outbidding and winning contracts against some of the biggest international IT companies.
In six years, CoreTech has grown into a $15 million company with plans to expand into the U.S. market, building on its current oil and gas relationships.
Chondronikolis is currently serving his second term on the board of the Calgary Women's Shelter. His participation on the fund development committee helped the shelter raise more than $200,000 at the annual Turning Points event in the spring.
"People call it the Women's Shelter, but you look at the impact it has on the kids, fleeing their houses that aren't safe for the mothers or the kids and creating an environment where these people can go and be safe," says Chondronikolis. "It's rewarding to be part of that, and I really believe in the cause."