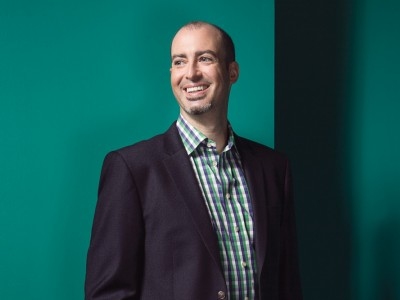 Job Title: Partner and Business Operations Manager, Alloy and Candela restaurants
Age: 38
Uri Heilik doesn't hesitate when asked to describe the best part of his job. "The people," he says. "I love talking to people, meeting new people all the time, making people happy."
He's chosen a career where he gets to do that daily. Born and raised in Calgary, Heilik graduated from SAIT Polytechnic's professional cooking program and, after stints at various local restaurants, opened Alloy – one of the city's top restaurants – with his friend and business partner, Rogelio Herrera. (Heilik describes him as "the best chef in the city, with apologies to the other guys.") They followed Alloy's success with the opening of Candela restaurant last year.
They now employ 100 people in various positions; many – he isn't sure how many – have been there since day one. "For a restaurant, we have a high retention rate," he says.
Happy staff, happy customers. Alloy was named one of Avenue's Best New Restaurants in 2008, and was also named one of Calgary's Top 10 Restaurants by Avenue in 2012 and 2013.
Heilik handles the business operations for both places. "I've been more of a boss than a chef my whole career," he says. "I'm not a bossy person. I just tend to take charge." Despite the pressures of running two popular restaurants, Heilik swears he isn't a workaholic. He finds plenty of time to go golfing and play softball, basketball and volleyball.
But there are always work-related decisions to be made. He admits that, "probably 10 times a day," he and Herrera are approached for charity donations. They are particularly committed to about half a dozen charities, many of those chosen because they help friends and family. Heilik has a niece with celiac disease, which prompted a charity dinner for the Canadian Celiac Association. Other contributions range from special cocktails for Movember's prostate cancer fundraiser to filtered water sales for flood relief – he says his team does their best to help whoever needs it, whenever it's needed. "Treat people like you want to be treated," he says, simply.
Scattered throughout Heilik's office at Candela are various hamsas – symbols from the Middle East, shaped like an open hand, palm up. Heilik, whose family roots are in Israel, says they're supposed to bring good luck and help keep money flowing into the business.
So far, so good.
"My dream is right there in front of me, and, when people come into the restaurant, they believe in my dream, too," he says. And, he says with a laugh, "we make really good food, too. That's the real secret to our success."
3 Things About Uri Heilik
Heilik's father helped build both Candela and Alloy, and his Israel-born mother taught him to cook. "My parents have been huge inspirations," he says.
Heilik has a not-so-secret passion for '80s pop culture. "I love anything from the '80s – all the John Hughes movies, every Star Wars film, superheroes, all that stuff. I could watch Goonies all day."

The teams at Heilik's restaurants raised more than $15,000 for charity in 2012. "If I can help someone out, I will. I

just love to help people," he says.