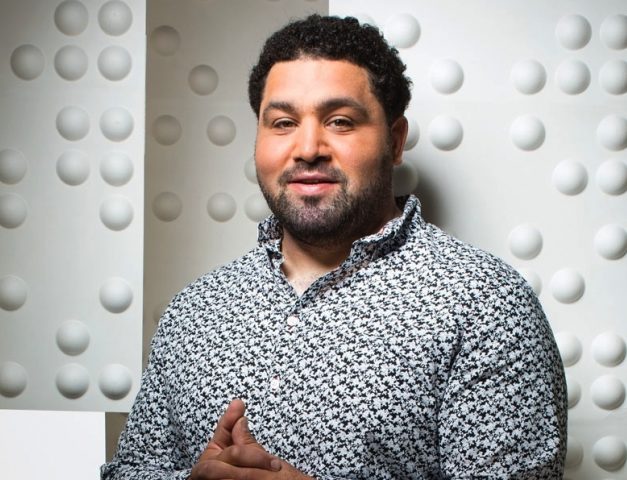 Age: 37
Job title: Co-owner, Bridgeland Market and Tazza Deli & Grill
Why he's a 2014 Top 40:
In addition to running two successful businesses, Yousef Traya is a pillar of the Bridgeland community, not only operating a corner grocery store and an excellent Middle Eastern restaurant but working hard to bring community spirit to the neighbourhood.
Yousef Traya was born at the General Hospital in Bridgeland, just a couple of blocks away from the store that his parents operated and which, since 1981, his family lived above. More than 35 years later, Traya still works in that store and lives in the apartment above. Traya has Bridgeland in his blood.
A lot has changed since Traya was a kid, both with the neighbourhood (no more hospital!) and the family's businesses, but, like his neighbours, Traya has adapted with the times. 
In 2004, his parents closed down their grocery store, sold the retail space to another tenant and shifted their focus to Tazza, their newly opened Middle Eastern restaurant in the space across the street. Traya stepped out of his career as a mental health worker to help modernize and run the day-to-day operations of the restaurant.
In 2011, Traya reclaimed the old family business and took over the old grocery store space to create the Bridgeland Market, a bright and hip store that provides the community with standard groceries, foodie specialty items, ice cream and something much more important. "I have a responsibility to the neighbourhood," Traya says. "The grocery store is a lifeline to a lot of people. I provide a service and a necessity. You can buy any of the products I have in my store anywhere in the city, but we make the customer feel like they're part of something."
One way he has done this is to make the Bridgeland Market one of three sites in the neighbourhood to host a tiny art gallery – essentially a covered dais that displays artwork outside the shop.
Traya has transformed the market into an "everybody knows your name" kind of joint where neighbours can convene and catch up with each other while they pick up their weekly (or, in many cases, daily) groceries. As a fourth-generation grocer – his 90-year-old grandfather still operates a store in Lebanon – Traya's goals are to honour the needs of his community and the legacy of his family. 
On paper, a family-run Lebanese restaurant and a corner neighbourhood market may seem old-fashioned, but Traya keeps them modern while still adhering to the basic principles of family and community. 
"Everybody needs a market," Traya says. "Everybody needs somewhere where they can walk in, whether they're pushing a shopping cart full of bottles or driving a brand-new Bentley. They need to be able to come in and just be who they are. And that's what we do." –Elizabeth Chorney-Booth