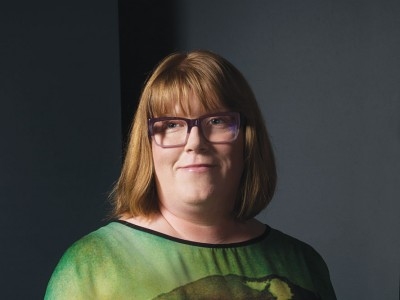 Job Title: Dramaturg and Artistic Associate – Festival, Alberta Theatre Projects
Age: 36
The dramaturg is the unsung hero of the theatre. Unlike top-billed playwrights, directors and actors, or those responsible for the flashy lighting and eye-catching set designs, the dramaturg works behind the scenes, ironing kinks out of the creative process and helping stymied writers articulate their ideas, without losing their distinct voice.
At Alberta Theatre Projects, the dramaturg has a crucial role to play in fulfilling the mandate to present new Canadian work during the annual Enbridge playRites Festival of New Canadian Plays. In her 11 production seasons with the company, Vicki Stroich, ATP's current dramaturg and artistic associate – festival, has had a hand in bringing at least 30 new works to the stage.
"The really rewarding thing is being able to see someone realize their goal in a piece and have it affect an audience in the way they were hoping it would," Stroich says.
In 2010, Stroich received the Betty Mitchell Award for Outstanding Achievement for her leadership in new play development in Calgary. She played a key role in the development of theatre artist Karen Hines's challenging play, Drama: Pilot Episode, for playRites 2012. Stroich also travelled to Pakistan in support of last season's Dust, about the effects of the conflict in Afghanistan on families on all sides, including members of the Canadian military.
"The theatre is uniquely positioned to make a strong impact," says Stroich. "The kind of projects I'm interested in and the kind of projects I tend to work on are meant to be bold. My job is to make them as bold and potent as possible."
Outside of Calgary, Stroich is president of Literary Managers and Dramaturgs of the Americas (LMDA), an international professional organization with 400 North American members. She is only the third Canadian president in the association's 28-year history, which requires 10 to 15 hours of volunteer time per week, on average.
When travelling to different cities, experiencing what she describes as other "theatre ecologies" on behalf of her company or while on LMDA-related business, Stroich considers herself an ambassador for her hometown. "Representing ATP, representing Calgary, representing Canada, I feel that responsibility, but I love that responsibility," she says.
3 Things About Vicki Stroich
Vicki Stroich was the interim artistic director at Alberta Theatre Projects during the 2012-13 season while current artistic director Vanessa Porteous was on maternity leave.
In addition to her work

with ATP, she does

freelance dramaturgy for smaller companies such as Urban Curvz Theatre and the Alberta Playwrights Network.
Stroich's passion outside the theatre is surfing, which she has pursued despite the geographical challenges posed

by living in Calgary. "I thought to myself, there are so many different reasons why I can't do this, but I recognized that goal.

I wanted it so badly that I decided to make it part of my life whenever possible," she says.
Follow Vicki Stroich on Twitter: @vickistroich