Watch For a Playground Made Out of Only Salvaged Materials
It's not too late in the year to get out and play. Antyx's sustainable, portable playground will likely make a few more appearance before the weather gets cold
By Karin Olafson
Images courtesy of Playground On Wheels
We've seen a lot of great things pop up in the city recently that were created from salvaged materials. Just this summer, for example, Container Bar opened in Kensington. Also this summer, Antyx Community Arts, a non-profit group that aims to engage youth with their community through art, and Aspen Family Services collaborated to create something Calgary hadn't seen before: a playground on wheels that's made entirely out of salvaged materials.
How the Play on Wheels project came together
As the community arts facilitator, Alia Shahab worked with 12 youth and other local artists (who mentored the youth and worked an impressive 400 hours each in the month to complete the project) to create an interactive physical space. "The whole point of the project is community engagement. We get youth involved in the whole process, from the brainstorming to the building. It helps with empowerment and the youth feel more connected to their community."
Shahab says that the theme for this project was play. "We were interested in how play affects people, kids and adults." For this particular project, the ideas stemmed from the materials that they collected, rather than vice versa.
After close to 3,000 hours of work, the result is a 16-foot long, four-horse trailer that's been transformed into a portable playground. The playground is impressive and made entirely of repurposed materials: it's got a rock climbing wall, a bouncy floor, a kaleidoscope room, a piano, chalkboard walks, a life-sized snakes and ladders game and a periscope.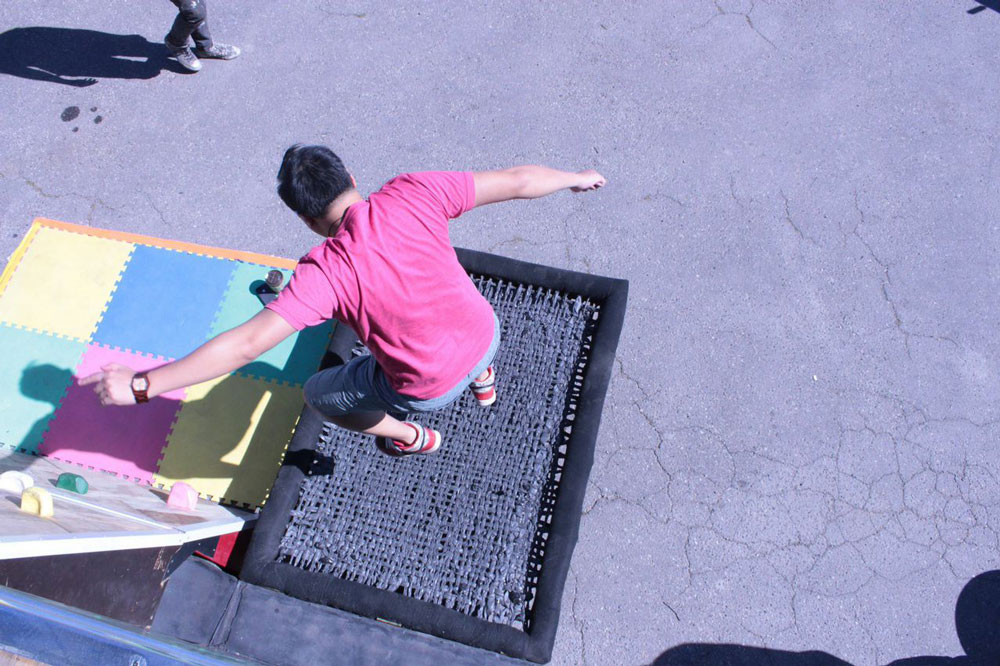 Where to find the playground
The play pavilion moves around the city for different community events, and is a sustainable and artistic effort to get more people playing and more people involved in their community.
Originally calling Forest Lawn home, the playground is currently being stored at the King Edward School in Marda Loop. But you can still go play before next summer: Antyx is hoping that the playground will be rolling around the city and out at one or two more community events this November. So keep your eyes open and prepare to explore Calgary's most sustainable play structure.