Over the last five years in Calgary, many of the city's cultural institutions opened new and renovated buildings, from Bella Concert Hall in 2015 and Studio Bell and Decidedly Jazz Danceworks' headquarters and performance space in 2016, to last year's New Central Library. Going back a bit further, Festival Hall opened in 2013, the Grand Theatre (now The Grand) redevelopment was completed in 2006 and the Southern Alberta Jubilee Auditorium went through a major renovation between 2004 and 2005 (with a further $9.3 million 
pledged by the former NDP provincial government last year). And yet, the calls for further new and renovated cultural spaces seem only to have grown louder and more numerous. The City recently approved a new Event Centre, and 
is contemplating an expanded and renovated Arts 
Commons and a multi-sport field house, while work 
has already started on renovations to the Centennial Planetarium to house Contemporary Calgary as well as 
a doubling in size of the BMO Centre at Stampede Park.
As the city weathers an extended downturn and faces the emerging idea that this might be the "new normal," we may wonder how more proposed capital projects for arts and entertainment institutions makes sense. But the creation of cultural institutions is literally how cities are built — so the question may also be: can we afford not to continue developing? Ultimately, we need to ask how our not-insignificant concerns for the present should shape how (and how fast) we build the city of the future. You could say this is a historic threshold for the city, as many of the buildings proposed go hand-in-hand with and are part of the larger redevelopment of the Rivers District linking the Stampede Grounds and East Village into a cohesive area that also extends to downtown and Inglewood. This is the time to take stock of where we stand and where we want to be. The development of cultural, entertainment and recreational buildings could be a way to lead the city to future growth, but you'll have to decide for yourself if the major proposals on the docket are the right way to shape the future of Calgary.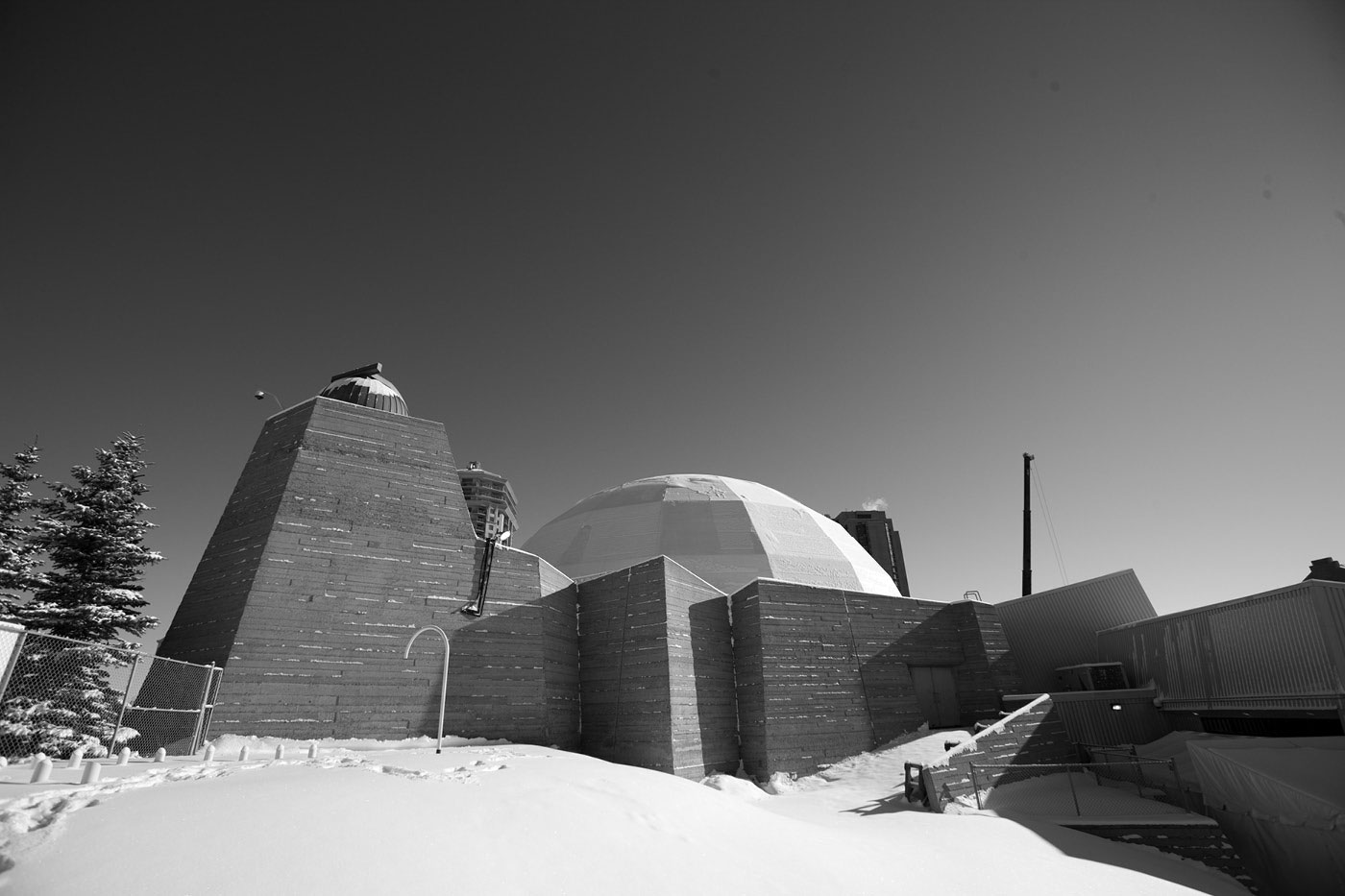 What: Public contemporary art gallery.
Where: The former science centre and planetarium.
Status: Partially open now, fully open by 2023. In August 2019, the Federal Government announced $30 million in funding for the Contemporary Calgary Renovation and Expansion Project.
By 2023, Contemporary Calgary will open in its fully realized form at the Centennial Planetarium, following a building redevelopment to the tune of $82.5 million. The gallery will be the first large-scale facility dedicated to contemporary art in Calgary.
In June, 2018, Contemporary Calgary signed a 25-year lease for the Centennial Planetarium with $24.5 million of City funds in hand. As of this past May, the non-profit has opened a small public area called Temporary Contemporary where visitors can engage with a limited selection of programming and offer input on what they want from the future of the organization. This fall, Contemporary Calgary intends to open its North Shed gallery in the space that was formerly the Creative Kids Museum, back when the planetarium was home to the Science Centre. The final phase of the redevelopment will be construction of a Class A gallery space, a designation given to galleries with adequate environmental controls to accommodate fragile touring shows. That stage is expected to cost $50 million.
Contemporary Calgary will likely be the first cultural institution construction project from this list to be completed. Located in the downtown West End, it is not part of the cultural and entertainment district proposed by the Calgary Municipal Land Corporation in Victoria Park.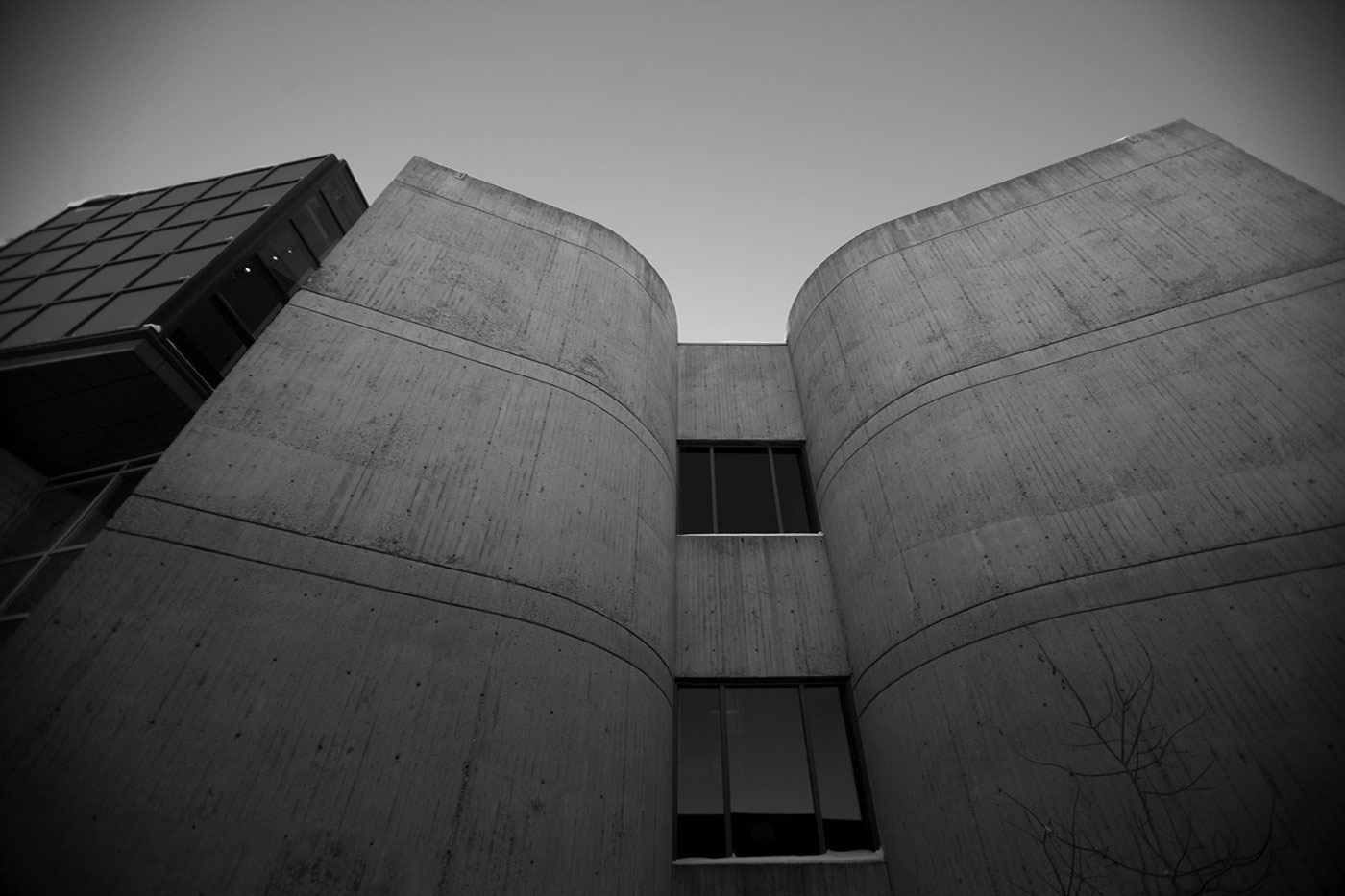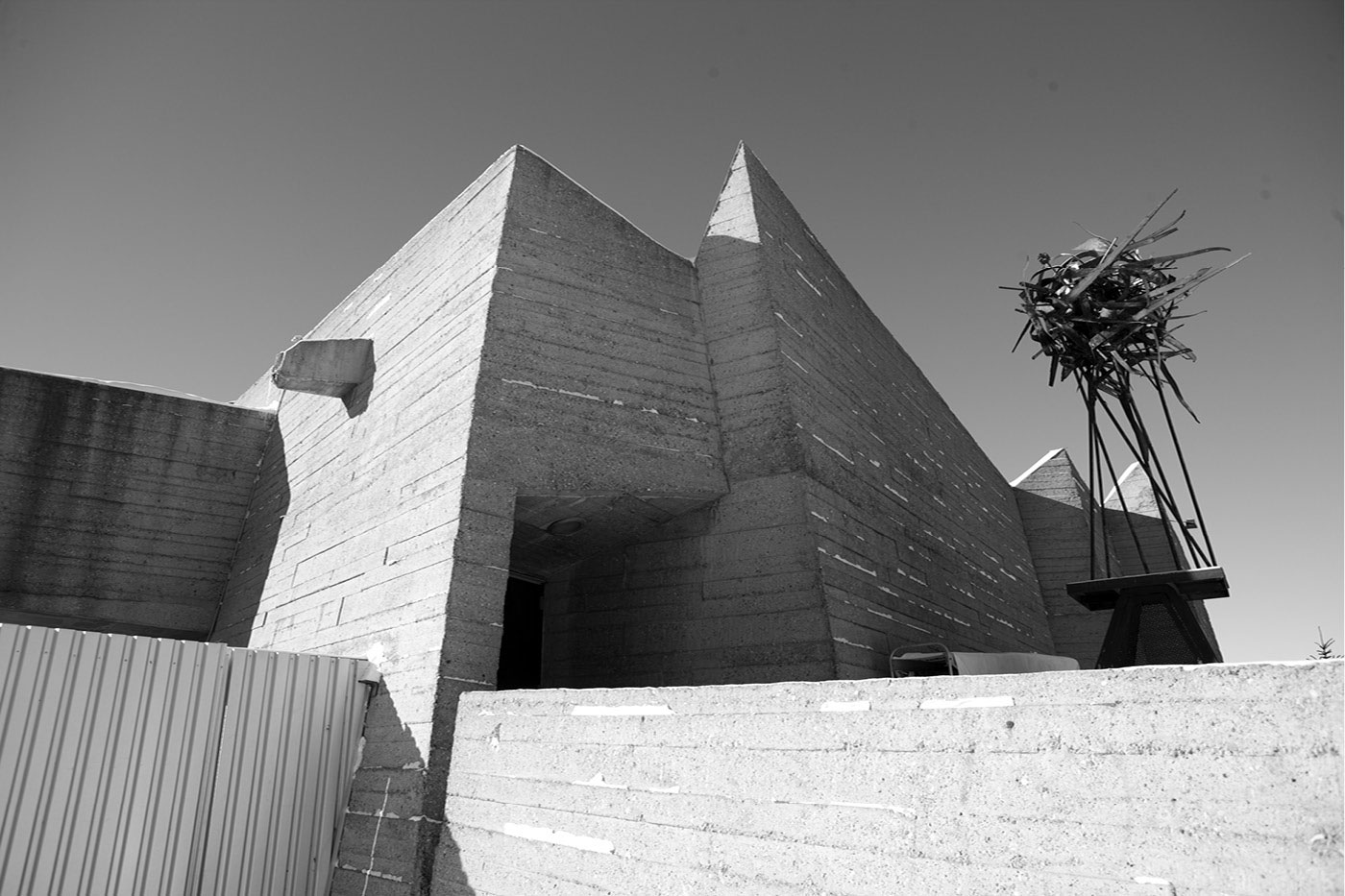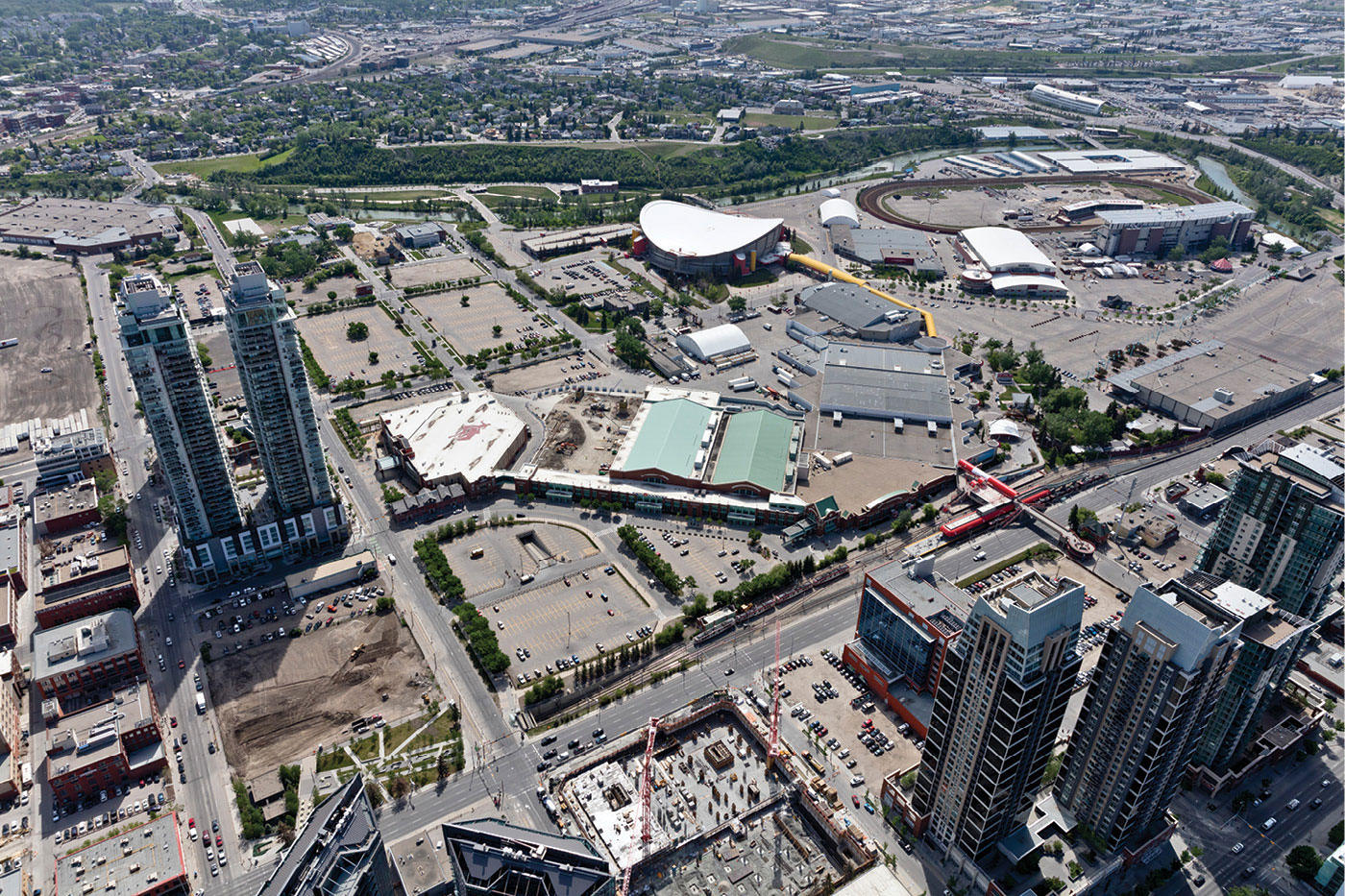 What: Expansion and redevelopment of the BMO Centre convention hall space.
Where: Stampede Park.
Status: Underway and fully funded; set to be completely open by summer 2024.
The BMO Centre will double in size from 500,000 to nearly one million square feet by June, 2024. The $500-million project has been funded in equal parts by the federal, provincial and municipal governments. Construction has already begun on Hall F, a 100,000-sq. ft. facility that will be available throughout construction on the rest of the expansion. Hall F is anticipated to be finished by next spring.
The fully expanded BMO Centre will be the third-largest conference centre in the country after the Enercare Centre and Toronto Congress Centre, both of which are in Toronto and tied for first place with slightly over one million sq. ft. of space each.
Calgary's tricked-out beast of a conference centre will be another step toward the Stampede becoming a year-round destination. Proponents of this plan currently consider Calgary a tier-two convention city (for national-level conferences) and believe this will boost us to the tier-one level. A tier-one conference is usually an international gathering of 10,000 or more people. But what makes a tier-one conference city can actually be quite subjective.
There is no universal definition of what qualifies a city's tier, nor an accepted list of cities and their corresponding ranks. The Meeting Magazines trade website outlines that 54 per cent of cities classified as tier-one have convention centres with at least 500,000 gross sq. ft. of exhibit space, which the BMO Centre already has — that said, having the bare minimum of space in a competitive environment probably isn't going to cut it. Cities are also assessed on things like non-stop national and international flight access, a minimum of 10,000 hotel rooms (Calgary has more than 13,000 hotel rooms, with more than 4,000 located downtown), and less quantifiable traits like "reputation for world-class services and amenities."
One large convention centre does not a tier-one city make, but Calgary has secured the Rotary International conference based in part on the BMO's expansion. In 2025 the Rotary International conference is expected to draw 20,000 to 40,000 attendees. Calgary is also hosting the World Petroleum Congress in September, 2023, though that event will precede the project's completion.
Event Centre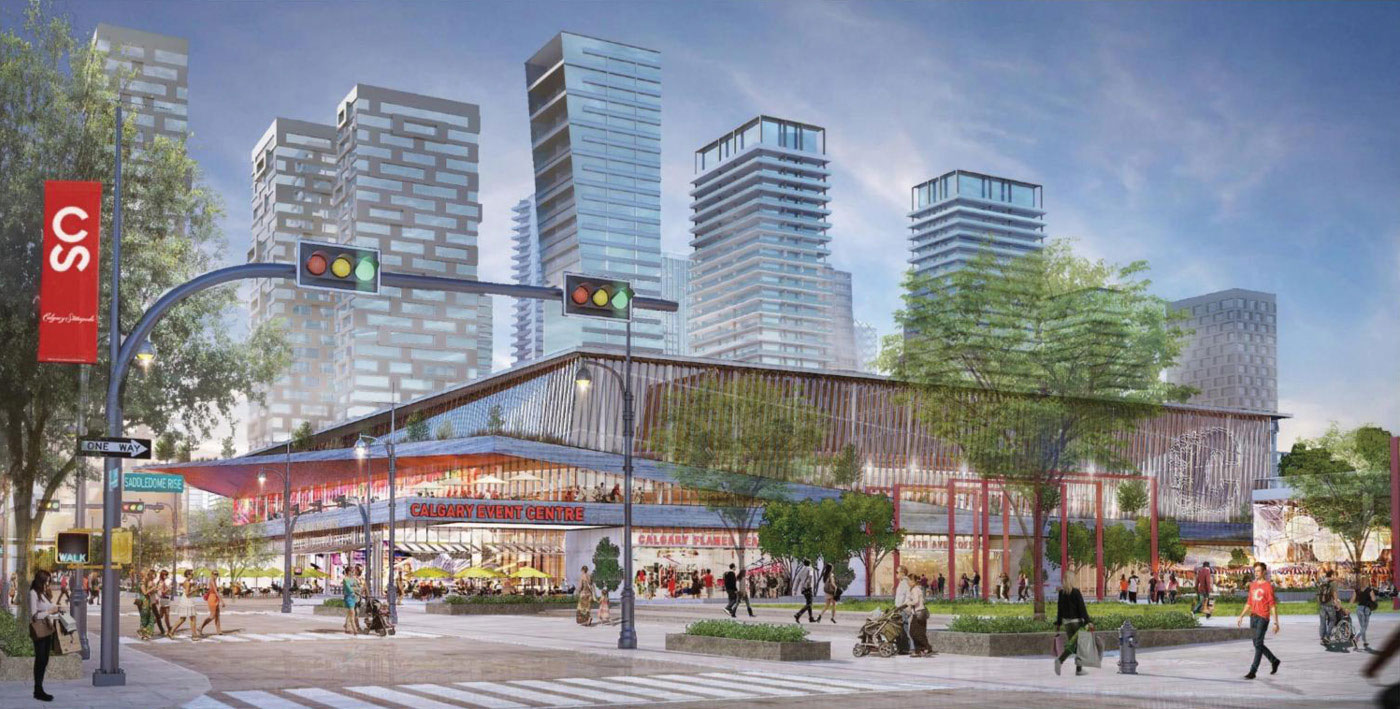 What: A new 19,000-seat arena and event centre that will be home to the Calgary Flames and more.
Where: North of Stampede Park.
Status: Fully funded and expected to break ground in 2021.
A deal reached between Calgary Municipal Land Corporation (CMLC), Calgary Sports and Entertainment Corporation (CSEC) and Calgary Stampede for a new Event Centre in Victoria Park was approved by City Council on July 30. The 19,000-seat structure will be funded in equal parts by the City and CSEC at a total estimated cost of $550 million. The City will retain full ownership of the building and land while CSEC will be granted a 35-year lease on the conditions that it allows the City a portion of earned revenues through fees and keeps the Calgary Flames NHL Club in the city for the lease's duration. CSEC will also make payments to local community sports and community engagement. The City expects its returns to total $400.3 million, not adjusted for inflation.
While the Flames will be the Event Centre's anchor tenant, Ward 6 Councillor Jeff Davison, who led the project committee, says the Centre will look to serve a much richer variety of events than just hockey. And though there has been tittering about the term "Event Centre" being used disingenuously to rebrand the already-rejected idea of a publicly funded NHL arena, Davison says "The Event Centre is what [will] actually unlock the ability to develop the Vic Park option for us."
The Saddledome will almost certainly be demolished to make way for the Event Centre at an additional cost of $12.4 million — of which the City will pay 90 per cent and CSEC will pay 10 per cent. The old arena's limitations have become increasingly scrutinized as arena tours skip Calgary for Edmonton's shiny new Rogers Place with increasing regularity. Calgary missed at least five major tours in 2018 and will miss at least nine in 2019.
Davison also points out that the Saddledome will become increasingly expensive to keep around. "If we were to try and get it through the next 30 years, you'd be looking at a minimum of a couple hundred million dollars' worth of renovations. So, arguably, the cost doesn't provide the benefit," he says.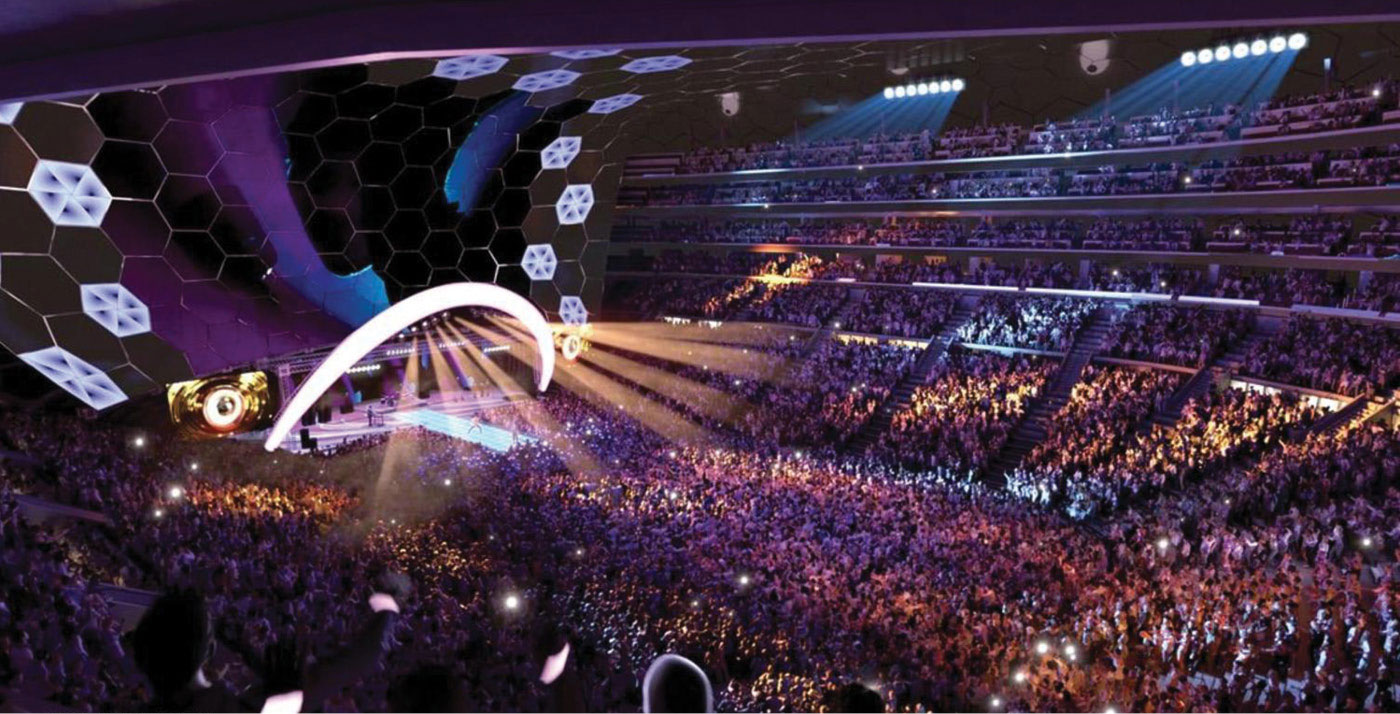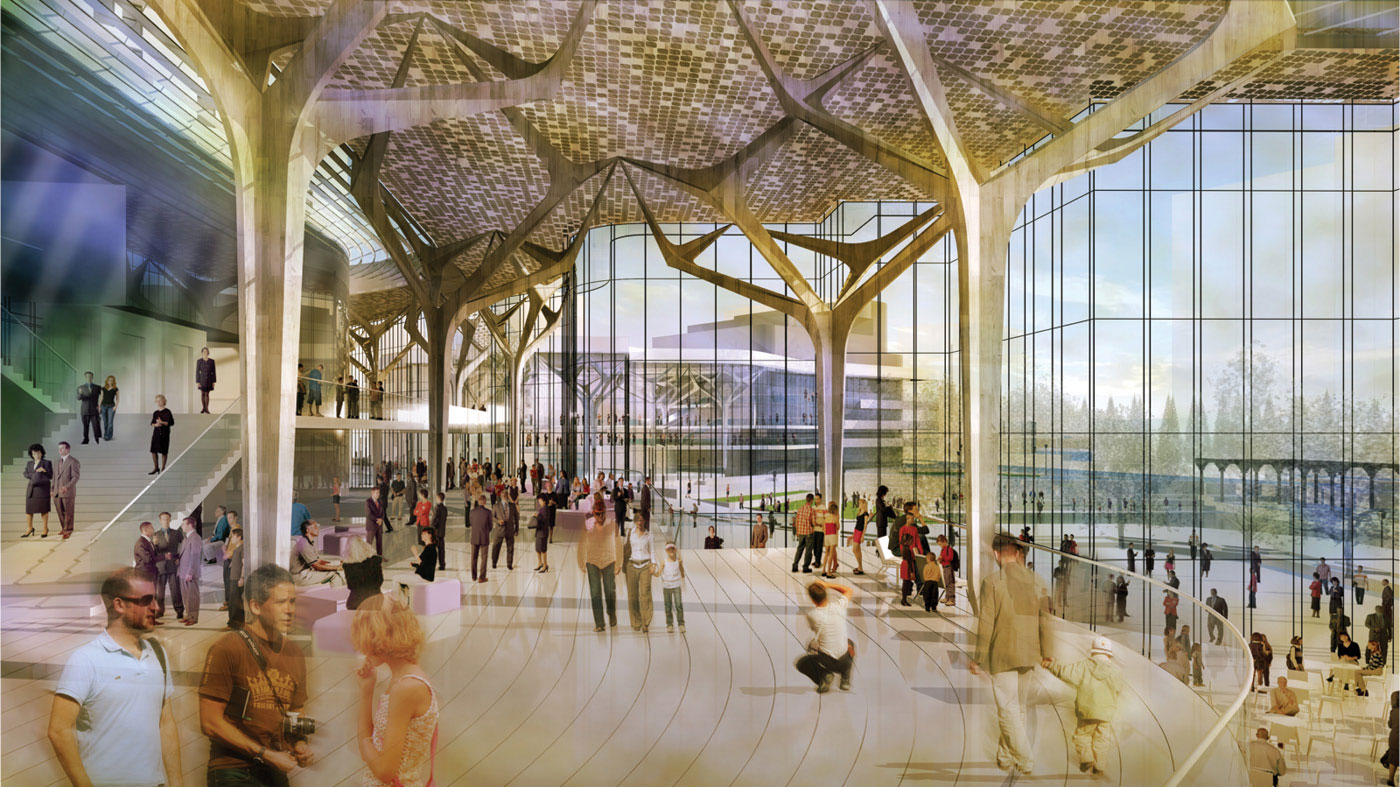 What: A new building to expand the space and a top-to-bottom renovation of the existing facility.
Where: Arts Commons.
Status: Pending funding approval. In August 2019, the Federal Government announced $80 million in funding for the Arts Commons Transformation project.
Arts Commons has proposed a two-phase revitalization that would begin with the construction of a new building to expand its capacity and house its residents, while existing facilities receive a tip-to-tail renovation. The new North Road House would include three theatres with 100, 250 and 1,200 seats and cost $208 million to construct.
The City of Calgary has identified $71 million in "critical lifecycle [sic] and accessibility" issues inside the existing Arts Commons facility. These are must-do maintenance and upgrades to the building, including windows, heating, ceilings, plumbing and other fundamental elements. However, Arts Commons is asking for a total of $204 million in order to construct a new, open-concept facade and improve technology and amenities.
Colleen Dickson, internal relations and interim co-CEO of Arts Commons, says her organization has been working hard to make sure the existing building doesn't fall apart. "We've been focusing on the big items that will shut the whole building down if something goes wrong with them … but what that leaves is some of the back-of-house items and venue technology that is way beyond life."
Indeed, the City assessment doesn't include things like updating dimmers and audio systems that co-CEO Greg Epton says are so antiquated that Arts Commons can't compete with modernly equipped venues. The dimmer in the Max Bell Theatre alone, for example, cost around $1.7 million when it was replaced.
Despite its issues, Arts Commons is in high demand. Epton says they turn away around 600 revenue-generating rentals per year, simply because the facilities are booked up. Adding the North Road House would address that capacity concern in the long term.
In addition to the six resident companies at Arts Commons, between 174 and 315 partner organizations also run events there each year. Dickson and Epton argue that both phases of the Arts Commons Transformation are necessary, not only to satisfy unfulfilled market demand, but also to meet current demands by the community, as the extent of renovations required for the existing spaces would leave both residents and community partners without venues to create and perform works. A tenant such as Theatre Calgary could hypothetically couch-surf at other venues during construction (as was the case with the Jubilee's renovations), but it's hardly an ideal situation for such an active cultural organization.
As for the new facade, it would replace one that is literally crumbling — scaffolding and netting were installed on the building following a shower of loose debris in 2016.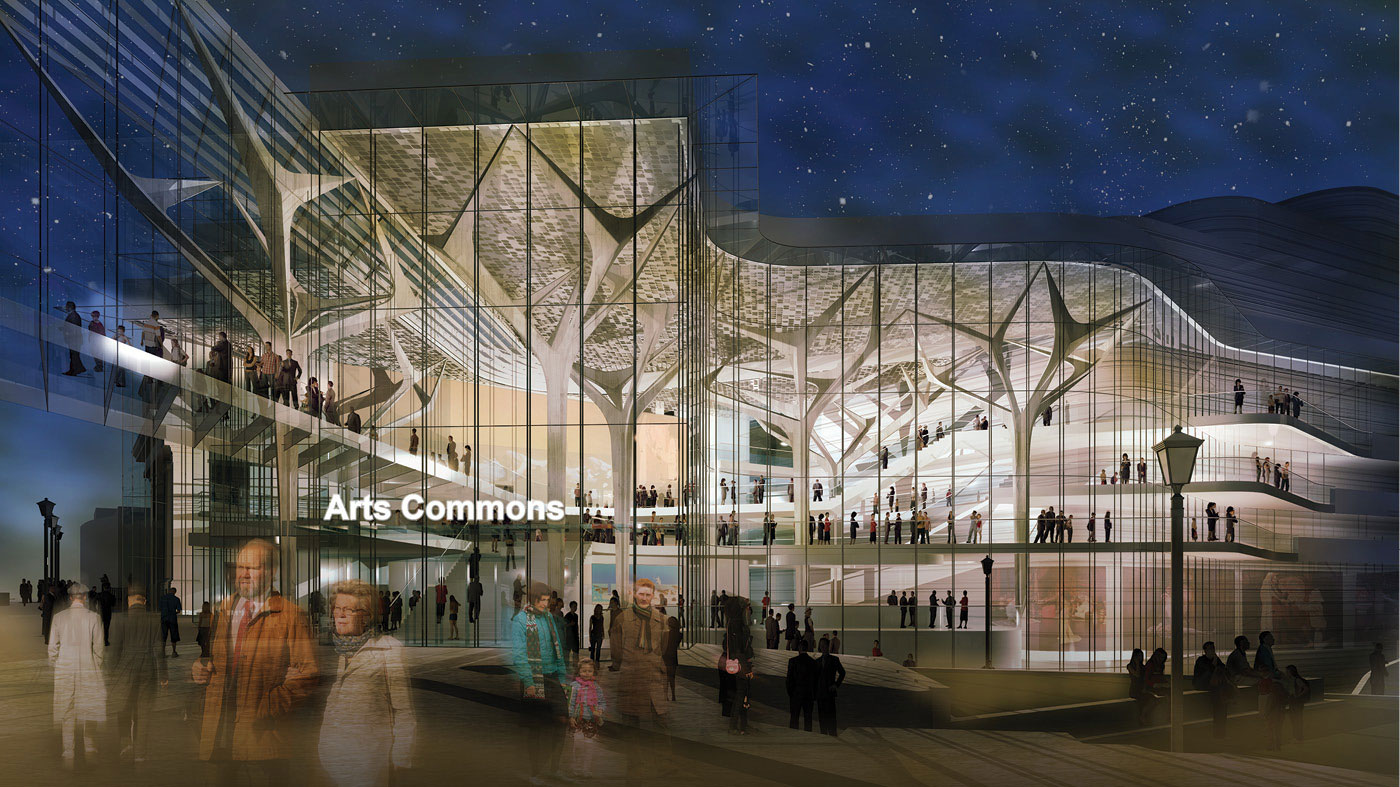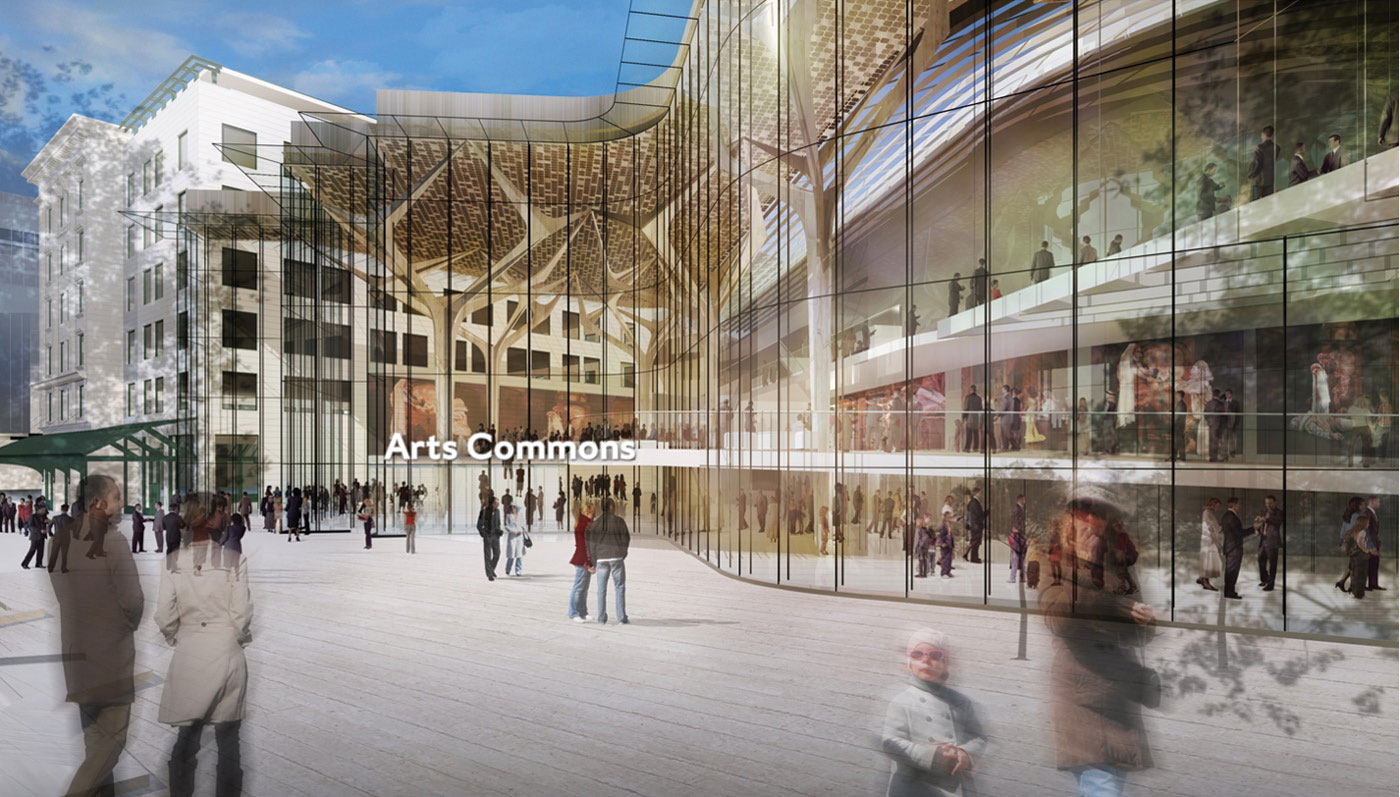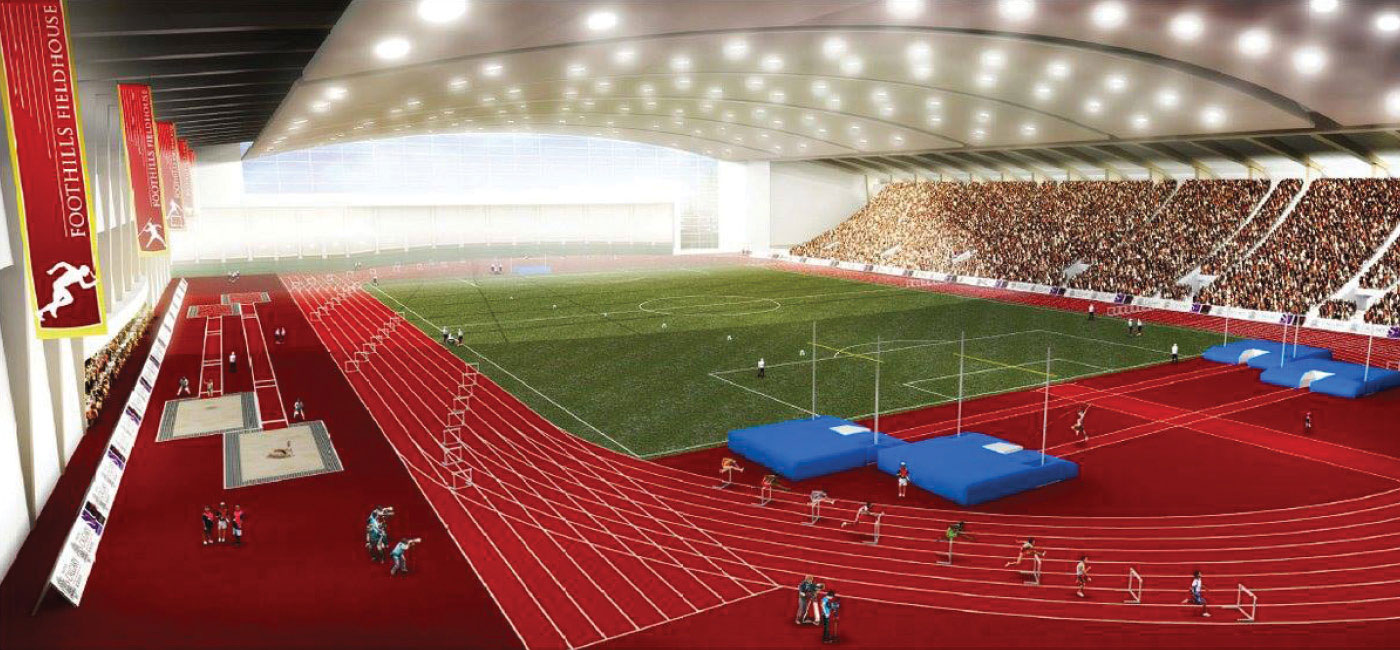 What: An indoor multi-sport facility with space for 10,000 spectators.
Where: Foothills Athletic Park near the U of C.
Status: The City has pledged $19.8 million for initial design work.
A multi-sport field house has once again been proposed for construction in Calgary. Proposals for a field house date back to a 1967 report titled "Indoor Amateur Sports Centre Feasibility Study." More recently, part of the City's nixed Olympic bid included construction of a field house.
A funding proposal from the Foothills Athletic Park Redevelopment Advisory Committee submitted to council last May seeks to build a field house in a renovated Foothills Athletic Park near the U of C. City administration says it would take four-and-a-half years to build once the project secures funding of at least $235 million. So far, $19.8 million has been pledged by the City for early design work.
Foothills Athletic Park already has four regulation-size soccer fields, a little league baseball diamond, a 400-metre running track, long-jump pits, pole vault, discus, javelin, shot put and eight public outdoor tennis courts. McMahon Stadium, Foothills Aquatic Centre and Father David Bauer and Norma Bush hockey arenas neighbour the park. Cumulatively, these facilities make for a pretty impressive sports environment, but lack the year-round usability and versatility a field house would provide for field- and court-based sports.
The current proposed field house would feature infrastructure for track-and-field sports, baseball training, tennis, basketball, volleyball, badminton and other activities as well as seating for 10,000 spectators.
While committee chair Ward 5 Councillor George Chahal has said that Calgary is the only major Canadian city not to have a field house, the term is fairly ill-defined and a survey of field houses in other major cities reveals that no two offer the exact same amenities.
The Tsuut'ina Nation opened a new sportsplex and field house in the spring of this year. The 228,000-sq.-ft. Seven Chiefs Sportsplex is open to Tsuut'ina residents and non-residents alike, and offers two NHL-sized indoor rinks (with 2,000 and 500 seats, respectively), along with a covered outdoor rink, four basketball courts and a multi-purpose field house that can fit, for example, eight volleyball courts with four metres of space between each. The Seven Chiefs Sportsplex has seating capacity for 5,000 spectators and houses a fitness centre, running track, dance studio, concession and office spaces. The entire Seven Chiefs Sportsplex cost around $56 million and took less than three years to build.
Overall Vision Over Individual Projects
Just how these projects might cumulatively shape the city depends on who you ask. To hear it from Councillor Davison, this isn't a list we should be choosing winners and losers from. By Davison's estimation, and that of Clare LePan, CMLC vice-president marketing & communications, in transforming the Rivers District and putting the right pieces in place around it, we are investing in the whole city's future, not just individual buildings.
The vision of the Rivers District includes the creation of inviting public space around and between developments in the area, plus the Green Line, and the construction of a 5th Street underpass, the BMO Centre expansion and the Event Centre buildings, of course, but also the Arts Commons Transformation and layering in the critical piece represented by private development.
As far as an event centre or arena is concerned, Davison believes in building something that isn't simply four walls housing events. "One of the biggest things we learned through our committee work was that the areas around the event centre, or adjacent to the event centre, would be just as important as the facility itself," he says.
Davison and LePan both say we need to remember that this is a 20-year master plan, not an overnight building project. Redevelopment at this scale requires faith, patience and cooperation. For LePan the best example for Calgarians trying to wrap their heads around what that kind of long-term investment looks like is East Village, which CMLC also developed.
"When you look at where East Village has come in the past 10 years, it's now recognized as one of the leading inner-city communities that's highly identified by its public spaces like Riverwalk, and then more recently by anchors like the new Central Library and Studio Bell," she says. "Major attractions like that, and community building projects like the library, are examples of how they can transform how a community functions. East Village has become as much of a destination for people across the city as it is for those who live there."
We may start to see that vision in as little as five years. CMLC is acting as the development manager for the BMO Centre expansion and LePan expects that by Stampede 2024, the project will be completed, as will the redevelopment of the Victoria Park CTrain station and the extension of 17th Avenue into Stampede Park.
Not everyone is seeing the same vision for Calgary's future, though. Dr. Beverly Sandalack, past associate dean and current professor at the University of Calgary's School of Architecture, Planning and Landscape, agrees that the issue in question is a matter of vision rather than individual projects. However, she cautions that focusing on monument-like buildings risks missing the point of what makes for good urban development. She believes we need to think big — but that in certain ways we need to act small.
Sandalack also agrees there are excellent ideas in the Rivers District Master Plan and that East Village is one of the best examples of urban design we have in Calgary. Like LePan, Sandalack believes that CMLC's decision to launch the Riverwalk component of East Village first was exactly the right way to go. Starting with an inviting, walkable area for gathering is significantly more important than any mammoth attraction in the area. "Cultural buildings are really good attractors but they need to be in the middle of an urban fabric," she says.
That is the very reason Sandalack feels that modern development in east Victoria Park is off to the wrong start with its focus on super-sized condo towers and large-scale institutions. She also doubts the plan will live up to sophisticated mixed-usage principles.
"What I'm worried that Calgary hasn't learned to do well yet, is to develop these things in a comprehensive enough way that you really improve the whole urban condition," she says. "Calgary is too conventional for our context."
Richard White, urban critic, columnist and author of The Everyday Tourist blog, has doubts of a more brass-tacks nature. "When Calgary's oil-and-gas industry is booming, we are driving an eight-cylinder car, and we hit above our weight," he says. "But in a recession, we go back to a four-cylinder car, and we need to drive slower and be more economical in our thinking."
White points out that East Village was conceived under vastly different economic conditions than we face today, and he thinks some of the buildings proposed now don't have the potential to attract the level of investment their proponents say they do. While he isn't confident the Arts Commons Transformation or an Event Centre will pay dividends, he says the BMO Centre expansion is a well-calculated development. In general, White is much more in favour of renovations and expansions than new builds. "BMO has tourism potential, it has economic potential. Bringing trade shows and conventions to Calgary is part of how you introduce Calgary to new people," he says.
White also says that Calgarians should consider the Tsuut'ina Seven Chiefs Sportsplex as a potential alternative to another new field house.
Though the two critics have their own reasons to doubt, their concerns seem to converge in two simple questions: Is now the right time for this? And is Calgary ready to capitalize on the future these new builds represent?
For their part, citizens have been calling for more responsible spending by civic government in the wake of significant loss of downtown property tax, skyrocketing business taxes elsewhere, massively unpopular public art projects and nearly $7 million spent on the failed Olympic bid.
As of March, 2019, $1.5 billion had been allocated toward the future of Arts Commons, the field house, an event centre and the BMO Centre. Today only the latter two have received full greenlight and funding so far. If you have thoughts on the remaining projects and how they could shape the future, write your councillor, attend a meeting and vote when the next municipal election takes place in October, 2021. It's fair to assume that Calgarians are not against the growth of the city, but as citizens, we have every right to demand that expenditures be smart investments in a future that benefits us all.