When it comes to vacation destinations, location is everything, so Sicamous, B.C. – a laid-back town smack dab in between Calgary and Vancouver on the Trans-Canada Highway – has a pretty good thing going, surrounded as it is by snow-capped mountains and pine-lined lakes. But ripe with a recreation-is-king mantra, Sicamous has plenty more to it than just its location.
Boating in Sicamous
Not surprisingly, given the geography and the sun-soaked summers, most of the recreation in and around Sicamous comes with a "just add water" recommendation. And, squeezed between Mara Lake and Shuswap Lake, Sicamous has an abundant supply of it. Along with all that wet stuff come beautiful beaches, with more than 1,000 kilometres of pristine shoreline and plenty of boats at the ready.
In fact, there are so many boats, Sicamous is the self-declared "houseboat capital of Canada." Each summer, thousands of people flock here, load up their double- and triple-decker boats and pile on board for a week of sun, sippin' and sputtering along. Indeed, houseboating is the ultimate opportunity to get your friends or family together and enjoy what a Sicamous summer is all about. Days on the boat are spent sunbathing, swimming and slipping off the slide into the cool, clean water. Evenings are spent hunkered down on shore (it's mandatory for each boat to find a designated spot along the shore for the night), enjoying a beachside campfire and the luxuries of a well-equipped craft. Exploring waterfalls, marine parks and revelling in the sweet Shuswap sunsets are also part of the fun.
There are three major houseboat rental companies in town – Bluewater, Waterway and Twin Anchors. Twin Anchors pioneered houseboating in Western Canada in 1964. The company manufactures its luxurious boats right in town and also sells them to other outfitters around North America. Twin Anchors currently operates a fleet of 100 rental boats, docked at its Sicamous and Salmon Arm marinas.
The boats from all three companies, many of which rightfully belong in the "luxury" class, vary in size and can sleep up to 30 people (which should be enough for a good party). Each company has a number of different boat styles to choose from and nearly all of the models feature fully equipped kitchens, upper-deck hot tubs, waterslides, state-of-the-art entertainment centres and much more. Houseboating rentals are typically three, four or seven nights in duration. And inexperienced skippers need not worry – a brief, but thorough orientation session is conducted before every ship sails.
While boating may be the trump card, there are a number of other activities to keep you busy. Hiking, fishing and mountain biking are all super-popular pastimes. Experienced mountain bikers should put the Larch Hills Traverse on their bucket list. It's an epic, 38-km through-the-wilderness ride that takes you from Sicamous to Salmon Arm … the hard way. It's home to the Salty Dog Enduro six-hour mountain bike race each spring.
Golfing in Sicamous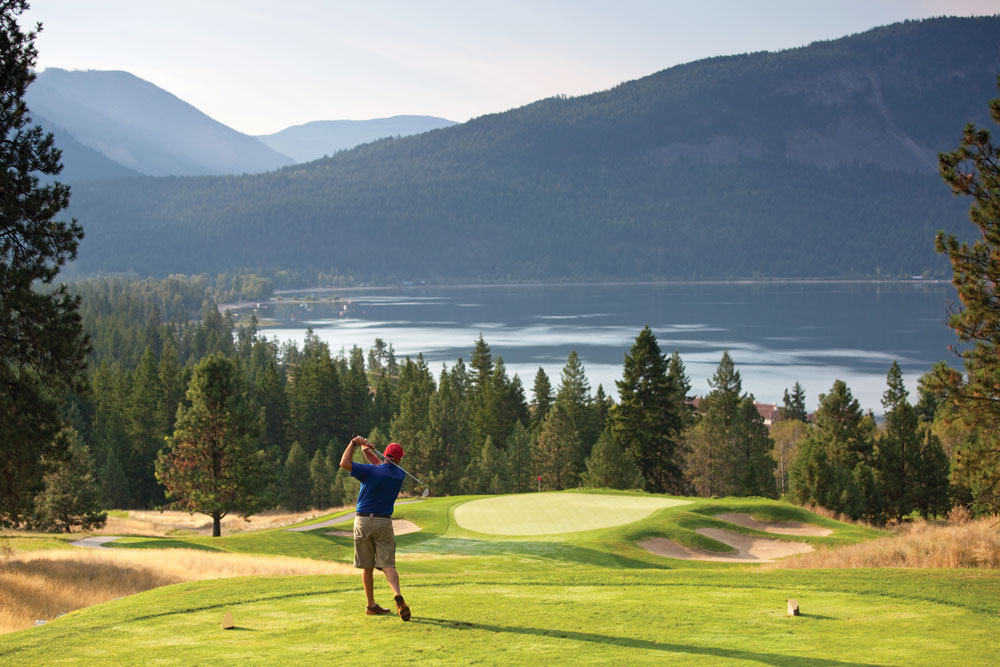 The author on the par 3 15th hole at Talking Rock Golf Course.
Golfing is another Shuswap summertime staple. In fact, houseboaters can combine the two activities and dock their boats at Hyde Mountain's private marina. A quick phone call up to the clubhouse and you and your fellow shipmates will be picked up via golf cart and whisked to the first tee. The challenging Les Furber design at Hyde Mountain is a lakeside beauty with quirky holes and a high "wow" factor thanks to massive elevation changes and incredible views. Other courses to try in the area include Canoe Creek, Talking Rock and the classic Salmon Arm Golf Club, one of the hidden gems in the British Columbia golf scene.
The music and festival scene
Discovering "hidden gems" is what attending music festivals, another go-to pastime in the region, is all about. Given the quality of the artists that historically perform at the popular music festivals each year, it won't take long to find a new favourite artist. The Salmon Arm Roots & Blues Festival, a three-day festival that takes place the third weekend of August, is one of Western Canada's best. The festival includes renowned artists that perform in many genres including Celtic, Afro-beat, Americana, blues and bluegrass. Legendary artists such as Buddy Guy, Mavis Staples, Bruce Cockburn and Taj Mahal have headlined the not-for-profit festival. This year, Marty Stuart & His Fabulous Superlatives will be one of many showstoppers.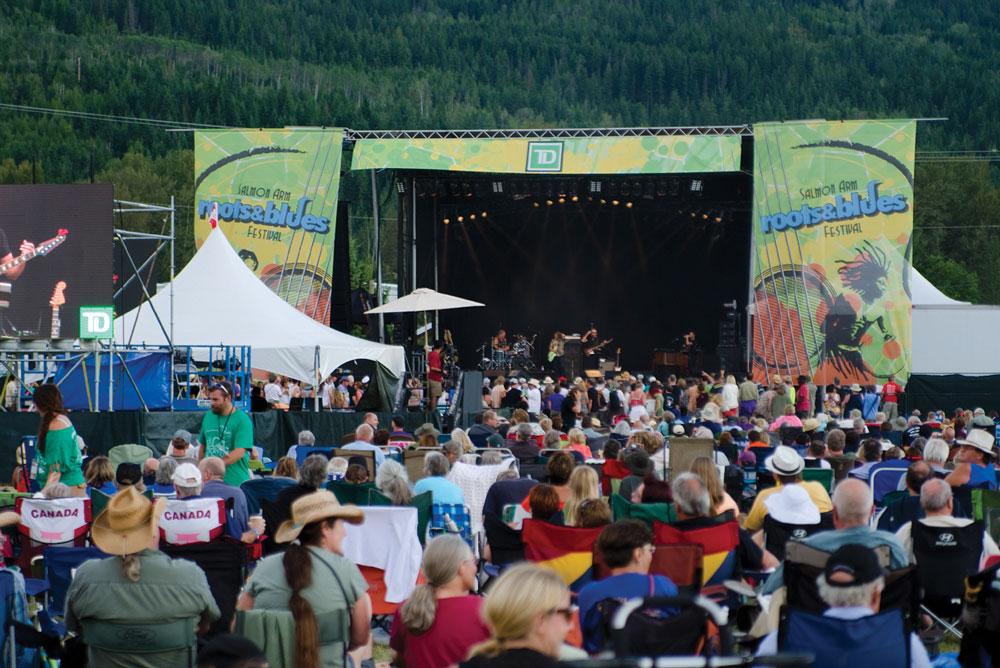 Salmon Arm Roots & Blues Festival.
If banjos and bluegrass are your thing, then the NimbleFingers Bluegrass and Old-Time Music Workshop and Festival, held each year in Sorrento, will be your ticket to a good time. The laid-back festival on Aug. 22 celebrates folk, Appalachian, Celtic, old-time and bluegrass traditions. Located near the shores of Shuswap Lake, the setting here is ideal. If the playing – or the weather – gets too hot, there's an easy solution. Just stroll down the hill and plop yourself into the water.
Boating, birdies, biking and banjos? Sounds like a winning combination. Sounds like summer in the Shuswap.