Photograph by John Cameron
The ferry crossing from Vancouver to Victoria is a chance to glimpse the Southern Gulf Islands, a string of lush, emerald gems scattered throughout the Strait of Georgia.
Each island has its own character and charm, with rugged back roads for biking or posh places to dine. You can plan a stay on just one or take a circle tour by boat, using the regular ferry service between islands or your own craft.
From largest to smallest, here's a taste of what you'll find in the friendly harbours of four of our favourites.
Salt Spring Island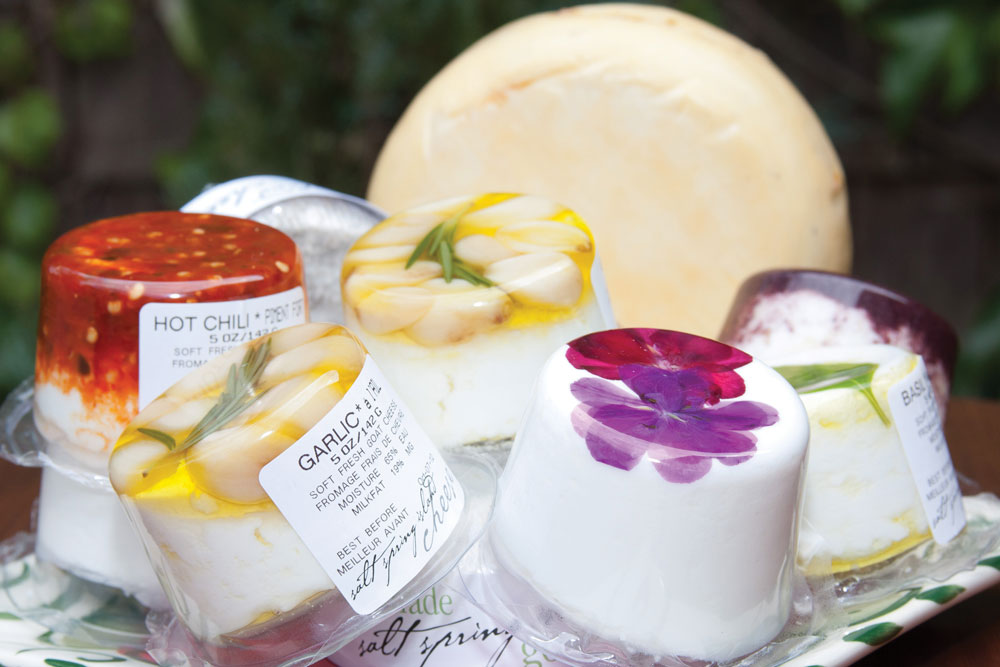 Salt spring island cheese company. photograph by landon Sveinson.
Size 182 square kilometres
Population 10,234
Ferry terminals Fulford Harbour, Vesuvius Bay and Long Harbour
The largest and most populated of the Gulf Islands, Salt Spring has a lot of diversions, as well as the best selection of hotels and restaurants. Salt Spring offers 133 km of shoreline and plenty of winding back roads through forested corners, past bucolic farmland and up to spectacular viewpoints on Mt. Maxwell.
Where to Stay
Hastings House is the historic country inn on the island. Stay in one of its elegant manor house rooms or restored cottages. If camping's your scene, Ruckle Provincial Park offers sites where you can watch boats and ferries sail by from your tent.
What to Do
At the centre of the island is the main village of Ganges, where you'll find art galleries, shops and the bustling Saturday-morning farmers' market. This is a food-lover's island, with a variety of producers making everything from nettle chai to smoked fish. Visit the Salt Spring Island Cheese Company's farm shop for a tour and a taste.
What to Eat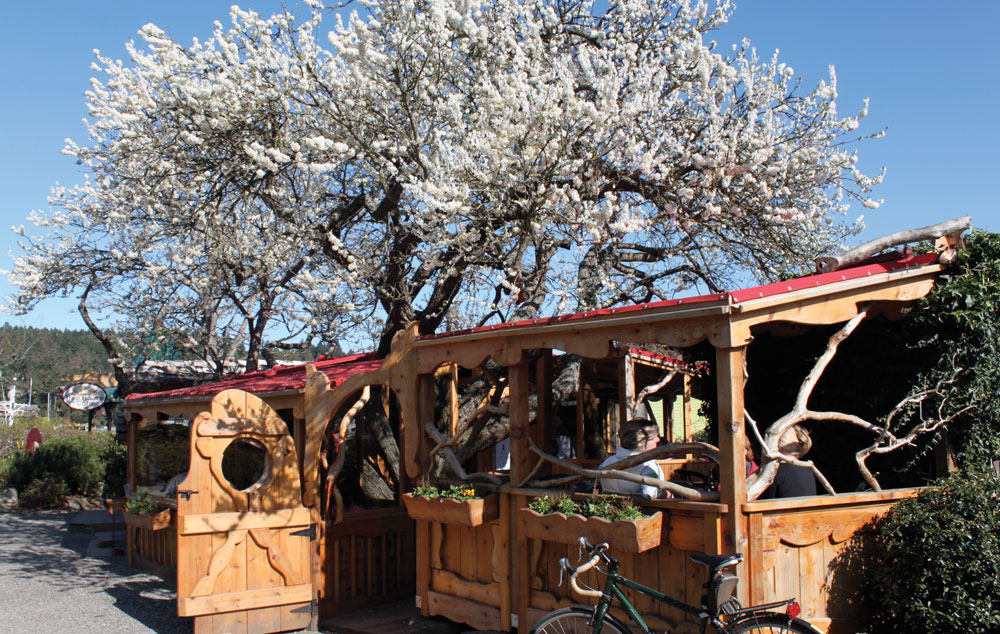 tree house cafe
Type image description here.Pender IslandSalt Spring has lots of options including coffee shops and pubs, sushi spots, wood-fired pizza, artisan breads, handmade chocolates and gelato. On Saturday nights, head to Tree House Caf for a variety of dishes, including Indian food and live music on the outdoor patio.
Size 34 square kilometres
Population 2,236
Ferry terminal Otter Bay
Pender Island consists of two islands, North Pender and South Pender, joined by a small bridge that crosses at Mortimer Spit. It boasts almost two-dozen beach access points, more than any other Gulf Island.
What to Do
Explore South Pender on a hike through the Gulf Islands National Park Reserve, or head to Pender Islands Community Hall on North Pender for the Saturday-morning farmers' market, Easter to Thanksgiving, and the Fall Fair. Launch a kayak from several accessible beaches and keep your eyes peeled for eagles, otters and pods of orcas.
Where to Stay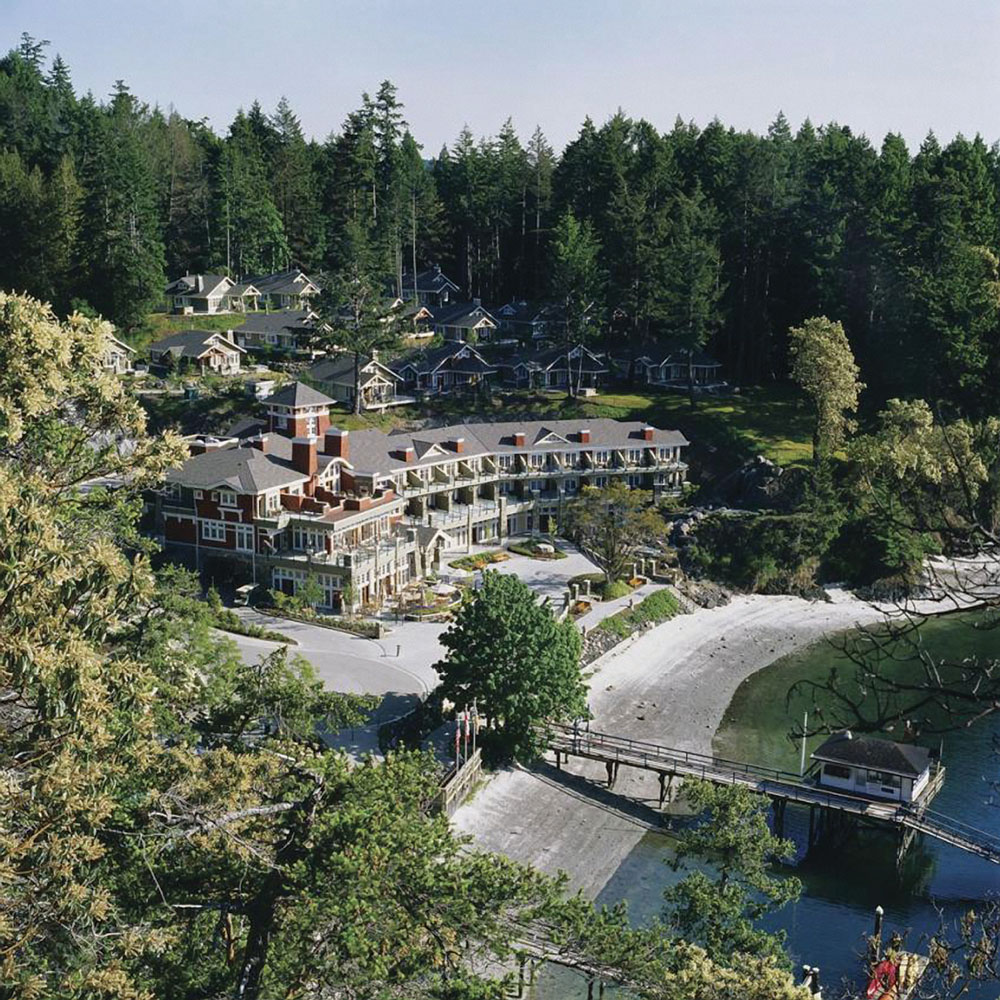 The Poets Cove Resort & Spa on South Pender is a luxurious oceanside retreat. Stay inland on North Pender at The Inn on Pender Island, or camp in Prior Centennial Campground located in Gulf Islands National Park Reserve.
What to Eat
On North Pender, meet the locals at the pub at the Port Browning Marina for a beer and a burger, or head to The Caf at Hope Bay, inside the historic Hope Bay Store, for expansive ocean views and a locally sourced menu.
Mayne Island
Size 21 square kilometres
Population 1,071
Ferry terminal Village Bay
If you really want to get away from it all, sleepy Mayne is the island for you. Hike Mt. Parke, explore the tidal pools of Oyster Bay or bring your bike to ride the undulating island roads. Thieves Bay Marina, Mayne Lighthouse and Galiano Island photographs by Landon Sveinson
What to See

photo by landon sveinson
Thieves Bay Marina
The circa-1900 Agricultural Hall is still at the heart of Mayne society with art shows, entertainment and, July through October, the Saturday farmers' market. Relax at Mayne Island Resort's Aqua Flora Spa, where you'll be pampered with local Seaflora seaweed skincare and wild-crafted Sea Wench Naturals. Continue your Zen moment at the peaceful Japanese Gardens, a tribute to early Japanese settlers.
Where to Stay
Mayne Island Resort is a newly renovated getaway with private cottages and water-view rooms on a private beach. Fernhill Bed and Breakfast sits high on a ridge with hiking in the ferny forest right outside your door.
What to Eat
Bennett Bay Bistro's views of the water, along with OceanWise fish and the house-made desserts on the menu, make this the place to eat on Mayne. Bring your own wine for a small corkage fee.
Galiano Island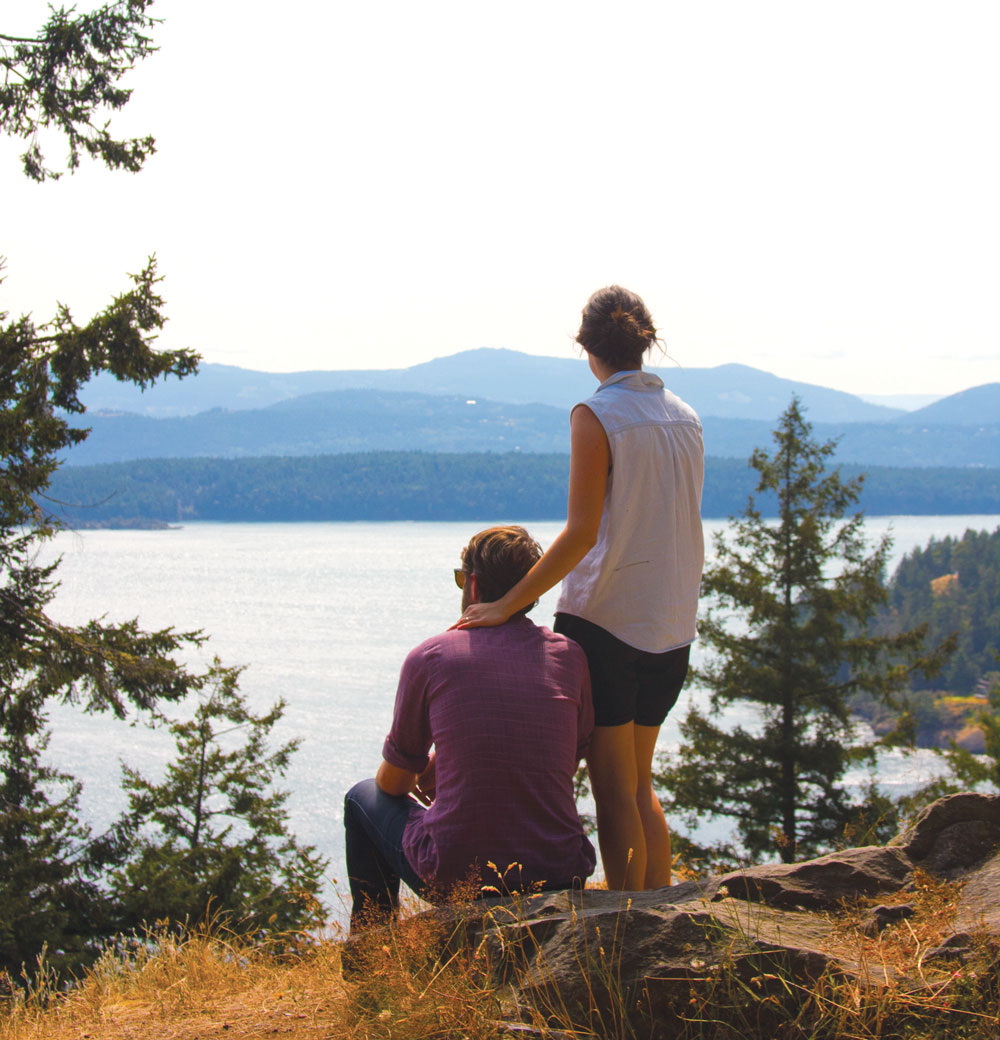 PHOTO BY LANDON SVEINSON
Size 60 square kilometres
Population 1,138
Ferry terminal Sturdies Bay
Artists and writers are drawn to quiet Galiano Island, so there are lovely galleries and a great little bookstore here, but there are also many undeveloped areas to explore.
What to Do
Montague Harbour Marine Provincial Park is known for its white-shell beaches, where ancient ocean-tumbled shells stand in for sand. For thousands of years, Coast Salish First Nations people used the beach as a shell midden, a prehistoric refuse pit, and archeological digs have revealed arrowheads, stone carvings and more.
Where to Stay
The Galiano Oceanfront Inn and Spa offers luxury with a laid-back West-Coast vibe. Book a couple's massage or try healing flotation therapy – no enclosed tanks, just a warm mineral salt bath to give you a sense of weightlessness and total relaxation.
What to Eat
The Galiano Inn's restaurant is a destination dining spot on the island, famous for its wood-fired pizza, B.C. seafood and Vancouver Island wines.