Where to Go Downhill and Cross-Country Mountain Biking
Adrenaline junkies on the hunt for a new way to feel that rush of endorphins this season should try these mountain biking trails in Kananaskis, Banff, Canmore, Golden, Fernie and the Columba Valley.
By Joanne Elves
Downhill biking at Kicking Horse Mountain Resort.
Photograph by Scott Thumlert
Mountain biking can be broken into two basic categories – cross-country and downhill – the main differences being the terrain and the equipment. Cross-country bikes tend to be lighter with some shock absorption, so riders can propel themselves up and down the undulating terrain. Downhill bikes tend to be beefy, with lots of shock absorption to allow riders to tackle steep descents, drops and jumps. These are not built for much uphill pedalling.
Cross-Country Mountain Biking
Ripping through the trees on knobby-tired mountain bikes is a full-on adventure that takes skill, endurance and good equipment. If you don't have access to a decent mountain bike, there are lots of places in Calgary that will rent you one. Take some time to learn what your bike can do and ease into the terrain.
Plan some short excursions out to West Bragg Creek where there are many single-track trails in varying levels of difficulty and distance to try. It won't be long before you are ready to take on anything. Don't forget to learn trail etiquette and to wear your brain bucket. Here are some trails to get you started, but a great resource is bikepirate.com.
WinSport (a.k.a. Canada Olympic Park) has a trail system designed by the folks at Whistler, so you know it will be wild (even though you don't need to leave the city). The trails are marked, like ski trails, easy to hard, with the easiest closest to the lodge. The chairlift will take you and your bike to the top, making your adventure a little bit easier.
Cross-country trails in Bragg Creek/Kananaskis
Kananaskis Country is your gateway to biking nirvana. Once you have mastered the trails at West Bragg Creek, ask a group of mountain bikers to shout out the best trail and you will hear a different trail from everyone. But one place they will all agree on is the Moose Mountain biking trails. From one parking lot, you will find single and double tracks to take you into some beautiful backcountry. A great resource for maps and trail descriptions is on the Bragg Creek and Kananaskis Outdoor Recreation website.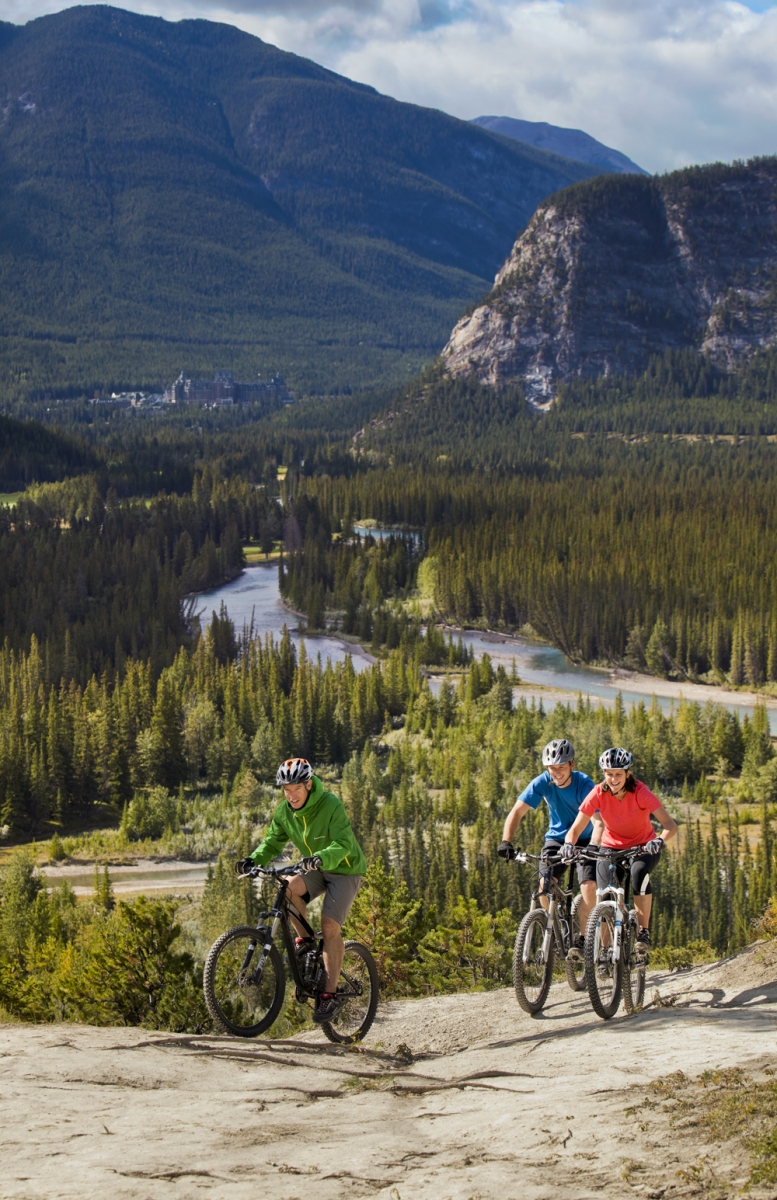 photograph by paul zizka; photography courtesy of banff lake louise tourism
Biking the Hoodoos Trail at Tunnel Mountain.
Cross-country trails in Banff/Canmore
Take the kids on the paved Banff Legacy Trail. You can start in Canmore or Banff and go all the way to Vermillion Lakes. Do as much as their little legs can handle. It can be busy with speed demons, but there are plenty of places to pull off to enjoy the adventure. (Park at Vermillion Lakes, Cascade Ponds or the east end of Banff Avenue.)
Bow Falls to the Hoodoos is 8.8 km return and is rated as a moderate challenge. There are some climbs and obvious steep sections, but it's a good introduction to mountain biking incorporating Mt. Rundle in picture-perfect backdrops. (Park at the Surprise Corner parking lot.)
Goat Creek is a favourite route but takes some coordination. The trail starts south of Canmore on the Spray Lakes Road and ends 19 km later at the Fairmont Banff Springs Hotel in Banff. The trail follows Goat Creek and the Spray River with bridge crossings through beautiful forests. And it's mostly a downhill grade. Make sure there is a car waiting or plan to make it a long loop back to Spray Lakes.
The Canmore Nordic Centre trails offer some of the best mountain bike trails in the Rockies, with more than 100 km of trails of every level of difficulty, all starting from the same spot. You can even test your ability on the mountain bike skills park. Follow the signs up Spray Lake Road to the Nordic Centre.
---
Downhill Mountain Biking
Kick it up a notch and try some downhill mountain biking, but be forewarned – this is not for the faint of heart. Aside from the steep terrain, logs, rocks, creeks and trees are the added obstacles that fly by. The bikes are lower, tougher and mean business. And so do the riders. Everything from the helmet to the chest protection is meant for tough spills. Sounds great, doesn't it?
Downhill biking in Golden
Golden, B.C., has two perfect places to launch yourself down the mountain. Mount 7 is not only the host to paragliders but it's also home to 15 serious downhill trails. The trails are criss-crossed by the gravel road that got you to the top, so you can bail out at any point if it gets too scary.
Kicking Horse Mountain Resort is one of the hot spots for downhill biking in the Kootenays. Each year new bumps, berms, rock slabs, bridges and jumps are added to increase the "Holy crap!" factor. With the gondola open to take you and your bikes to the top, it's easy to put in a few epic rides every day. There are plenty of trails ranging from the easy "Lower Kranky Pants" to the black diamond-like "Blaster" offering a multitude of steep sections. The bike shop rents performance bikes and equipment, and there are lessons available for the newbie downhillers. Make it a weekend event by staying at the base of the gondola at one of the hotels.
Downhill biking in Columbia Valley
Panorama Mountain Resort is ready for downhill and mountain bike enthusiasts. The resort has 17 trails and two dirt-jump trails, and the Rock Star Energy Drink Zone is loaded with features that will keep the diehards busy all day. If you run out of trails, the Windermere Valley is criss-crossed with great trails. Check out the "Kloosifier" on the road to Panorama or Mt. Swansea for more. The Columbia Valley Cycling Society has maps and more ideas.
Downhill biking in Fernie
Fernie Alpine Resort has to be included on this list of downhill destinations. There are 37 trails to thunder down. If it's possible to get bored of that, the zipline and treetop aerial park will fill your afternoon quite nicely.
---
Mountain Biking Events
June 27 to 29
This three-day stage race averages 35 km per day, with doable climbs, exciting downhills and a whole lot of great single-track to challenge riders of all levels, with technical and medical support along the way. There's also a one-day event plus categories for under-13s and under-16s and a wrap-up banquet and party on the final evening. $399.
July 3 to 5
Whether you're a total newbie or an experienced downhiller looking to improve your skills, this weekend camp at Panorama will teach you tricks and techniques to build your confidence and make you a better fat-tire rider. Weekend includes coaching, lunches and daily poolside aprs drinks. $385.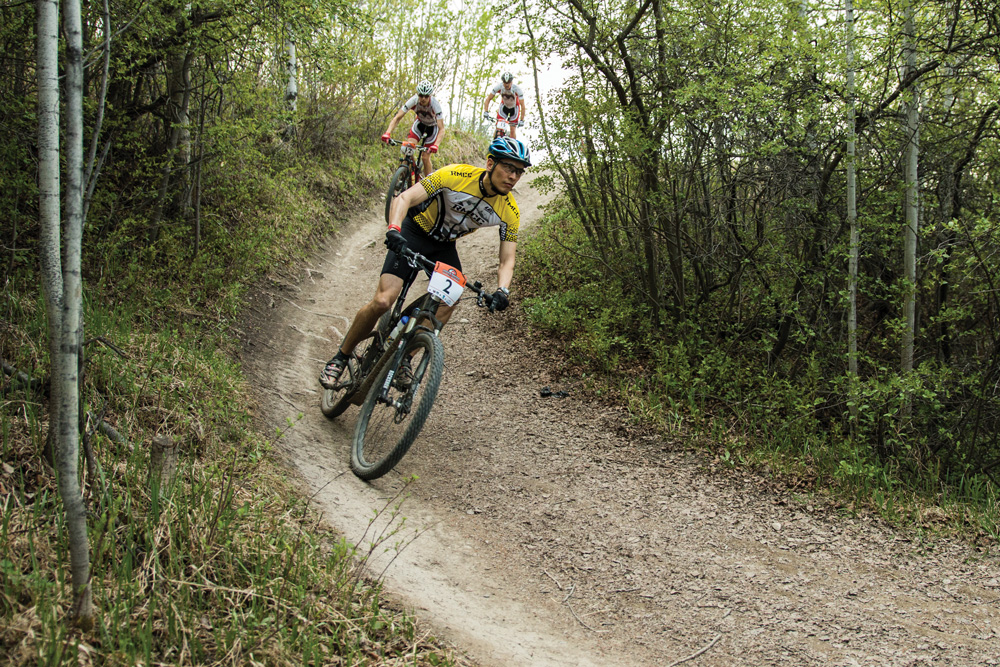 photograph by liam mcconnell/transRockies
WinSport Dirty Thursdays.
Every Thursday evening during the spring and fall, you can test your skills with fellow recreationalists in a 13-km single-track trail race at Canada Olympic Park. Races start at 6 p.m. and afterwards everyone meets for a post-race beer at the Molson Canadian Hockey House. Registration is $15 online, $20 onsite.