Where to Go Paddling This Summer
Admire the mountains from a canoe or kayak in Banff and Invermere this season.
By Joanne Elves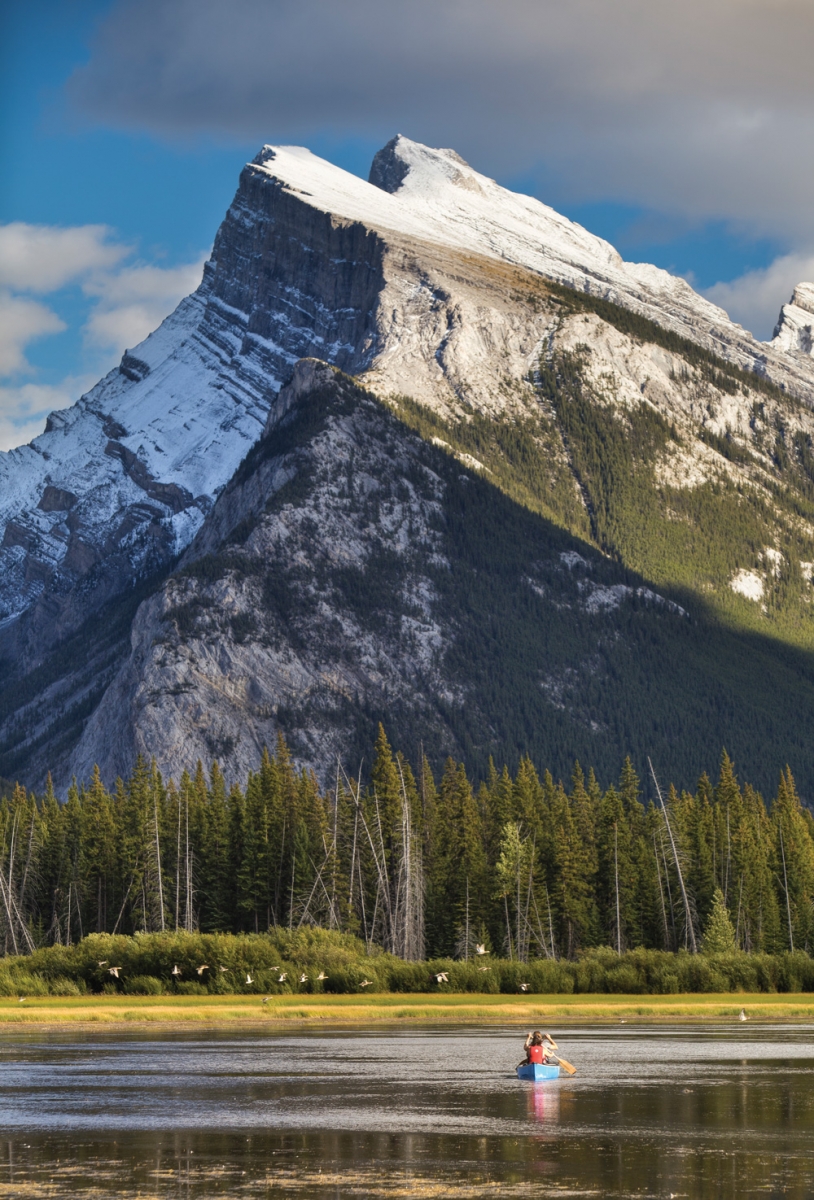 photograph by paul zizka; photograph courtesy of banff lake louise tourism
Vermillion Lakes just west of Banff.
The early European explorers were a hardy lot of voyagers with names like David Thompson and John Palliser. They dragged canoes and York boats west to seek passage through the Rockies. Where they once struggled to survive, you can leisurely slip a boat, raft or kayak from a dock and paddle on your own adventure or be guided by today's hardy voyagers down whitewater rapids.
Paddling in Banff
If you don't know what a "J stroke" is or what a sweep can do, the Banff Canoe Club on the shores of the Bow River in Banff is a perfect place to dip a paddle for the first time. Bring a canoe or rent one on-site. From there, you can explore a slow bend in the Bow or follow Forty Mile Creek into the Vermillion Lakes.
A 12-person Voyageur Canoe Tour is another way to experience the river. After learning how to dip the paddles in unison, your guide entertains you with stories from the days of the explorers, the history of the region, the landscape and the wildlife. After 90 minutes on the river, you'll have mastered the art of paddling and will be ready to take on the river on your own.
Paddling in Invermere
Invermere, B.C., is the perfect place to test your paddling skills in a canoe or kayak. The wetlands are great to look for bird species, wildlife and stunning vistas as you drift on the slow-moving Columbia River. If you are "up" for the challenge, learn to SUP (stand-up paddleboard). Columbia River Kayak & Canoe outfitters will line you up with any rentals you need and even offer a shuttle service so you don't have to arrange your own.
Staying safe on the water
Paddling the Bow River through Banff National Park sounds dreamy, but take care. The river is at the mercy of the yearly spring run-off that changes its course and introduces new hazards daily. Parks Canada has detailed maps of the three sections between Lake Louise and Canmore. Even experienced paddlers know not to shoot the chutes at Bow Falls. Paddle Alberta is also a great source of information promoting safe paddling in Alberta.