Where to Volunteer in Calgary Each Month of the Year
A calendar for when 12 Calgary charities and non-profits need your help the most (though they'll take your help all year).
By Madeline Smith
Build a home with Habitat for Humanity
Photograph by Arlene Barr Photography
The holiday season is traditionally a time to give back. The spirit of giving may be in the air now, but there's work to be done year-round. For Calgary's non-profits and charities, volunteer help is crucial and allows them to serve the communities that need them. From planning events to building homes, find out when your time is most valuable to organizations that need your help.
January
Meals on Wheels' food delivery is a vital service for isolated and vulnerable Calgarians. While seniors are the organization's primary recipients, children and the working homeless are also a part of its network. Delivery doesn't stop for the holidays, and Meals on Wheels needs volunteers most in the New Year. Delivery drivers bring food to clients from 11 a.m. to 1 p.m. daily, and are especially needed in the city's northern neighbourhoods.
How to volunteer:
Reference check and police check
Volunteer drivers need a valid licence and their own vehicle
February
Volunteers keep Theatre Calgary's season running. At every show, volunteers serve the audience at coat check, front of house and inside the theatre itself. In February, you can help put The Philadelphia Story into action – the theatre needs about 16 volunteers for each show during its four-week run, and the company tries to spread time commitments out so volunteers only work one shift per show.
How to volunteer:
Training on the night of the show, with a briefing half an hour before doors open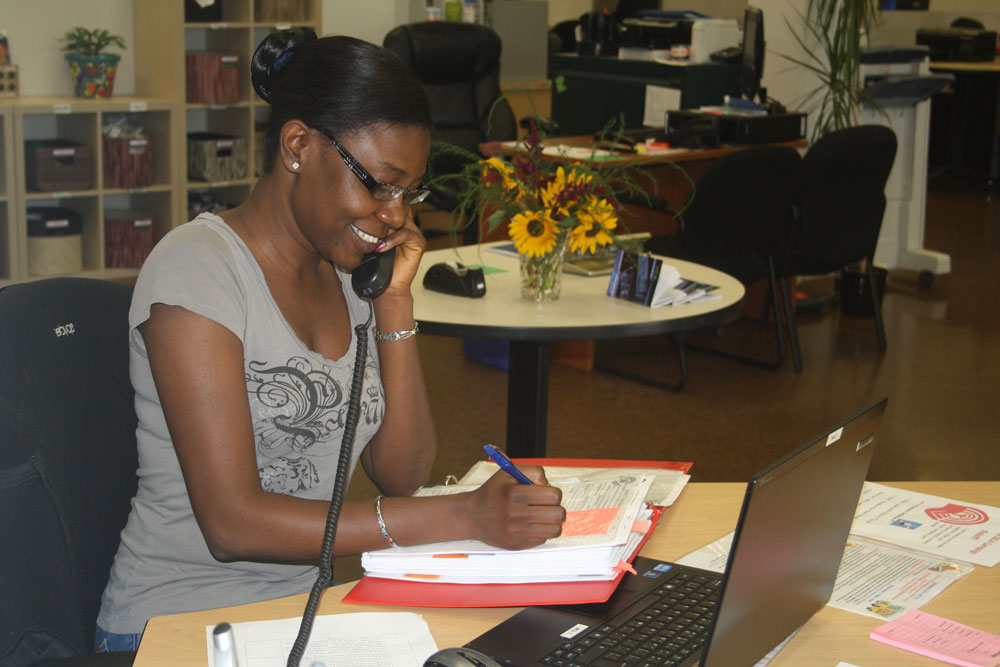 The Calgary Women's Centre.
High volunteer turnover after the holidays means the Calgary Women's Centre needs extra hands in the new year. The organization offers support and services to women, from emergency food and basic items to free legal and tax advice and peer support. Non-judgmental peer support, in fact, is one of the key volunteer roles, with women lending an understanding ear to other women who drop in at the centre.
How to volunteer:
Interview
Training sessions specific to the chosen role
Except for external support roles and special events, volunteer opportunities are generally restricted to women
March
Habitat for Humanity provides living space and the chance for home ownership to people who might otherwise have nowhere to go. The process of building homes is central to Habitat's operations, and builds occur year-round in the city. In 2015, Habitat will construct houses in Redstone, Radisson Heights and Pineridge. You might need to bundle up – the cold temperature is the reason the organization needs extra hands before spring begins.
How to volunteer:
On-site training with more senior volunteers and crew leaders on construction jobs
April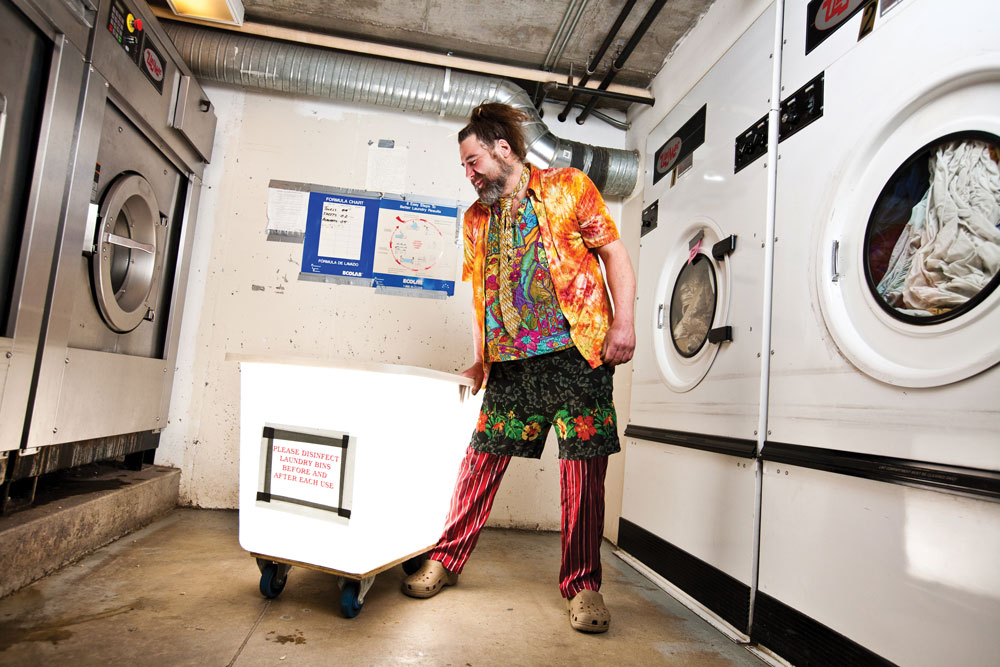 The Drop-In Centre.
The Calgary Drop-In & Rehab Centre (the DI) downtown is busy during the winter months, but it's easy to overlook the fact there are still people in need after spring arrives; its doors are open 365 days a year. There are consistently more than 7,000 people coming to the DI each month (even during warm ones) for shelter, meals and other support services. The DI needs help whenever it can get it, and volunteers lend a hand with everything from making and serving meals and sorting through donations to cleaning and maintenance.
How to volunteer:
Two hours of training
Police check
Volunteers who apply as a group do not have to go through checks or training but are restricted to specific jobs
May
Make the city more sustainable with Green Calgary
Green Calgary is a non-profit that advocates for environmentally friendly life choices. It runs educational programs throughout the year, but the gardening season is its busiest time. The organization's rain barrel and composter sale happens most weekends from May to August in different locations across the city, and it needs volunteers every step of the way. The sale is an opportunity for sustainability enthusiasts to interact with others and share their passion, whether they're teaching customers the benefits of composting and how a rain barrel can be used to water the garden, or doing the legwork of bringing purchases to people's cars.
How to volunteer:
One evening of training
Apply about a month in advance to start volunteering at the beginning of the sale season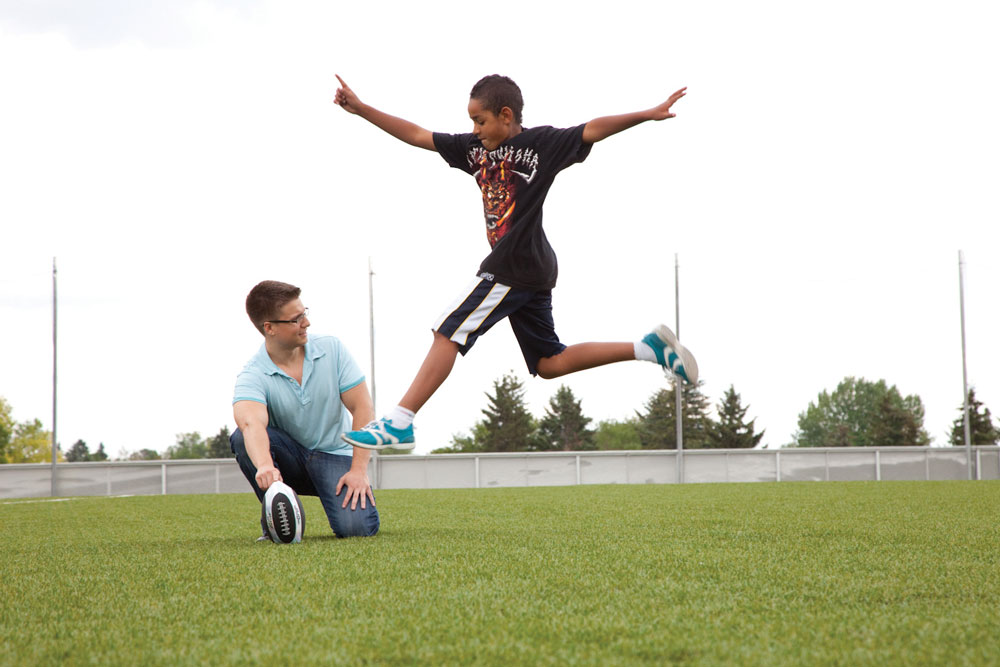 Big Brothers and Sisters.
All-Star Weekend is one of Big Brothers Big Sisters' signature events, with a celebrity golf tournament, a gala dinner and a kids' football camp over a weekend in May. It takes a lot to get the event off the ground, making volunteers an essential part of the weekend. May is also a good time to think about becoming a volunteer mentor for Big Brothers Big Sisters – the application process can take two to four months, and early application gives you a better chance of being matched with a young person in time for the new school year.
How to volunteer:
If volunteer tasks involve children

, pass a police check and vulnerable sector check

Volunteer mentors must

complete interviews, reference

checks and security clearance before being matched
June
Outlink offers resources and education services to Calgary's LGBTQ community and fosters gender and sexual diversity. The June Glitter Gala is its signature fundraiser, with a dance party, performances by spoken-word poets and bands, a silent auction and art displays. Volunteers are integral in setting up the event and keeping it running smoothly, making funds for another year of Outlink services possible. For members of the LGBTQ community, volunteer positions as facilitators in peer-support groups are also available throughout the year.
How to volunteer:
Event volunteers e-mail Outlink at least a few weeks in advance
Peer-support volunteers complete more intensive approval and training
July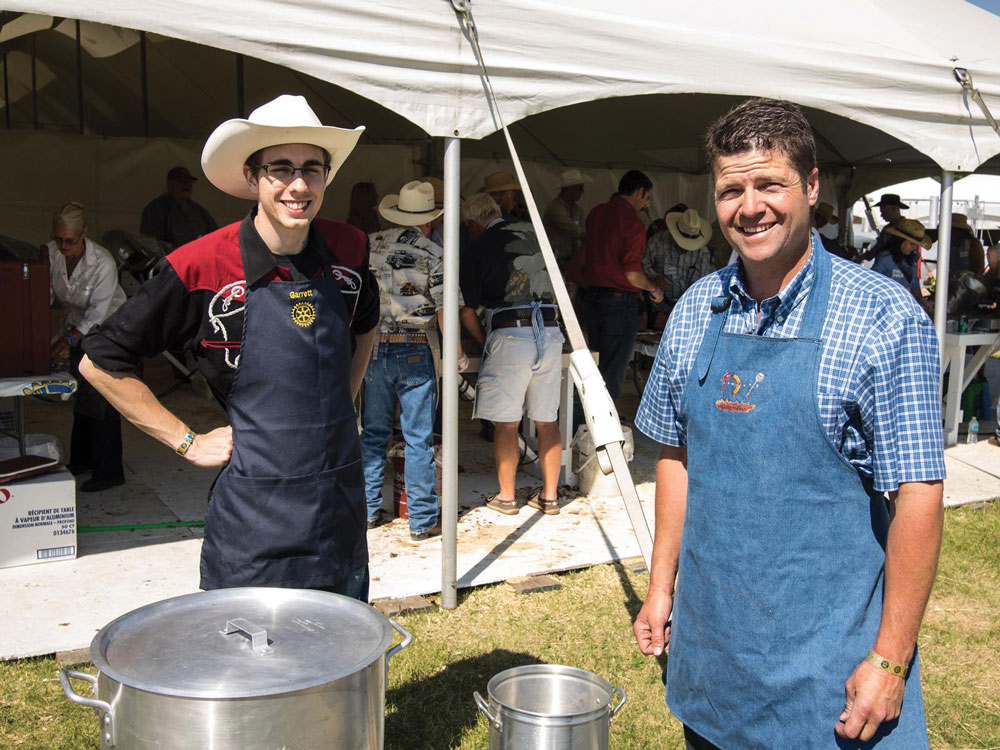 Rotary Club of Calgary.
Stampede brings with it an unbelievable number of pancake breakfasts and barbecues – so choose one that is worth your time. The Rotary Club of Calgary holds barbecues at the Oxford Stomp and the Stampede Roundup to raise money for its legacy projects, international sanitation and clean water efforts and the Stay in School program. Both barbecues are huge undertakings that require 2,000 volunteers to prepare and serve food and help with cleanup. In total, the barbecues raise about $400,000 each year.
How to volunteer:
Online application, available a few months before the event
Food safety training
August
Help plan Wellspring's fall programming
Fall tends to be the busiest season for Wellspring Calgary, a resource and support centre for people living with cancer. One of its signature events, the annual triWELLathon fundraiser, takes place in September, but the organization needs volunteers even more just before its programs begin. Promotions, administrative and event-planning volunteers are especially needed as plans for fall programming come into place. Volunteers can contribute to everything from building maintenance to special-events registration to ensure September and beyond goes smoothly.
How to volunteer:
Interview and reference checks
Security clearance

Training and development

updates are required, depending on the role
September
With one of its main goals being to help young people stay in school, the back-to-school season is a busy time for the Boys and Girls Clubs of Calgary. The organization needs volunteer mentors to offer support in a variety of programs. Rogers Raising the Grade is an after-school program that needs volunteers to help and encourage students with their academics and development goals. For more specialized work, Hera is a program for adolescent girls at risk of being sexually exploited. There, volunteers spend time with the girls and create a positive, supportive environment.
How to volunteer:
Interview
Reference checks
Criminal background and vulnerable sector check
Additional online training may also be required, depending on the volunteer position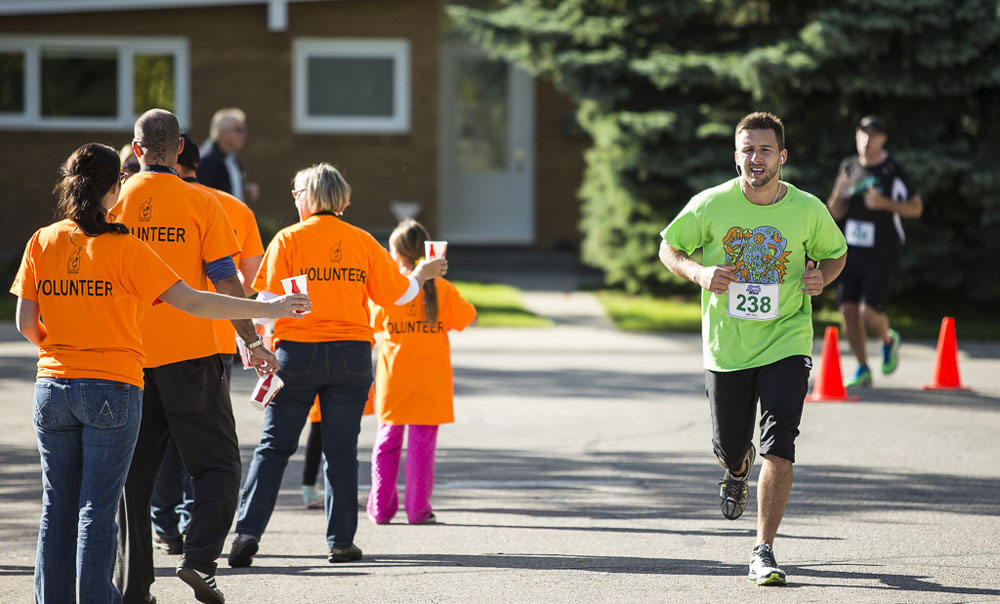 Rock the House Run.
As one of Ronald McDonald House's four annual signature events, the Rock the House Run is a key part of raising the money to keep the organization going. The Ronald McDonald House offers living space to families from outside Calgary who have a child in treatment at a city hospital. The 23 families staying in the house are only charged $12 per day, but the organization needs funds to cover the remaining costs of housing and support, making volunteer fundraising help essential.
How to volunteer:
E-mail Ronald McDonald House
Recruiting for event volunteers

begins about two months before the event
October
Cheer on Alzheimer Calgary's Thanksgiving Memory Walk and Run
The annual Thanksgiving Memory Walk and Run requires 200 volunteers, an enormous effort for Alzheimer Calgary's database of about 250 volunteers. Recruiting begins in early July, and positions are available for every aspect of the event, from set-up and route marshals to cheer squads. Alzheimer Calgary is also always looking for volunteers for its Club 36 program, a weekly commitment to spend time with someone
living with dementia.
How to volunteer:
Interview and reference check, depending on position
If volunteers are working directly with seniors, they must pass a police check
November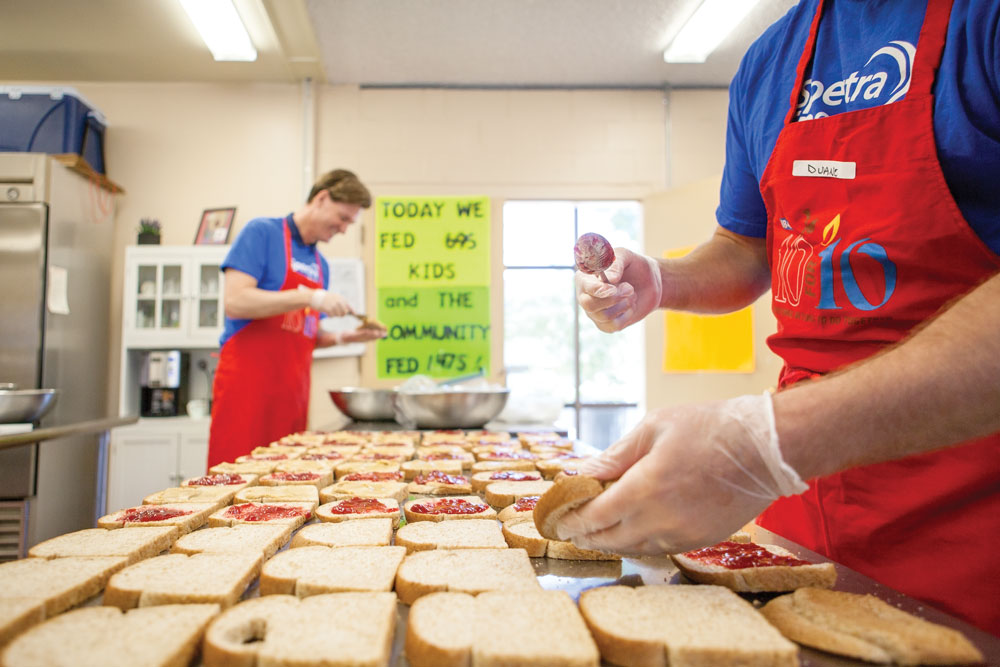 When the snow begins to fall, Brown Bagging for Calgary's Kids needs volunteer drivers more than ever. The organization makes, packs and delivers lunches to schools for kids who might otherwise not have anything to eat during the day – and their need for a midday meal doesn't stop in the winter. Drivers arrive at the kitchen by 9:30 a.m. to start their delivery route, and are usually finished by noon.
How to volunteer:
Volunteer drivers need a licence and their own vehicle
December
Organize and wrap holiday gifts at Discovery House
At Discovery House, a post-emergency shelter for women with children leaving family violence, December is a busy time. The organization's secure residential facility operates a donations room that fills with gifts and toys during the holiday season. Discovery House needs volunteers to sort and wrap gifts and keep the donation room organized so the house's residents can pick out presents for their families – making the shelter feel a little more like home.
How to volunteer:
Interview
Criminal record and child welfare check