Cornucopia happens every November and draws nearly 20,000 people to Whistler. That's a feat considering the bike park and golf course are closed for the season and Whistler and Blackcomb ski hills aren't open yet. It's officially the shoulder season. That means Whistler is quiet, rooms in the town's 140-plus hotels and other accommodation options are available and, as long as restaurants aren't hosting a Cornucopia-related event, reservations are easy to come by. The festival is as much an opportunity for the locals and arriving seasonal workers to get together and have fun before winter kicks into high gear as it is a draw for visitors to come to the village for a weekend that focuses entirely on food and drink (there are events throughout the week also).
Cornucopia started mostly as a wine and food festival promoting B.C. products and slowly evolved in accordance with our drinking habits to include alcohol of all varieties. There are demos, dinners, tastings and parties celebrating beer, wine, cocktails and spirits. In all, there are more than 200 events.
For the most part, formal programming happens in Whistler's Conference Centre on the west side of the village and within stumbling distance of most of the major hotels. Galas include the Crush Grand Tasting, with samples from dozens of wineries on the first Saturday night, and Poured on the second Saturday, which does the same, but adds spirits, cider and beer to the mix.
A Culinary Stage is set up on the main floor with demos by local and visiting chefs. Smaller seminars and parties ranging from high-energy chardonnay pyjama parties with 1950s rockabilly music to those that lean heavier on the education, such as the history of bourbon, fill medium-sized meeting rooms.
Branch out into the village where restaurants host more intimate dinners and bars host after-parties. And, lest it seems like just an excuse to basically binge for days, Cornucopia has a Nourish series that includes daily yoga and seminars on things like fermentation and raw cooking.
Everything is walkable and it is easy to stack your schedule with concerted eating and drinking all day for several days, making for a perfectly packaged weekend away.
This year, Cornucopia takes place from November 5 to 15. whistlercornucopia.com.
---
Where Else to Eat in Whistler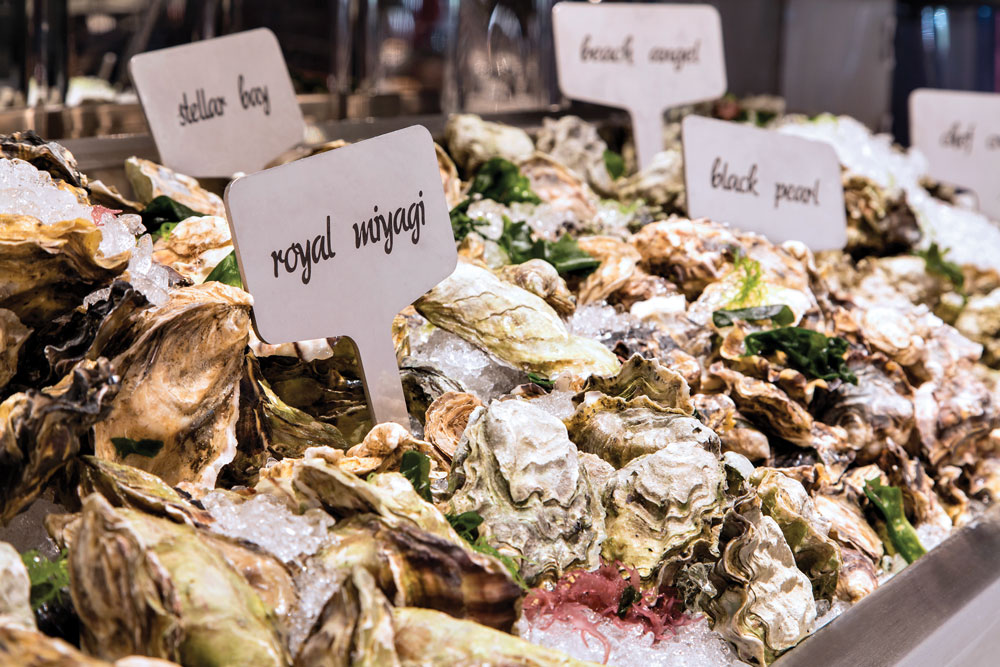 This is where fine dining began in Whistler Village. When Araxi opened in 1981, it was one of the first restaurants in the village. It has a farm-to-table, regional theme with house-made charcuterie, Ocean Wise-approved seafood and ingredients collected from nearby Pemberton on the menu. Executive chef James Walt has cooked at the James Beard House. Wine director Samantha Rahn (in charge of Araxi's 11,000-bottle collection) is a downhill mountain bike competitor. And, for a taste of Calgary, chef de cuisine Jeff Park worked at Blink, Rush and Kensington Riverside Inn before moving to Whistler. In the summer, watch for Araxi's Longtable Series in Vancouver and Pemberton, during which hundreds of people are seated at giant outdoor tables and served a multi-course meal.
This restaurant is small with just 43 seats, but it is worth trying to score a spot. It was opened in 2010 by long-time Whistler residents Eric Griffith and Edward Dangerfield. Like Araxi, it takes farm-to-table seriously. The menu changes often and is built from its extensive preserving program. Products are sourced from local suppliers including Whistler Brewing and Two Rivers Meats. It grows its own herbs, filters its own water and purchases only sustainable products.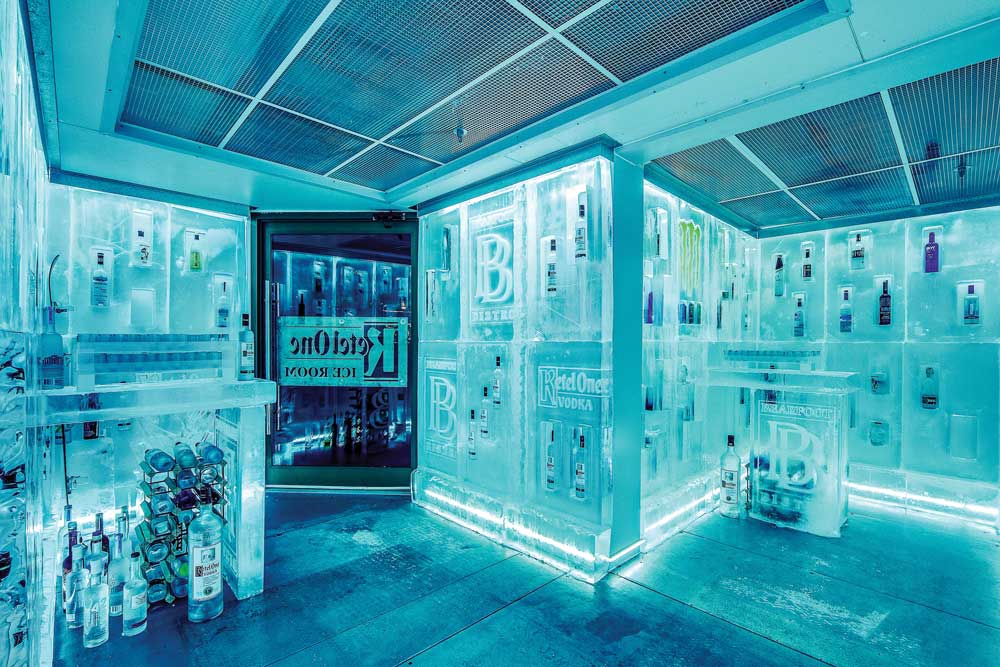 photograph by joern rohde photography, courtesy of bearfoot bistro
This bistro is a fine-dining restaurant, but it also has a few fun gimmicks. Its underground wine cellar holds more than 20,000 bottles and, if you purchase a bottle of bubbly, you get the pleasure of sabring it yourself. Bearfoot Bistro founder Andr Saint-Jacques once broke the Guinness World Record for most Champagne bottles sabred in a minute. If he's around, he'll offer advice. The Ketel One Ice Room is
permanently -32C. Pay $48, slip on the Canada Goose parka provided and enter the room for Bearfoot's Vodka Tasting Experience. The extreme cold is supposed to minimize the burn of the booze. The glass door between the freezer and the bar makes you feel a little like you are on display – mostly because you are – but just go with it.
The Mexican Corner is relatively new to the Whistler dining scene, serving authentic Mexican fare that sits somewhere between fine and casual dining, but it didn't take long for the restaurant group to expand and open a very casual taco shop. La Cantina is a counter-service taqueria that might serve the best bite for about $3 in the village. It sells 10 different types of tacos including chicken tinga, pork belly, cochinita, chorizo and brisket. Burritos, salads and beer round out the menu.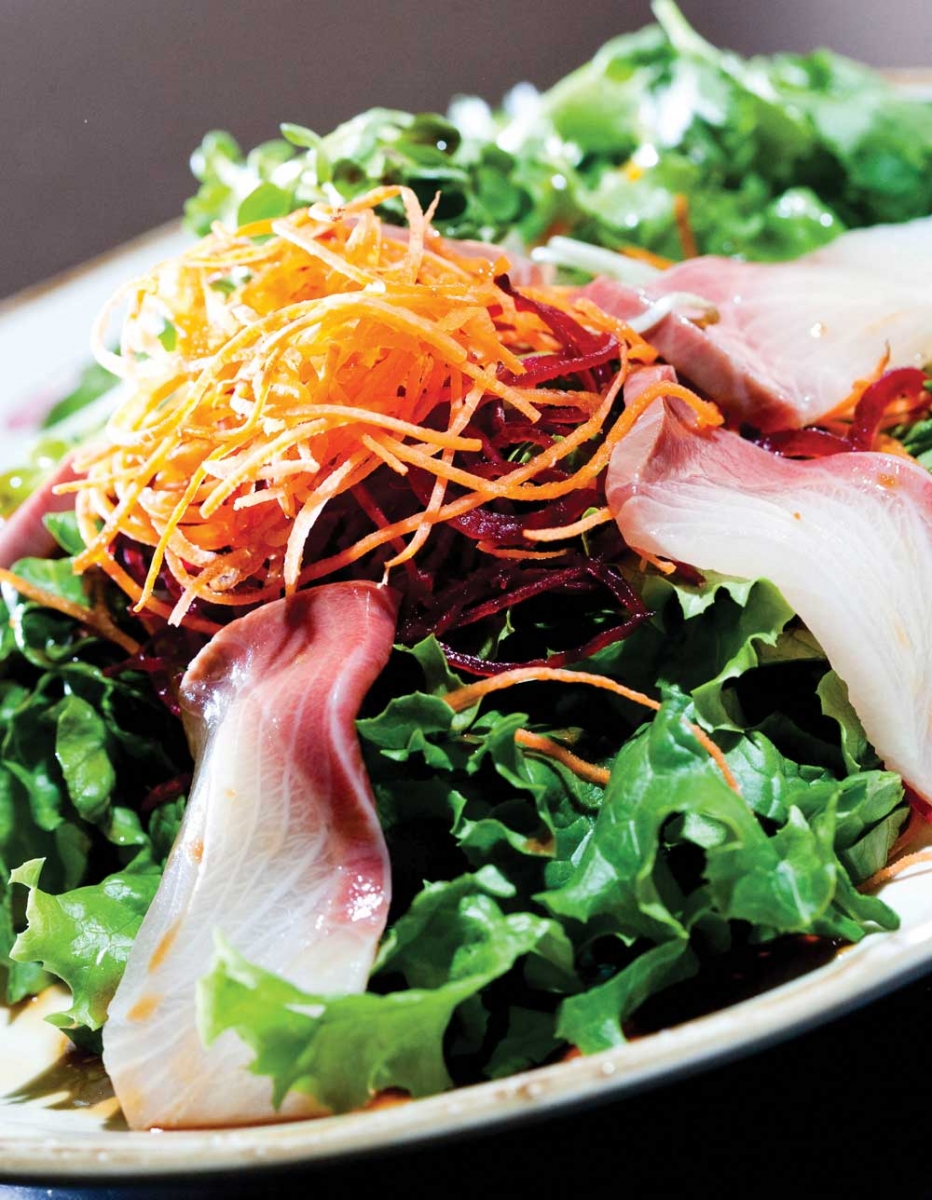 This second-floor restaurant is also a mainstay of Whistler. It was opened in 1985 by a trio of Vancouver-based restaurateurs and supports the truth that sushi on the West Coast is the best in Canada. It's famous for its sake margaritas, but you are going to want to approach this restaurant as you would any sushi spot and order several plates of sushi, sashimi, rolls and salads to share.
---
Other Mountain Food Festivals
Nov. 6 and 7, 2015
This is a great excuse for a weekend getaway to the Fairmont Hot Springs Resort. This festival is really just three main events. On Friday night, a multi-course meal paired with the winning wines from the previous year's blind judging is served. Saturday afternoon is the annual blind judging of B.C. wines. The big event of the festival is the grand tasting event, with more than 200 wines to sample along with hors d'oeuvres. Buy the weekend package for this festival ($309 per person) and get admission to all of those events, plus a two-night stay at Fairmont Hot Springs Resort and all the amenities it comes with.
Nov. 6 to 15, 2015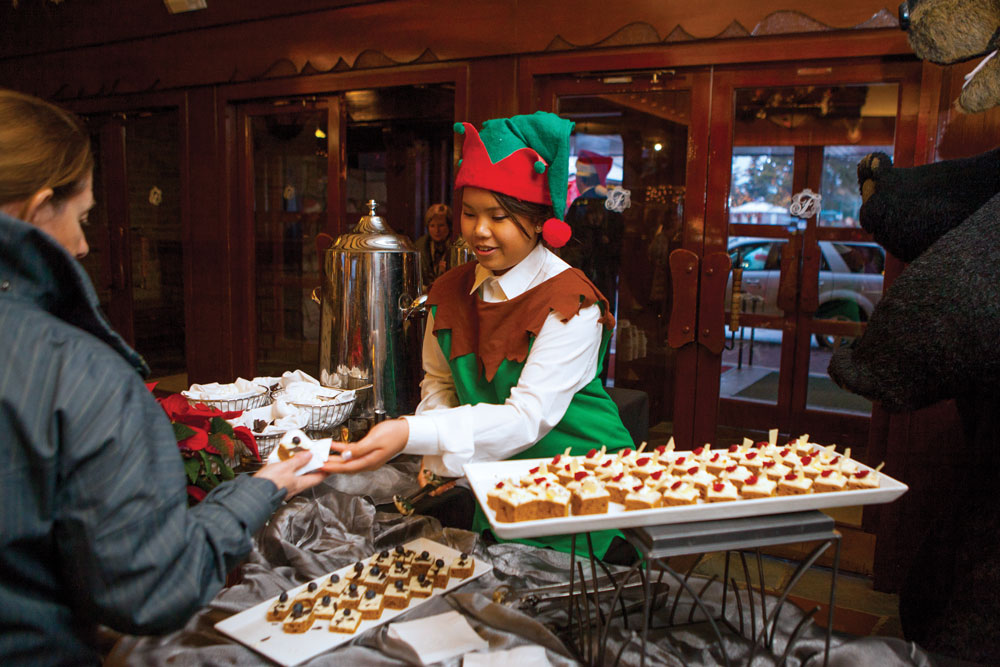 Fairmont Jasper Park Lodge's festival is about holiday preparation and has been around for 26 years. It always brings in celebrity chefs for cooking demos (watch for Roger Mooking and Anna Olson this year). There are also wine and cocktail seminars, as well as lessons on Christmas crafts and decor. It happens over 10 days (Nov. 6 to 15, this year). The best way to experience Christmas in November is to book a three-day package. For $949 to $999, you get accommodation, meals, seminars and a welcome reception.
Jan. 14 to 24, 2016
This festival includes about 20 events over nine days. There are classic winemaker's dinners, as well as more casual events like mixing music to booze or pairing wine with grilled cheese. Like any good festival, it finds a way to offer drinks at all times, including brunch tastings and events under the moonlight. The most popular event is the WestJet Progressive Tasting, which includes wandering the village outdoors to sample dozens of wines from B.C. wineries. During the festival, resort restaurants also offer wine and dine menus that pair special dishes with B.C. wines. This festival takes place every January at Sun Peaks Resort, 45 minutes north of Kamloops.
April 6 to 17, 2016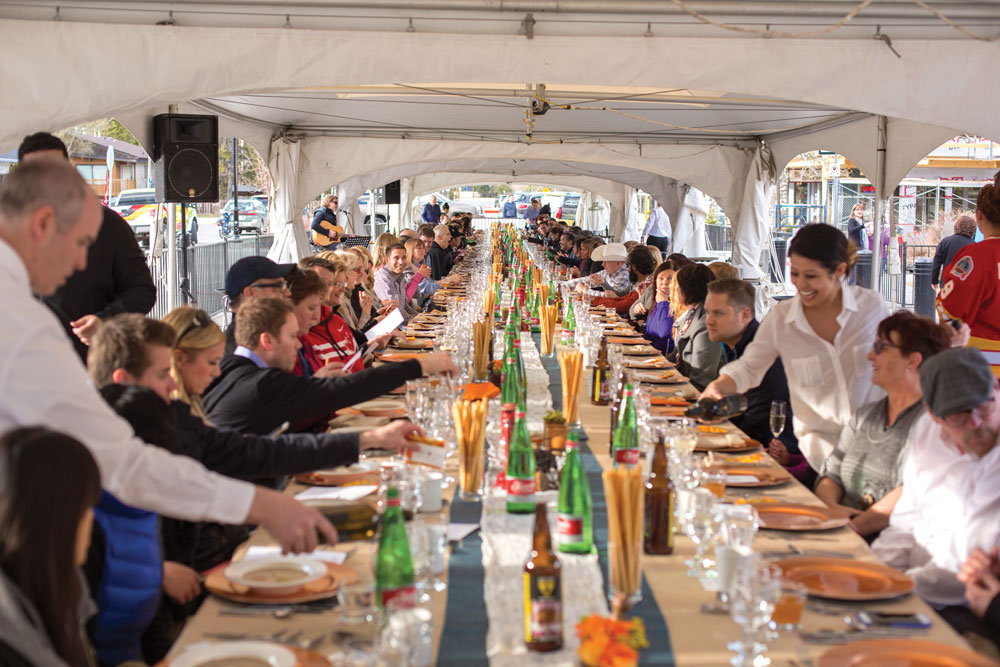 photograph courtesy of tourism canmore
This springtime lineup of events starts with a craft beer festival, which is essentially one night of sampling a lot of brews, and ends with a wine festival, which has samples of wines from around the world. In between, there are 12 days with most of Canmore's restaurants offering three-course set menus (which were priced at $19, $29 and $39 in 2015). There are also progressive dinners, which take you to four restaurants for one meal. What you really want to sign up for is the long table dinner with 100 people eating a six-course meal at one table set up in the park.
Every August
This August festival northeast of Vernon includes seminars, Wine Masters' dinners, guided alpine walks and an art show. The highlight is the Mile High Wine Tasting. It's a happy-hour tradition on the Saturday afternoon of the festival, and it turns the resort into a big, casual party with music and dancing, samples from dozens of Okanagan wineries and nibbles of Dairy Farmers of Canada cheese.