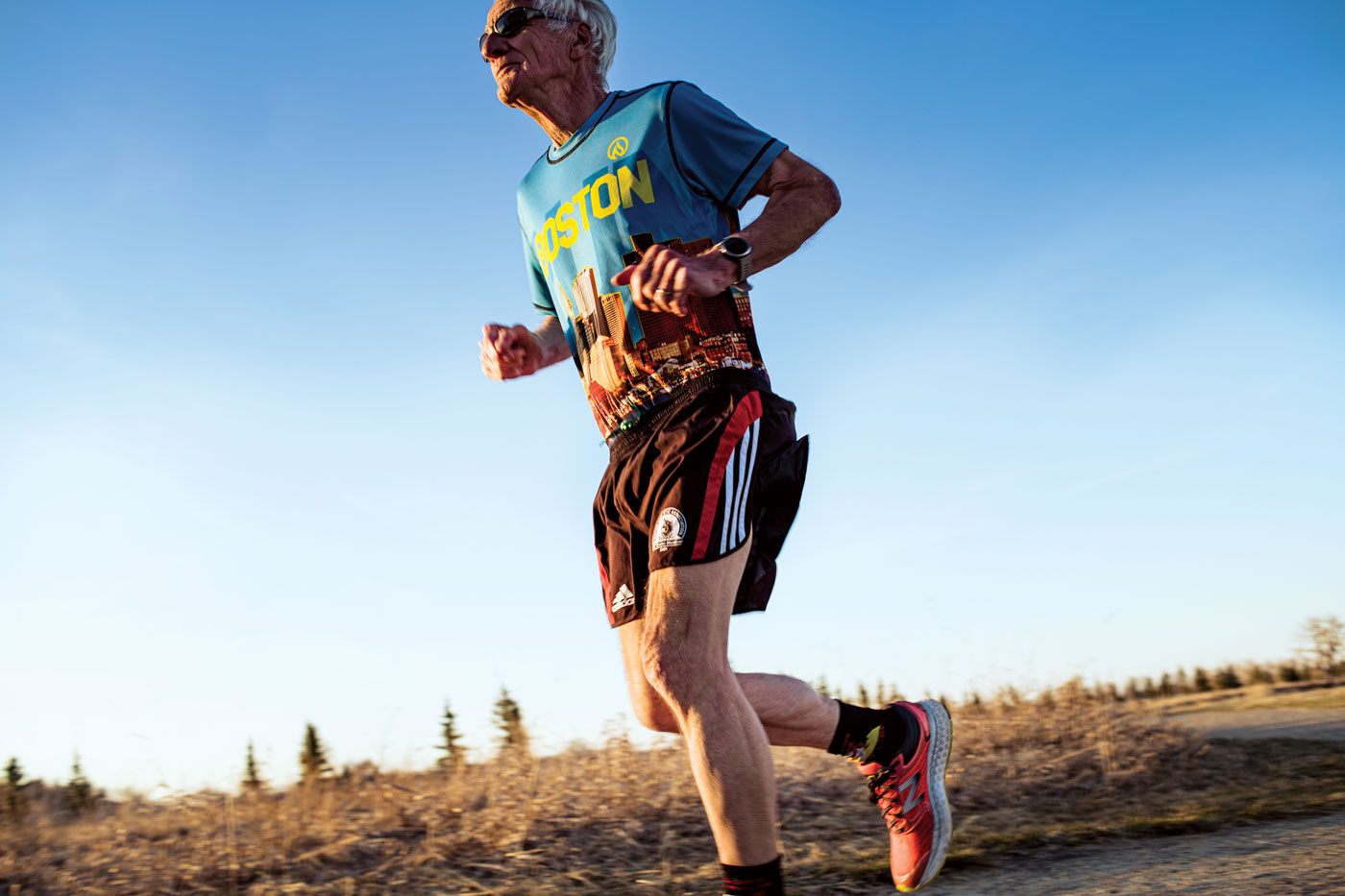 Aging doesn't happen as soon as we enter retirement or celebrate our 65th birthday. It happens gradually, over the course of our lifetime. It's something we're all experiencing, right now, as each minute passes. While local experts' suggestions for healthy aging aren't particularly new or revolutionary, what is new is the growing body of research demonstrating the importance of being active, eating healthy foods and maintaining social connections. That research also shows it's never too early — nor too late — to make lifestyle changes to increase your chance of good health in your senior years.
Healthy Body, Healthy Mind
Our genes partly predetermine how we age, but decisions we make can reduce (or increase) our risk of age-related diseases. "There are so many factors that go into how we age that can be addressed as a much younger person," says Candace Konnert, director of the University of Calgary's Healthy Aging Lab. Konnert says some risk factors for declining health with age include smoking, obesity, heart disease and high blood pressure. "These are lifelong predictors of how we'll age and these risk factors are cumulative over time," she says. Having a regular exercise routine is a surefire way to mitigate health risks that accompany age, explains Marc Poulin, professor in the department of physiology and pharmacology in the Cumming School of Medicine at UCalgary.
"With advancing aging, there are naturally occurring changes in the systems of the body, including the brain," says Poulin. "Then, declines in levels of physical activity with aging can [accelerate] reduction in muscle mass and function, and increased bone fragility, physical frailty and risk of falls.
"Reduced activity also contributes to declines in heart and lung health, and worsening of conditions such as high blood pressure, diabetes and heart disease. All [of these are] associated with development of dementia later in life," he says.
Brain in Motion, a UCalgary study, examines how regular aerobic activity in our 50s, 60s, 70s or 80s leads to improvements in how well our brain processes and understands information. The study, co-authored by Poulin (who was the principal investigator), and published in Neurology, the medical journal of the American Academy of Neurology, in May, 2020, tracked 206 participants ages 50 to 83 as they completed a supervised aerobic exercise program over a six-month period. Participants walked, jogged or cycled three days a week, and they completed thinking and memory tests at the beginning and end of the study.
The study found brain functioning improved with regular aerobic exercise, even among previously sedentary participants. "Verbal fluency, which tests how quickly you can retrieve information, increased by 2.4 per cent, equivalent to [results] in someone five years younger," Poulin says. Additionally, the study found the ability of the participants to recall words improved by 2.6 per cent — equal to results expected from someone four years younger — and multi-tasking and problem-solving improved by 5.7 per cent, equal to someone almost six years younger.
"Exercise is an activity that can sort of turn back the clock on the brain, to a certain degree," says Poulin. "It's one of the few interventions shown to have a disease-modifying effect on aging diseases of the brain."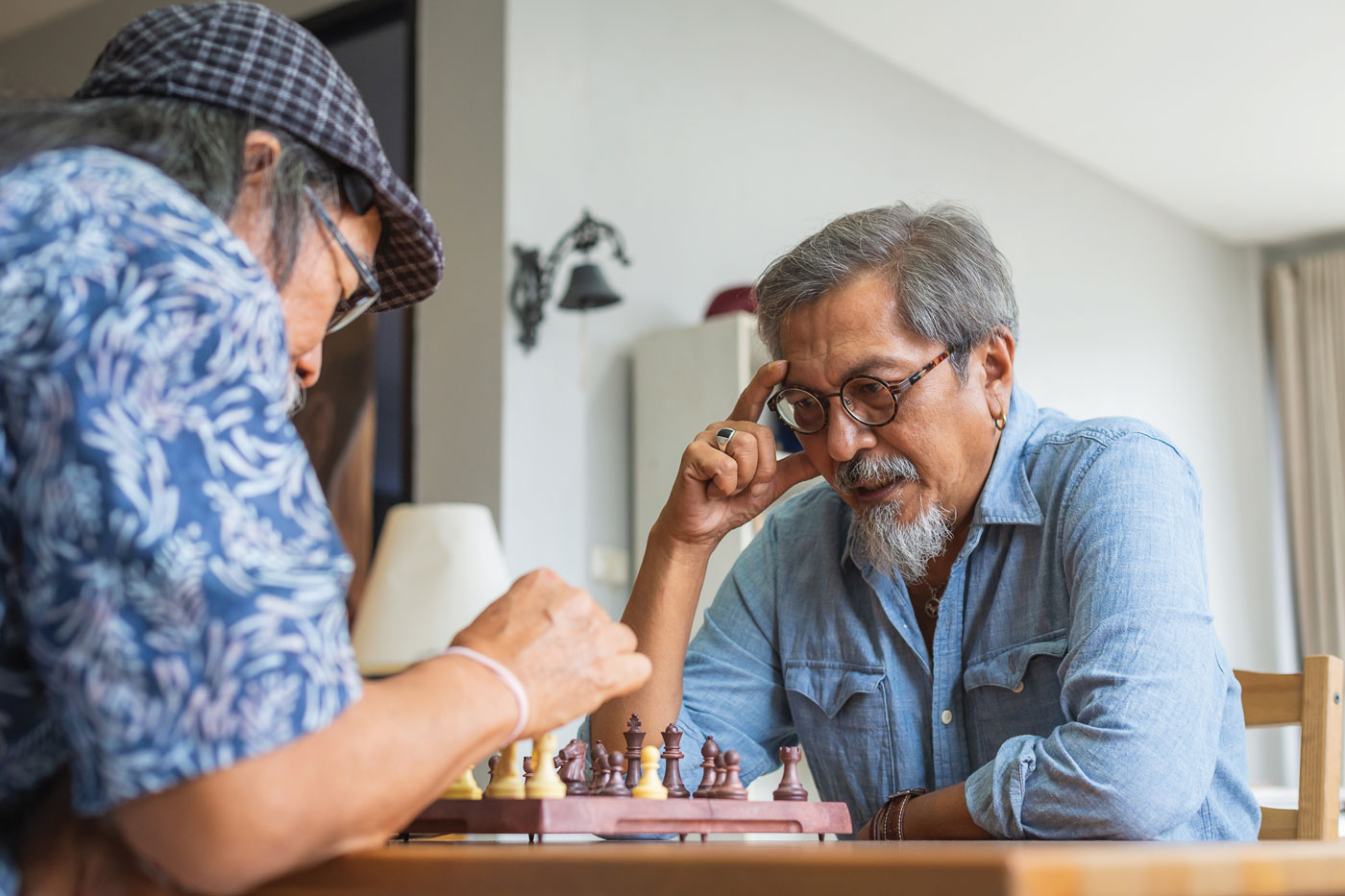 Feeding the Brain
Being mindful of what we put into our body is also important for healthy aging.
Orsha Magyar, a nutritional consultant and CEO and founder of NeuroTrition, offers science-based dietary recommendations to boost brain health. As we age, our metabolism slows and blood flow decreases, explains Magyar. This means it's more difficult for essential nutrients to reach the brain and support its functioning.
Brain inflammation can also occur as we age, which may be because the variety of probiotics (the good bacteria in our gut) decreases. "Ages 65 and over, we start to see a reduction in the diversity of the gut microbiome," Magyar says. "Right now, scientists are starting to figure out which gut bugs help us age gracefully."
Magyar recommends eating foods rich in probiotics, such as kimchee, plain yogourt, tempeh and unpasteurised sauerkraut. She also recommends eating foods that support probiotic health, like nuts, seeds and whole grains. These are all examples of prebiotics, or dietary fibres, that Magyar calls "healthy gut microbes' favourite food."
There is currently no known cure for dementia or Parkinson's, but what we eat might reduce the risk of developing inflammatory brain conditions, like dementia and Parkinson's. "The Mediterranean diet is a really wonderful example of an anti-inflammatory diet. It is full of raw or slightly cooked fruits and vegetables, healthy fats like extra-virgin olive oil and fish that contains omega-3 fatty acids," Magyar says.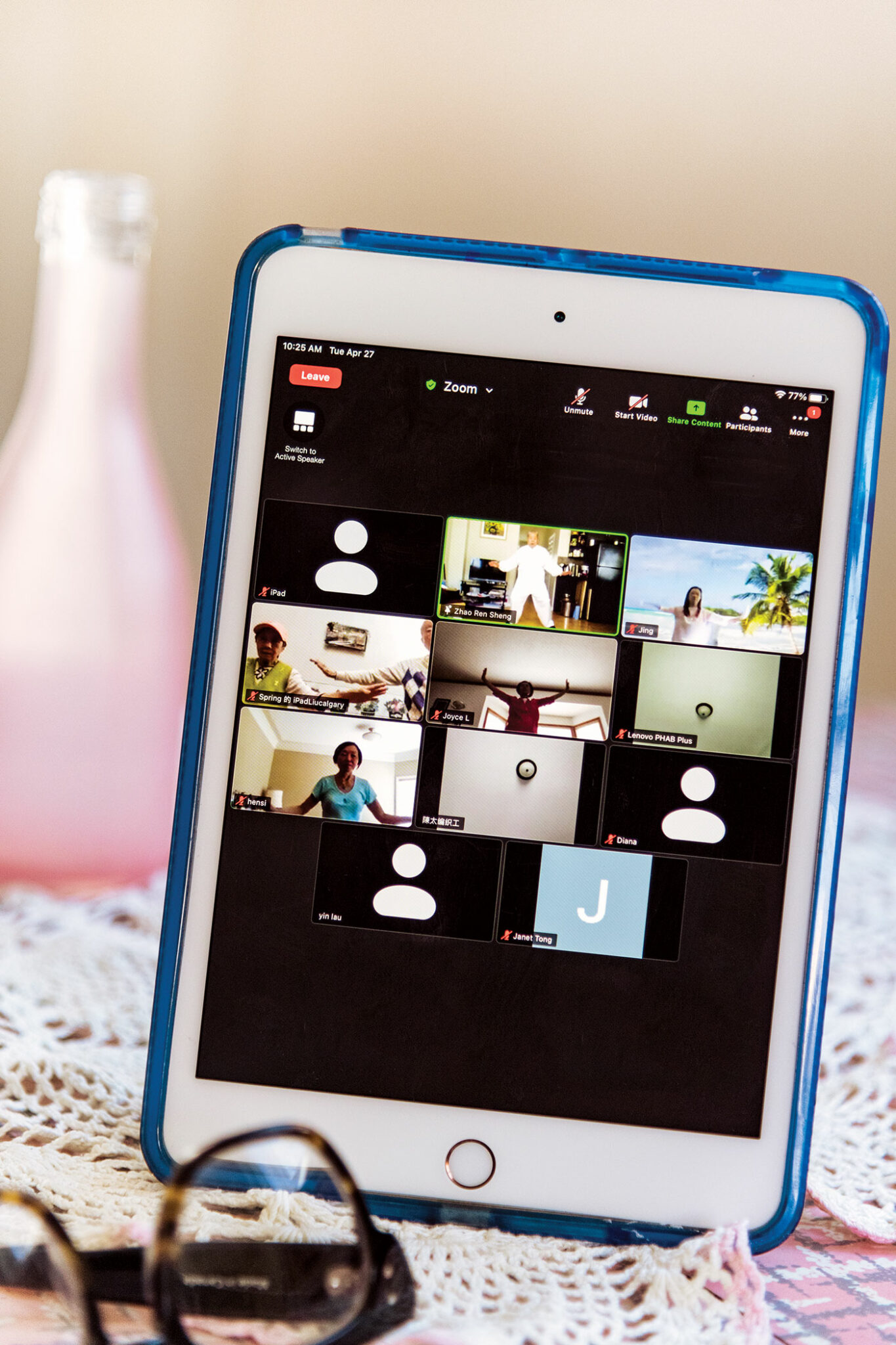 All Together Now
Maintaining social contacts is another essential element of healthy aging. According to Candace Konnert of UCalgary's Healthy Aging Lab, having a social network is often connected to your meaning and purpose in life, and having purpose factors into both good brain functioning and positive mental health.
There are many ways to find connection or meaning: some people focus on family, others on volunteer work and others on joining sport and social groups, where they can explore an old hobby or start a new one. "Finding personal meaning and being engaged really does involve other individuals," Konnert says. She notes that the connection between isolation and loneliness, impaired brain functioning and increased risk of dementia is known to exist, but the reason for this connection isn't entirely understood yet.
Creating purposeful social interactions can also come from connecting with culture or community through groups such as the Calgary Chinese Elderly Citizens' Association and the Dashmesh Culture Centre Seniors Society for Sikh seniors.
"Community is important as we age because it reinforces a shared set of values and ideologies," says Konnert. "Look at the Chinese long-term care facilities: they share a common language, food, heritage and share the understanding of what it means to be in that specific group."
Another example of this is the social groups or care settings for veterans, says Konnert. "Veterans share memories of the military and they share the military culture, and that's very important to their identity. Those shared understandings are powerful predictors of well-being in older people."
Whether you're six or 60, the things that keep your mind and body healthy aren't that hard to figure out. But research is showing that making a commitment to following these suggestions — to eat well, be active, create lasting relationships and meaning in your life — can make all the difference in aging well.
Lifelong Learning
In 2016, the Mount Royal University (MRU) Conservatory partnered with United Active Living Communities, to bring classical concerts directly to its residents. "Residents would come over to the Conservatory in a bus and attend our classical concerts, and we would also send musicians over there to give them in-house private concerts," says Brad Mahon, dean of MRU's Faculty of Continuing Education.
Since then, MRU has expanded the program to further inspire residents' curiosity and ignite their intellect. "Now, it's a lecture series where MRU's broad faculty can participate. We've gone beyond music to [digitally broadcasting] lectures on politics, history, science and technology to residents," Mahon says.
Recent topics MRU faculty members have presented on for United Active Living residents include artificial intelligence and The Winnipeg General Strike of 1919.
Get Inspired to Get Moving
In 2019, Calgarian Gerry Miller was ranked as the fastest marathon runner over 80 years old in the world. Since he ran his first marathon at 58 years old, Miller has qualified for the Boston Marathon 25 times and participated 13 times. At 84, he runs at least four times a week and includes hill repeats, speed training and three-hour endurance runs in his training routine.
Finding a form of movement you love to do, and will do consistently, is integral to aging well, Miller says. "Regular movement makes us feel more positive, and then we can spread that to others." While he knows not everyone will be inspired to take up marathon running in retirement, for those who are interested Miller recommends connecting with a local running group. "Strides Running Store has a wonderful smaller group for runners of all ages," he says. "And Gord's Running Store's group is great, offering advice on different kinds of shoes and pacing." Both stores offer free weekly runs that are still taking place during the pandemic.
Playing the Long game
Loving the hit Netflix show The Queen's Gambit isn't the only reason to take up chess. According to a 2019 Spanish study published in the International Journal of Environmental Research and Public Health, playing chess could reduce your risk of developing dementia. The study found that chess "affects specific areas of the brain, and this [brain] stimulation shifts with the problems that a chess player faces during the game." Additionally, the study found people who play board games reduce their risk of a decline in brain functioning by 75 per cent.
While most local club activities are currently paused, consider joining game groups like the Calgary Chess Club or the FLC Seniors Club's mah-jong, cribbage or bridge activities when they restart in order to work that muscle between your ears.
For more information, visit calgarychess.com and flcseniors.ca.
Tea for Togetherness
Last year, Kari Stone, manager of education and recreation at Kerby Centre, was concerned about the city's seniors becoming more and more isolated. Aware that queer seniors group the Rainbow Elders could no longer meet at Kerby Centre, Stone reached out to Calgary Outlink, a not-for-profit for Calgary's 2SLGBTQ+ community and its allies, about hosting a regular community meet-up over Zoom. The meet-up, now known as "Tea Time With Dorothy," originally took place weekly, but has since moved to a twice-monthly on the second and fourth Tuesdays of the month. Any senior (age 50+) is welcome. There's no set agenda, rather, the conversation is encouraged to evolve naturally.
"Folks just generally want to see a friendly face and talk to someone, especially those who live alone," said the event's original host Leslie Wilkins, a former peer-support lead at Outlink. Fixed start and end times prevent the meet-ups from running on too long, which can cause interest to wane — something to consider for anyone thinking of starting up their own event to connect community online.
For more information, visit calgaryoutlink.ca/50plus