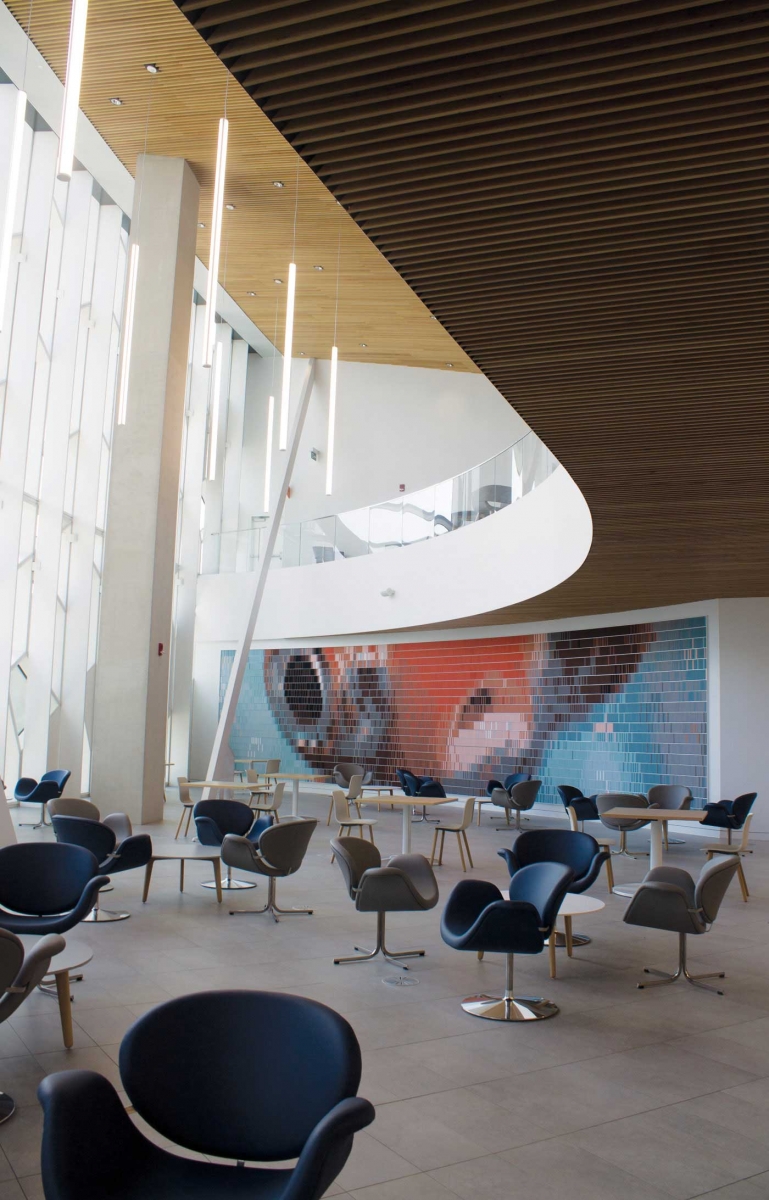 Title: FISH, 2018
Artist: Christian Moeller
Medium: Cloth-covered books, shelves.
Size: Approximately three metres by 14 m.
Location: New Central Library, 3rd level, 800 3 St. S.E.
The giant eye of a super-size goldfish swimming up against the glass of its aquarium appears to follow you, as gazes do in some Renaissance portraits. The effect is one of the charms of the curved wall installation FISH on the third level of the new Central Library. The friendly creature has its mouth open, probably to breathe, but perhaps in wonderment at seeing you.
The illusion is convincing, bringing to mind a panoramic format of a digitally cropped, enlarged photographic detail. The coloured vertical pixels resemble fanciful bar codes in a palette mostly dominated by orange and blue. Upon close inspection, the image dissolves and the material reveals itself: each sliver of colour is in fact the spine of a hardcover, cloth-bound book.
Approximately 11,000 books in 12 colours are lined up on bookshelves that reach floor to ceiling. The combination of digital technology and actual books poses a playful metaphor for the potential of a library as a place to apprehend the world through digital media and books. The installation also offers the particular satisfaction of facing an orderly arrangement of books on shelves.
Artist Christian Moeller brings innovation to a wide range of materials — he also designed the three bobbing sculptures, TRIO, that welcome library visitors outside. Moeller trained and worked in Germany and Austria before moving to the United States, where he is now the chair of the Design Media Arts department of UCLA. Among his public art projects around the world are two earlier library-book murals. FISH is the most complex, with curved shelves and a wider spectrum of colour. It is also the most whimsical, in line with the call for public art by the Calgary Municipal Land Corporation, lead developer of the new library.
As with other CMLC East Village projects, art was integral from the outset, so the artist could develop the installation to fit with the overall design of the building. FISH takes advantage of the natural light, echoes the graceful curves and arches of the architecture and is part of the library experience of exploration.