Machin, 2017. By Alexis Kondra. Made with coffee stir-sticks, popsicle sticks, "craft" wood, oven-bake clay, acrylic, India ink, recycled jewellery, plastic laminate, turban cotton, mirror film and plants. The piece is seven inches-by-15-inches-by-10-and-a-half-inches. Find the piece at The Little Gallery, 732 McDougall Rd. N.E., until Oct. 31, 2017.
The artwork
On the inside, the miniature, cutaway home of Alexis Kondra's Machin might suggest a dollhouse, with its teeny pearl-white teapot (smaller than a dime) and four tiny cups set for teatime on a tiny table that doubles as a child's blanket fort. The furnishings in this cozy space are a comfy mix, the kind a family might accumulate over many years: china cabinet, bookshelves, record stand and a dresser that might be referred to as "antique." But the exterior, an amalgam of a storefront, house and shed, belies any preciousness. Weatherworn, fragmented and slowly being overgrown with plant life, it's a memory in a casing that is gradually disintegrating.
Kondra's work mines her childhood memories while exploring the nature of memory and spatial relationships. She credits the iconic artist, Gordon Matta-Clark, who sliced buildings open, and Chicago-based Krista Svalbonas, who creates photographic architecture, as her inspirations. Kondra presents herself with extra challenges of working at 1:24 scale and using authentic materials – wooden coffee stir-sticks for barn-board siding, for example. She crafts almost everything by hand, often with dental tools, and procures any metal parts she can't fabricate herself from fellow Calgary miniature artist Tom Brown.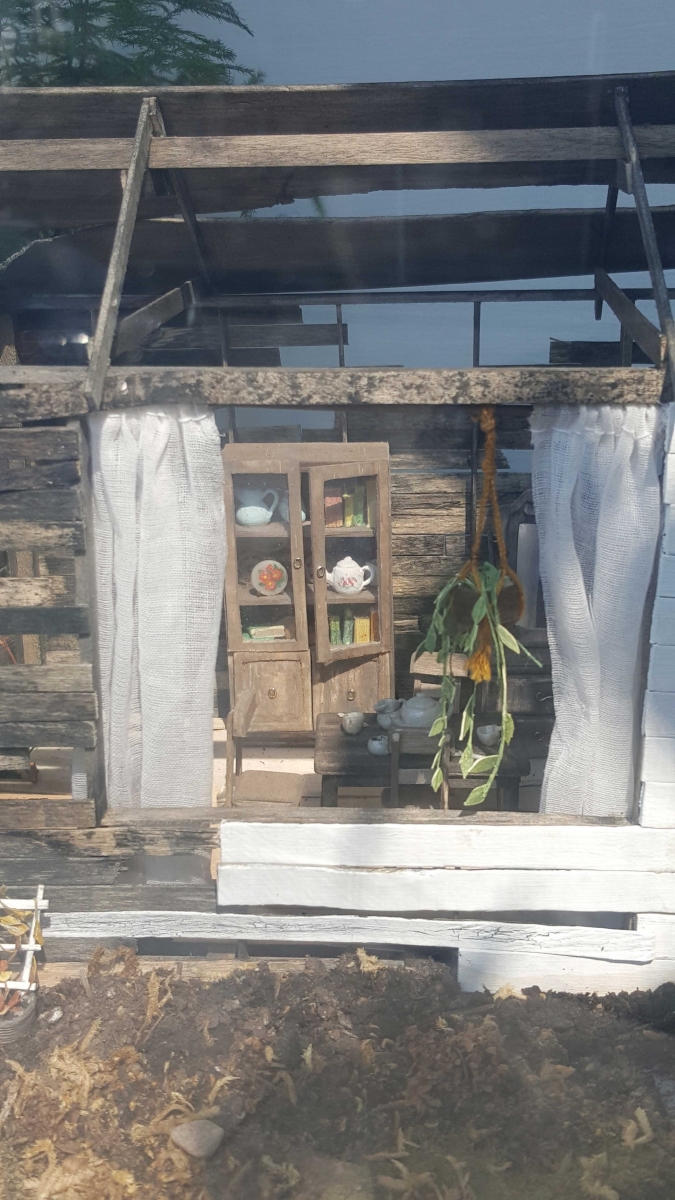 The artist
Kondra moved to Calgary in 2009 from the small rural town of Eagle River, Ont., to attend the Alberta College of Art + Design. She graduated in 2014 and had her debut solo miniature exhibition in 2015 in The Tinier Gallery in Bridgeland, a street-side glass-box gallery enjoyed by neighbourhood passers-by. Its success and popularity led to an invitation to show this year in The Little Gallery, an offspring of the Tinier Gallery, also in Bridgeland.
Kondra started to build Machin during her residence with the Calgary Board of Education Studio Artist Program at Sam Livingston School – to the delight of the kindergarten-to-grade four students. The nature of the living plants in Machin will warrant repeat trips to Bridgeland to see how it changes over the course of its display.