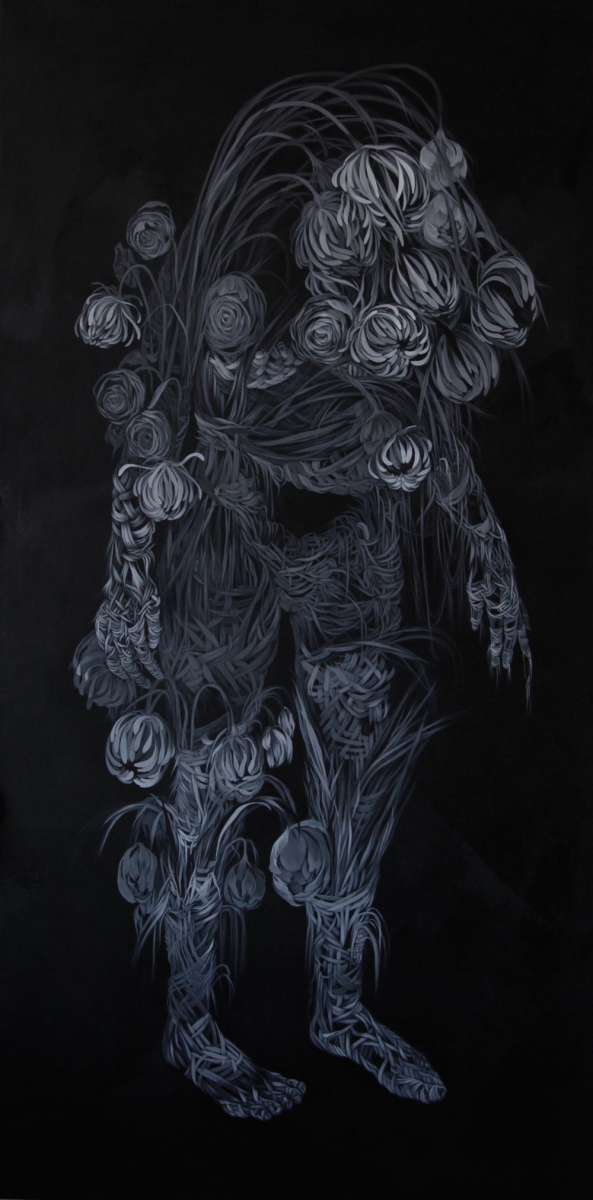 Photograph by Pascha Marrow
of wicker, 2016, acrylic on linen, 36″ x 72″. Stride Gallery, 1006 Macleod Trail S.E. INVISIBLE MOTHER, March 18 to May 13.
The artwork
This haunting basket woman hovers between worlds, evoking qualities that are unsettling when combined: wraithlike and menacing, voiceless and fragrant, weaving and wilting. Interdisciplinary artist Marigold Santos re-frames the stories of strong mythic women with twists and turns. One of her central characters is Asuang, a shape-shifting vampire-like character in Filipino folklore. Her imagination kindled by Victorian portrait photographs of mothers camouflaged as draped furniture while supporting their children, Santos named her current exhibition "INVISIBLE MOTHER," joining the history of malevolent women and women of folklore, like Asuang, with ideas of invisibility and support. The dark tonal palette suggests the spectral quality of Victorian photographs, but also Renaissance trompe-l'il drawings of sculpture. Santos has a solid understanding of figure drawing and a fine hand for detail; the woven feet are beautifully rendered and truly creepy. Add the language of flowers: spider mums twine with Calgary May-blooming ranunculus and peonies.
The artist
At a young age, Santos immigrated with her family to Calgary from the Philippines. She earned a University of Calgary BFA in 2007, followed by an M.F.A. from Concordia University in Montreal in 2011. She lives and works in both cities, and is gaining attention across the country. This painting is at Stride Gallery through May 13; Jarvis Hall Gallery is also planning a fall exhibition of Santos's work.